Telangana seeks new 'vaastu-compliant' secretariat but is Hyderabad's environment being sacrificed?
Many dismiss vaastu as superstition, but K Chandrasekhar Rao wants a new Secretariat in hyderabad as bad vaastu was an impediment to Telangana's progress.
Hyderabad recorded a maximum temperature of 43.2 degrees on 24 May, the highest this year. Temperatures this summer in the city, according to the meteorological department, have been three to four degrees above normal.
On the same day, Telangana chief minister K Chandrasekhar Rao announced, from the plush air-conditioned sprawling conference hall of the chief minister's office, that he wants to take over the Bison Polo Ground in Secunderabad (37.5 acres) and the Gymkhana ground (23.6 acres) to build a brand new State Secretariat. Both grounds are the property of the defence ministry.
This needs to be said bluntly. This is murder. You cannot find a better way to kill Hyderabad than by stabbing at its green lung space.
Why does Rao need to build a new Secretariat? The initial reason given, that there is note enough space at the present Secretariat complex by the Hussainsagar lake, simply does not hold water because the Andhra Pradesh government has moved all its employees and infrastructure to its interim Secretariat at Velagapudi near Vijayawada. It is merely a question of persuading Andhra Pradesh chief minister Chandrababu Naidu to hand over the keys to the blocks he controls to Telangana.
Environmentalist WG Prasanna Kumar says that the present Secretariat easily has a life of another half a century. "Many of the blocks are new constructions – not more than ten years old – and are in strong condition. Moreover, the blocks allotted to the Andhra chief minister have been renovated at a huge cost but never used. They can simply be handed over to Telangana and used,'' Kumar said.
Or is it because of vaastu shastra that Rao does not operate out of the present Secretariat and instead got Pragathi Bhavan, an opulent chief minister's office-cum-residence built at a cost of over Rs 40 crore. Vaastu is an ancient treatise on architecture that determines how an office, home or any structure should be constructed, taking into account the direction of the wind, light and the astrological chart of the head of the house or institution.
Many dismiss vaastu as mere superstition, but Rao said on record that the Secretariat's bad vaastu was an impediment to the progress of a united Andhra Pradesh first, and now Telangana. In March 2015, Rao had said, "Definitely, this Secretariat has bad vaastu. History is proof that no one has prospered because of this. Let Telangana not suffer.''
In fact, Rao moved into Pragathi Bhavan because the earlier official residence built by the late YS Rajasekhara Reddy in 2005 was reportedly not vaastu-compliant. That's a bit strange because when K Rosaiah succeeded Reddy and used the office, he made changes according to vaastu but did not remain the chief minister beyond a year. Subsequently, Kiran Kumar Reddy, not a believer in vaastu, did not make any changes but lasted the entire term in office.
Or is it because Rao wants to leave his own imprint on Hyderabad and chooses to do so by making the Andhra buildings, history. A senior bureaucrat who did not want to be named said, "Kings always liked to create something new and this reflects the same feudal mindset. So that he can claim, it is 'my' Secretariat.''
Initially, the Telangana government made it appear like it will pitch for the 37-acre Parade Ground, which too is under army control. One cannot be sure if it was a red herring because it led to protests from hundreds of morning walkers. It gave Rao the opportunity to look magnanimous and say that the Parade Ground in Secunderabad was never on his radar. It ended up taking the fizz out of the protests from relieved Hyderabadis, who aren't equally bothered about the Bison Polo Ground since it is an army area, and not open to general public.
What they do not realise is that the green cover acts like a buffer, bringing down the temperature in this part of Hyderabad by at least two degrees. The Polo Ground is used as camping space by NCC cadets and the Gymkhana is used extensively by children; so, from a citizen and town planning point of view, these physical spaces are high-value assets.
"This is like playing adventure sport with the environment,'' says L Ravichander, a lawyer and Hyderabad resident. "Any kind of human activity should not enter the green lung space of any city.''
The director general of defence estates in Delhi has sought an evaluation report from the Hyderabad end, which is seen as a precursor to handing over the grounds to the Telangana government. The value of both grounds is assessed at Rs 500 crore. The army will be given land on the outskirts of Hyderabad in lieu of the grounds in Hyderabad.
Hyderabad needs to realise that constructing the Secretariat by replacing the green cover is akin to putting the city into a toxic gas chamber.
The density of traffic is already high in the area and once the Secretariat comes up, it will only increase manifold, converting this part of Hyderabad into another Delhi.
Given that the construction will necessitate felling of trees in the area, this is extending an open invitation to environmental disaster. To then say, the government will plant lakhs of saplings, with a pathetic 30 percent survival rate, is nothing but meaningless photo-ops. The increase in traffic will then result in the construction of more flyovers and generate more heat.
Social activist Lubna Sarwath says Hyderabad has to fight to save every inch of its green cover. "Babies are dying at our hospitals, the health systems are crumbling. All our water bodies are polluted and Hyderabad has to get its water from 250 kilometres away,"
"Around 4,000 government schools are shutting down and no thought has been given to upgrading them or appointing teachers. With what moral strength can Rao justify the construction of a new Secretariat,'' asks Sarwath, quoting Justice VR Krishna Iyer's judgment in which he said governments are obliged to justify the objectives of any decision they take.
From a citizen point of view, this part of Hyderabad will then become a VIP zone, with restrictions placed on civilian movement, citing security reasons. The red beacon may have disappeared but the VIP mindset stays.
The complex is also expected to house the state legislature. Again a meaningless decision, given that the present Assembly is housed in the erstwhile Town Hall built by the Nizam, a magnificent structure with history and character.
An earlier proposal in 2015 by the Telangana government to the Centre for the grounds did not find approval. One wonders if the present move to greenlight the transfer should be seen in the context of who will be the next occupant at Raisina Hills. It will be a pity if Hyderabad's fragile environment will be placed as barter for Telangana Rashtra Samithi's support for the Presidential election.
Find latest and upcoming tech gadgets online on Tech2 Gadgets. Get technology news, gadgets reviews & ratings. Popular gadgets including laptop, tablet and mobile specifications, features, prices, comparison.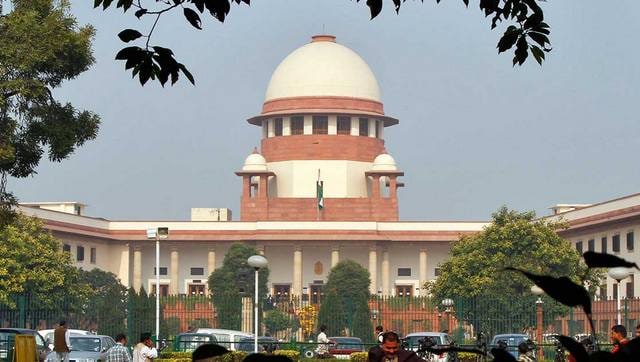 India
The apex court passed the order while hearing an appeal filed by Andhra Pradesh government against the 15 September order of high court
Entertainment
While there's no doubt that online shows entertained and even comforted us during these trying past few months, there's also no doubt that they'll never match up to the experience of watching a concert in person. And sadly, they don't seem to be matching up in terms of income for artists either.
Lifestyle
'As I read Emily Ratajkowski's tale, I thought of many of the stories I had heard amongst the models I had interviewed that struck a similar chord,' writes Manjima Bhattacharjya in her monthly column, 'Curious Fashion'