Tamil Nadu woman given HIV-infected blood was dissuaded by Sivakasi officials from filing FIR: 'They should've given me poison instead'
Preliminary inquiries revealed that donor is a 21-year-old from Sivakasi who donated blood on 30 Nov. According to a relative of the donor, they had no knowledge of his HIV status at that time and he had come along with a female relative who needed a blood transfusion.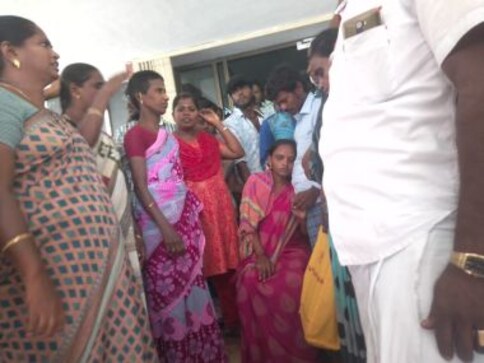 Chennai: In a case of medical apathy and negligence, a pregnant woman contracted HIV after a blood transfusion at the government hospital in Sattur town near Sivakasi in Tamil Nadu. Three lab technicians — Valarmathi, Ramesh and Ganesh Babu — at the Sivakasi government hospital were suspended on Wednesday by the health department. To make matters worse, Sivakasi government officials tried to persuade the couple against filing an official police complaint and instead settle with the compensation.
Medical apathy
The wife of a daily wage labourer, who was eight months pregnant, was brought in for a regular medical check-up at a government hospital in Sattur. This was the couple's second child — they have a three-year-old daughter. The doctors recommended a blood transfusion which happened on 3 December in the same hospital with blood requisitioned from the blood bank in the Sivakasi government hospital, 20 km away.
She was discharged on 5 December, but she fell ill after reaching home and had to visit the Sattur hospital again on 17 December complaining of persistent high temperature, stomach pain and diarrhoea. A day later, she was sent to the Virudhunagar government hospital, where a blood test revealed that she was HIV positive. It was determined that the only possibility of her contracting the infection was the blood transfusion that she underwent two weeks earlier.
Preliminary inquiries revealed that the donor is a 21-year-old from Sivakasi who donated blood on 30 November at the Sivakasi government hospital. According to Muniyandi, a relative of the donor Raja (name changed), they had no knowledge of his HIV status at that time and he had come along with a female relative who needed a blood transfusion. Raja had donated blood a couple of years earlier as well without any hassle. As is the case in many hospitals, those requiring blood transfusion are required to bring along a friend or a relative who can donate blood in lieu of what the patient receives from the blood bank. He discovered his status a few days later during a regular medical test for a visa procedure.
Raja's relatives rushed to the hospital in Sivakasi within three days of the donation to inform the blood bank employees of this development; they were worried that the female relative had been given this infected blood, Muniyandi said. The hospital authorities denied the blood had been given to anyone and had also conducted tests on the relative to ensure that she was HIV-free. But on the very same day, the 23-year-old pregnant woman was being transfused with the HIV-infected blood from the donor.
In further tragic turn of events, news emerged on Wednesday that Raja, unable to bear the thought of his HIV status now publicly known, attempted suicide. He is currently being treated in Kamuthi Hospital in Ramanathapuram.
Government apathy
On Wednesday, officials from the revenue department met the woman and her husband at their home, reportedly in order to dissuade the couple from lodging a complaint with the police. However, their consolation and offers of aid in return for their silence failed in the face of the family's determination to seek justice. Following this, they filed a case at the Sattur town police station against the doctors, technicians and blood bank employees responsible for the botched blood transfusion.
The couple and their relatives also staged a protest in front of the District Collector's office demanding legal action against those responsible for this tragedy and also against the officers who had tried to persuade them against making their case public. The District Revenue Officer and Acting Collector K Udhayakumar received their petition on behalf of the DC, after which they submitted another petition to the Virudhunagar Superintendent of Police M Rajarajan.
A case was registered in Sattur under IPC 269 (negligent act likely to spread infection of disease dangerous to life) and IPC 338 (causing grievous hurt by act endangering life or personal safety of others).
Speaking to reporters, the woman's husband narrated the timeline of events leading up to the discovery of her HIV status, saying he had no faith in government hospitals and demanded the best possible treatment for his wife. "Our life has been ruined because of this incident. The guilty should be punished and not be allowed to escape in the guise of offering us compensation or a government job," says the angry husband.
"Instead of transfusing HIV-contaminated blood, they should have just injected me with poison and killed me," the woman said bursting into tears while standing beside her husband. "No one should have to suffer with what I am going through," she added, saying she had trusted the government hospital who, in turn, has inflicted such trauma on her. "The health department officials who met me after this incident asked me not to make a big deal of it and they would take care of my medical needs in addition to getting me a government job and suitable compensation."
She asked that the society should not abandon her because of the infection she contracted by accident but should instead stand by her to ensure punishment for those responsible. Tamil Nadu minister of rural industries and Sivakasi MLA Rajendra Balaji announced that the government will bear the entire medical expense of the victim and also promised government jobs for both the husband and wife.
Joint medical director Manoharan said, "We have instructed all the 14 blood banks in Viruthunagar district to test all the units of blood again as a precaution. The public shouldn't panic regarding this. We have also arranged for blood to be made available for those who need transfusions meanwhile. Only after a detailed inquiry can we determine where the mistake was made."
After meeting the 23-year-old woman and her family and offering his commiserations, Tamil Nadu health secretary J Radhakrishnan also consulted with district health officers on Wednesday. Speaking to media later, he said, "This incident is shocking. There can be no justification for this because a blood donation is accepted only after thoroughly testing the donor." He said that inquiries are proceeding at a fast pace and action will be taken as per the law against those responsible, including the supervisors.
The woman is expected to deliver her baby on 30 January, he said. She has been placed under intensive anti-retroviral therapy to prevent the transmission of HIV infection to the infant, which can be prevented to a certainty of up to 99%. She would be given nutritional support and the infant would be given special care for six to 12 weeks post delivery, both under the supervision of a special team of doctors.
He also added that as per the request of her family who has refused treatment in Virudhunagar district, high-quality treatment would be given at a special ward at the Rajaji Government Hospital in Madurai. "If they are not satisfied with the treatment there we are ready to shift them to a private hospital of their choice," he added.
Reacting to this news, health minister C Vijayabaskar said the victim will be given all possible support by the government during her lifetime. "We have already suspended three employees and our Health Secretary has set up an inquiry there to figure out where the lapses occurred. Besides, a team under the head of Rajaji Hospital blood bank is also examining the incident and will submit its report on the same, after which we will decide on disciplinary action."
Blood donations in government and private hospitals are being done under the supervision of the Tamil Nadu State AIDS Control Society. The quality control of blood donation and storage is being done by an independent agency. When contacted about the incident, TNSACS Director Dr Senthil Raj said it is unclear where the mistake had been committed and a departmental inquiry has been ordered.