Cartoonist G Bala arrested for 'controversial' caricature of Tamil Nadu CM E Palaniswamy, top officials on Facebook
Cartoonist G Bala has been arrested for his caricature on Tamil Nadu Chief Minister EK Palaniswamy and the Tirunelveli police commissioner and collector
Cartoonist G Bala has been arrested for a caricature of Tamil Nadu chief minister E Palaniswamy, the Tirunelveli police commissioner and the collector, according to a report in  ANI.
In the cartoon, Bala reportedly criticised the chief minister and the government for their inability to prevent a family from committing suicide in Tirunelveli.
According to News18, the report was filed against the cartoonist for 'defaming' the chief minister and showing him in a bad light.
The post garnered over 38,000 shares on Facebook and was also widely shared on Twitter under the hashtag #NellaiFamilyAblaze.
A top government official told the Indian Express that taking notice of the cartoon, Tiruneveli District Collector Sandeep Nanduri reported the matter to the chief secretary and the director general of police (DGP) ordered Bala's arrest. The 36-year-old cartoonist was then arrested in Chennai by a special Tirunelveli District Crime Branch Police team led by an inspector, a police release said
A case has been registered against Bala under Section 67 of the Information Technology Act and Section 501 of the Indian Penal Code (printing or engraving matter known to be defamatory), News18 reported.
DMK leader Manu Sundaram told News18 that this incident was an attempt to quash free speech and silence critics.
He also said that AIADMK was acting as a BJP proxy in Tamil Nadu and it was an attempt to hide their unpreparedness after the rains that affected the region.
Following the arrest, the Chennai Press Club has announced a demonstration in the state capital on Monday.
Unable to bear harassment by a moneylender, a labourer, his wife and two children set themselves ablaze in front of the Tirunelvelli Collectorate office on Monday. They were admitted to hospital with severe burn injuries and later passed away.
Isaki Muthu and his family were being pressured by a moneylender who wanted more money over the principal and interest on a loan, Muthu's brother told reporters.
According to police, Muthu borrowed around Rs 1.40 lakh from a loan shark at a heavy rate of interest.  Despite paying back Rs 2 lakh, the moneylender was pressing for more and threatened Muthu.
Muthu earlier petitioned the police and district collector to save his family, his efforts were in vain. The family then took this extreme step.
Following this incident, the police have arrested three persons, including the financier and his wife, in connection with the incident. After the incident, Palaniswami said the state had in 2003 enacted a legislation against the charging of exorbitant interest rates by money-lenders. He has directed the district collectors and police officials to act swiftly on any complaint related to usury.
With inputs from PTI and IANS
also read
India
As Prime Minister Narendra Modi inaugurates the new Parliament building on Sunday, a key part of the event will be the installation of a 'sengol', a golden sceptre. It was received by Jawaharlal Nehru on 14 August 1945 and symbolised the transfer of power from the British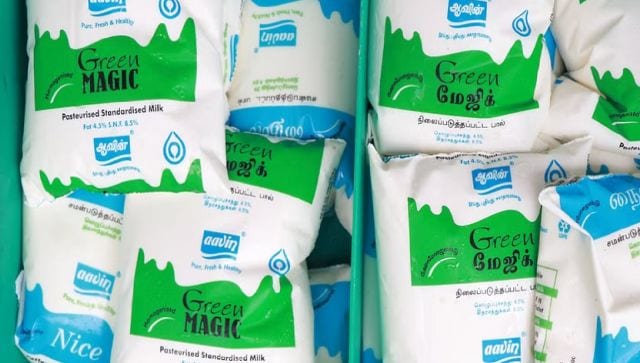 India
It was Amul vs Nandini in Karnataka last month, as the Gujarat firm's announcement to enter the fresh dairy market in Bengaluru triggered a political storm. Now there are similar concerns in Tamil Nadu with CM Stalin saying that Amul is infringing on Aavin
Education
Check this space to know about the Tamil Nadu SSLC results 2023 and the steps to download the same