Tamil Nadu bandh over Cauvery dispute: Normal life hit, Opposition leaders detained
A dawn-to-dusk bandh called by several farmers and traders bodies over the raging Cauvery dispute began on Friday across Tamil Nadu amid tight security with Opposition parties, including the DMK, supporting it.
A dawn-to-dusk bandh called by several farmers' and traders' bodies over the raging Cauvery dispute began on Friday across Tamil Nadu amid tight security with Opposition parties, including the DMK, supporting it.
As those who had given the bandh call have said a series of protests, including "road and rail roko", will be held, thousands of police personnel were deployed across the state to maintain law and order.
Police said tight vigil was being maintained and no attempts to mar public peace or disruption of free movement of transportation — on road or rail — would be allowed. Several local grocery shops, which usually open by daybreak, remained shut in view of the protests.
State transport corporation-run buses besides trains are being operated as usual though autos, taxis and commercial freight operators remained off the roads.
The bandh has been called in protest against the violence targetting Tamils in Karnataka and also to seek Cauvery water for the state.
Barring the ruling AIADMK, its allies and trade unions affiliated, all other Opposition parties, including the DMK, Tamil Nadu Congress, DMDK, MDMK, Left parties and the PMK, supported the bandh.
Schools, business remain shut 
Several establishments remained shut in Coimbatore, Tirupur and Nilgiris districts, affecting normal life, in response to the bandh call. About 20,000 small and medium scale units in and around Chennai and over 30,000 garment factories in the textile hub of Tirupur also extended support to the bandh and downed shutters, according to reports.
Thousands of police personnel, including armed reserve forces, have been deployed in Tamil Nadu and in Chennai over 15,000 policemen are on duty.
Protection was being provided for Karnataka-related business establishments, schools, institutions and areas where Kannada speaking people live, including Krishnagiri district.
Meanwhile, a youth who had set himself on fire over the Cauvery issue on Thursday, succumbed to injuries, police said. The activist belonging to Naam Tamizhar Katchi had suffered over 90 percent burns and died Friday morning.
"We were giving him all possible treatment. However, he suffered a cardiac arrest and despite our best efforts, he could not be revived," a senior hospital official told PTI.
Opposition leaders detained
DMK leaders MK Stalin and Kanimozhi were among the several leaders detained on Friday while staging protests in support of the bandh.
DMK's MK Stalin detained. PTIDMK party leader MK Stalin detained
In Chennai, DMK treasurer Stalin led a rally from Rajarathinam stadium to Egmore Railway station. He then squatted in front of the railway terminal along with hundreds of party workers after his attempt to stage a rail roko was foiled by police, who detained him along with other party protesters.
DMK Rajya Sabha MP Kanimozhi, who staged a road roko on arterial Anna Salai along with DMK supporters, was later detained by police in a marriage hall. She has sought convening of an all-party meeting over the Cauvery issue.
In Coimbatore, senior leaders of various political parties, including the DMK and the MDMK and farmers associations were arrested while trying to stage rail roko near railway stations and road blockade.
The bandh did not affect functioning of state and central government offices in Tamil Nadu, which remained open.
While state transport corporation-run buses besides trains are operating as usual, some auto rickshaws, taxis and commercial freight operators stayed off the roads. Farmers' leader PR Pandian also took part in protests with farmers of various organisations.
VCK Chief Thol Thirumavalavan, who staged a rail roko with his supporters by blocking an express train, was detained by police near Basin Bridge in Chennai.
Meanwhile, DMDK leaders and party workers led by party leader Premalatha Vijaykanth, went on a fast at the party headquarters in the state capital. They held placards and raised slogans against the Centre and Tamil Nadu and Karnataka governments.
They condemned the violence against Tamils in Karnataka and sought protection for them.
In Tiruchirapalli, MDMK supremo Vaiko courted arrest while trying to block trains.
Large-scale demonstrations were witnessed in Thanjavur and the Cauvery delta region by VCK, MDMK and Left parties.
In Puducherry, an effigy of Karnataka Chief Minister Siddaramaiah was burnt outside the bus terminal by some agitators, however, the situation was brought under control by the police. A Puducherry Road Transport Corporation was stoned on Vazhudavoor road, following which it was brought to the shed. No passenger was injured, police said.
The BJP workers took out a procession and raised slogans, condemning the attack on Tamils in Karnataka and staged a picketing near the bus stand.
The party's local unit president V Saminathan told reporters that the Karnataka government had "failed" to protect Tamils and their properties.
Police said attendance in government offices was normal and government schools too functioned.
Police patrolling was intensified and all vulnerable areas were taken care of, a senior police officer said.
CM Jayalalithaa orders water release from Mettur dam
With Mettur Dam witnessing steady inflows following Karnataka's release of water from the Cauvery river, Tamil Nadu Chief Minister Jayalalithaa on Friday ordered opening its sluice gates for irrigating samba crops in the delta districts.
"To enable farmers take up samba cultivation, I have directed release of water from Mettur Dam from 20 September, 2016," she said.
The government decision to release water was based on factors like the dam touching 84.76 feet (capacity 120 ft), likelihood of receiving more water from Karnataka reservoirs in view of the Supreme Court order, the Cauvery Supervisory Committee's expected decision on quantum of water for her state and an anticipated normal north east monsoon, she said.
Tamil Nadu has received 8.92 tmcft of water till 14 September at Biligundulu, the designated entry point, with Karnataka releasing water following the apex court order, Jayalalithaa said in a statement.
She recalled that the 2007 final award of the Cauvery disputes tribunal was published in a central gazette in 2013 after a Supreme Court order, and blamed the Centre for not constituting the Cauvery Management Board and Cauvery Water Regulation Committee.
Since the Centre has not constituted these, "We are in a situation of approaching the Supreme Court to receive our share of water from Cauvery," she said, reported PTI.
The state government had earlier moved the Supreme Court seeking a direction to Karnataka to release 50 tmcft of water from Cauvery.
The court had initially directed Karnataka to release 15,000 cusecs of water for 10 days, but later modified it's order, and asked the upper riparian state to release 12,000 cusecs of water till 20 September.
With inputs from PTI
India
Of the three girl students, two had held a press meet and questioned the decision of the university to strictly implement the uniform rule inside the campus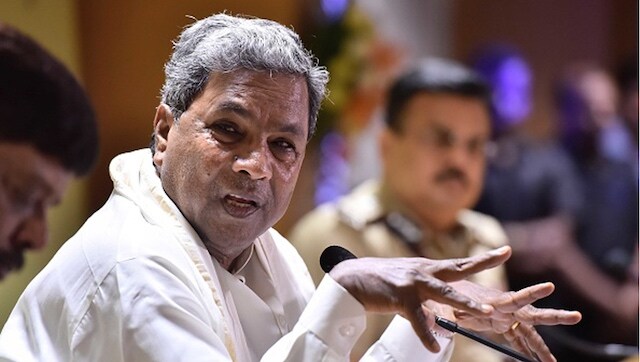 India
Siddaramaiah charged that the BJP government at the Centre betrayed the people by not fulfilling its election promises
India
The earthquake was also felt in many villages near Somwarpet in Kodagu district. People ran out of their houses following the tremor