TAG Survey for 2018 highlights challenges facing teenage girls across India, their hopes and aspirations
The Teenage Girls (TAG) Survey highlights that investment in India's girls, their health and well-being, their education and skilling, their productivity, economic potential and leadership, is a national priority that can no longer be sidelined.
Note: In a country of 120 million girls between the ages of 10-19, the absence of reliable, representative body of evidence on teenage girls and their lives seemed to be a critical data gap. In the absence of such data, India's policies and programmes had stayed blind to the various activities and experiences that make the life of a teenage girl, her aspirations and her challenges and the numerous ways in which she negotiates agency in a world that is dominated by men and gender and sex-based discrimination. This realisation spurred the Teenage Girls Survey (aka the TAG Survey or TAG Report) — a direct conversation with girls across India through a large-scale survey, by the Naandi Foundation and Project Nanhi Kali. The TAG Survey sample covers all 30 states and six major cities of India. Rohini Mukherjee, chief policy officer for Naandi Foundation, puts the 2018 TAG Survey findings into perspective. For the full report and findings, click here.
***
"What do you do in your leisure time?" Silence. Blank face.
I could not understand what happened to 14-year-old Seema in Sheopur Kalan, in the heart of the dreaded Chambal valley of Madhya Pradesh. She had been chatting with me about the local mela that was due to start the next day, but now, did not seem to understand what I just asked her.
"Leisure time, you know, your khaali time? When there is no work?"
"Oh that — I go and fetch some water if I have some time."
"But isn't that work? I am asking about really khaali time. Like when do you meet your friends and chat with them?"
"That we do when go to fetch firewood. We go together and help each other shake down the dry branches and then tie them up into bundles."
I gave up.
I was on a field visit to test the questionnaire we had developed, for the Teen Age Girl (TAG) Survey we were proposing to launch soon. This was the 12th version of the questionnaire. In each round of field testing in a different part of the country, we learnt something new and incorporated those learnings into the questionnaire.
Since there has never been a survey done in our country in which only teen-age girls are the respondents, we were developing the questionnaire from scratch. The main reason for doing this survey was to try to understand what it means to be a teenage girl in India today. What would be the set of questions to ask, to arrive at this understanding? It was a very difficult task. Should we ask current facts about their lives — are you presently studying, do you live in a pucca house, is there electricity in your house, are you married…? Or should we ask about experiences they have had in the past — have you ever travelled to the nearest big city, have you ever bought sanitary napkins by yourself, have you ever been harassed by boys…? Or should we ask about their dreams and aspirations — how much would you like to study, at what age would you like to marry, would you like to do a job, would you like to learn how to use a computer…..? We wanted to ask them all.
But there were several filters we had to keep in mind. One was time: We were planning to conduct a nationwide survey, visiting every state, and make our data represent the voice of all 80 million teen age girls in the country. If that was how big the survey was going to be, what was the maximum time we could spend for each interview? Also, what was the maximum time we could keep the respondent engaged? The other filter was that of sensitivity of the question: was it something that could be asked by the surveyor — a stranger for all practical purposes — and elicit an honest answer? It was after several more rounds of field testing that the questionnaire was finalised. Many of us felt attached to some of the questions and felt sad when we had to drop those to make the questionnaire robust.
The TAG Survey conducted during 2016-17 brought the hopes and aspirations of the teenage girls of India to the forefront for the first time. In a nationwide exercise of quantitative data collection across all 30 states of India, in which close to 1,000 trained women surveyors met over 70,000 teenage girls in their homes, the primary objective was to understand the state of teenage girls in India today.
How equipped are our teenage girls to take on the future? Do they have the basic skills — using a computer, knowledge of English…Do they have access to the basic amenities of modern life — clean toilets, safe and hygienic menstruation, mobile phones, freedom to move around on their own. Are they healthy enough? What are the challenges they face? What are their dreams?
Investment in our girls, their health and well-being, their education and skilling, their productivity, economic potential and leadership is a national priority that can no longer be sidelined.
This resonates with findings of UN agencies and other leading development organisations that show the many ways in which investment in health, education and livelihood for girls and women creates a powerful ripple effect, benefiting an entire society. Studies have estimated that ensuring increased attendance of girls in schools can positively impact the national income (GDP). Studies also show that women tend to reinvest a larger portion of their income in their families compared to men. The Beti Bachao Beti Padhao campaign (2015) of the Government of India is further recognition of the importance of investing in girls. As recently as January 2018, Narendra Modi's Mann ki Baat radio programme was about the need for empowered and self-reliant women in the country.
Naandi Foundation began working with the girl child in 2005 as a result of a partnership with the KC Mahindra Education Trust, to implement Project Nanhi Kali. Since then, we have succeeded in taking more than 3,00,000 girls through 10 years of basic schooling and past the first big education milestone in India — the Class 10 board examinations. While we were doing this, we also ensured that they did not get sent off to work, they were not kept home for chores or sibling care, they were not married off early — or worse, trafficked. In reaffirming our commitment to the cause of the girl child in India, we decided to go out and meet teenage girls across the country from Ramban to Thoothukudi, Anjaw to Jamnagar to understand the realities of their lives.
Listening to the voice of teenage girls across India left us with a sense of immense hope. The intense engagement, brimming optimism and raring-to-go attitude of the girls, whichever part of India they were from, made us feel that there is no time better than the present, to enable the 'take-off' of this entire generation and see a transformation in our lifetime.
The survey findings have been classified under three sections — dignity, agency and aspiration. It is our belief that these three aspects of a girl's life, if they are at their optimal level, will ensure that she is empowered. The nation's 'report card' on how teenage girls (13-19 year olds) are doing has good news.
80.1 percent girls are currently studying
95.8 percent girls are unmarried
70 percent wish to pursue higher studies
74.4 percent wish to work after their studies and have a specific career in mind
In rural as well as urban India, 74.4 percent girls want to marry only after they are 21 years old, by which time they would be earning a living
Our teenage girls' aspirations are touching the sky. But when we look at the agency and dignity aspects of their lives, we find that there is a lot of work done to here — without which, they will not be able to realise their aspirations.
40.4 percent are still having to defecate in the open
45.7 percent use unhygienic materials during menstruation
Every second teenage girl is anaemic
Every second teenage girl has low Body Mass Index
The TAG Report was born out of the realisation that more needs to be done to ensure these girls grow up to be confident, informed, self-reliant, and independent young women. Project Nanhi Kali will leverage these findings to explore new opportunities that will enable these girls to live their aspirations.
Read the TAG report here.
Rohini Mukherjee is chief policy officer, Naandi Foundation
Subscribe to Moneycontrol Pro at ₹499 for the first year. Use code PRO499. Limited period offer. *T&C apply
Politics
A floor test on Monday will decide the future of Narayanasamy's government, barely two months before the Assembly polls in the Union Territory are scheduled to be held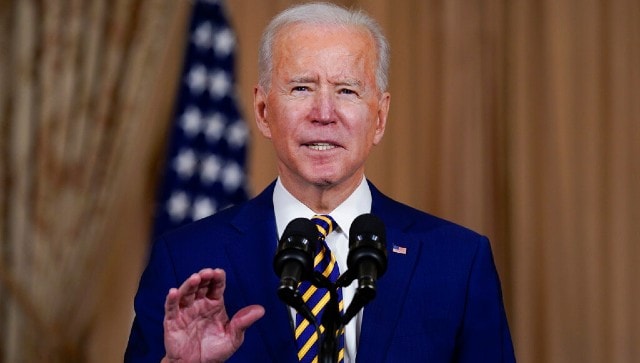 World
Several militia groups such as the Hezbollah have received at least some financing, support and weaponry from Iran over the years
World
Crown Prince Mohammed bin Salman had cultivated a climate of fear that made it unlikely for aides to act without his consent, according to the report