India's water crisis: In Rajasthan's Bhilwara, residents lock barrels to prevent theft; govt says pipelines too costly
The groundwater level in Rajasthan has been dropping at an alarming rate, according to an assessment by the Ministry of Water Resources .
Editor's note: A recent NITI Aayog report on India's water resources presented an alarming state of affairs. The country, according to the think tank, is in the grip of the worst water crisis in its history, with 600 million Indians faced with "high to extreme water stress", resulting in 2 lakh deaths a year. Firstpost will run a series of ground reports from across the country to determine the extent to which depleted reserves have affected daily life.
Read all stories in the series here.
***
Jaipur: Jamunalal Singh, a resident of Parasrampura village in Rajasthan's Bhilwara district, has to stay awake till midnight these days. Not to protect his family or farms, but to keep an eye on the water stored for daily use.
In this part of Gulabpura town, water has become severely scarce, forcing residents to resort to extreme measures such as using locks on the barrels in their backyards to avoid theft. "What will we drink if and when the water gets stolen," said 32-year-old Singh. "These measures are essential as Hindustan Zinc Ltd supplies water to the 400 families in the village — two tankers carrying 10,000 liters each — only once in eight days."
Hindustan Zinc Ltd, which has been carrying out mining activities in Bhilwara, supplies water to villages in this district as part of its Corporate Social Responsibility. The frequency of its tankers supplying water to the villages improved to once in five days after the media reported on the acute water scarcity in Bhilwara in June.
"Even the vessels kept for animals and birds remain empty on most days," said Moolchand, 40, another resident of the region. "The water often gets stolen, as a result of which we have to put locks on our plastic barrels... We do not wish to put locks on something as essential as water. But when water gets stolen, it results in petty fights among neighbours, which makes it difficult to live together. So we came to a common agreement of putting locks."
Moolchand believes that the problem can be resolved if water is supplied every two or three days.
Groundwater over-exploited
Mahaveer Dhobi, another resident of the region, revealed that hand pumps had dried up as there was negligible groundwater within their reach.
According to a report of the Ministry of Water Resources on the groundwater level in Bhilwara, the underground drought is significantly high in nearly all blocks of the district. The district's annual replenishable groundwater resource was assessed at 428.18 million cubic metre (mcm); the net annual groundwater availability was estimated to be 386.59 mcm; and the net annual groundwater withdrawal for all uses was calculated to be 524 mcm. The report also states: "The stage of groundwater development in the district is 135.55 percent, which indicates that the scope of groundwater development is already exhausted. All the blocks are 'over-exploited.'"
The 352 textile-related industries in Bhilwara and the town of Gulabpura exacerbate the problem as they use large quantities of water, resulting in a drinking water crisis. Untreated effluents from these industries also contaminate the groundwater. In selective areas located on structurally-weak planes connected to some recharge source, wells continue to yield a moderate quantity of water.
The fact that the village of Parasrampura is not alone in resorting to such drastic measures highlights the grave problem in poll-bound Rajasthan. As many as 12 villages in Barmer district are using similar measures to "protect" their water. The Ramzan ki Gafan panchayat in Chohtan tehsil has about 50 houses in each village, but only one well to provide them water.
"By 10 am, all you can draw from the well are 50 to 60 buckets of water. Residents put locks on the drums after that as the water can be stolen easily. It has become a common problem here," said Ameer Khan, a resident of the village.
According to Khan, while the water gets replenished in most wells by the next day, it is difficult to get more water if they run out as the nearest water body is too far from the area. "There are no water lines in the village for supply from the government. The Sarvtala lake is about 40 to 45 kilometres away, and there are a lot of ups and downs en route. No water lines have been set up from the lake, and there is no other way. We are only dependent on rainwater," Khan added.
When asked about the availability of water tankers in the area, he said a tanker visits the village twice a month. "One tanker of 6,000 litres supplies water to about 60 houses for 15 days. This means that on an average, every house gets only 6 litres per day. It is very difficult for us to meet ends in terms of water," he said.
'Setting up water pipelines an expensive affair'
Local authorities have approached the Rajasthan government multiple times, but all in vain. "The Jal Parishad (water council) has been informed many times, and several letters have been written to the department. But we have not received any response from them till now. We hope the issue gets resolved someday," Khan said.
Scarcity of water has become one of the most pressing problems in Rajasthan. There has also been an increase in the number of dark zones as groundwater is drying up at an alarming rate. Temperatures as high as 47 degree Celsius in parts of the state make the situation worse.
"The government norms allow water lines to areas that have a population of over 1,500 people, which is why water pipelines are not available in certain villages," said CM Chauhan, chief engineer (rural) of the Rajasthan government's Department of Public Health Engineering. "Natural water bodies like rivers are also far from certain villages, making it extremely costly to set up water pipelines there. That also is a major issue."
"People consume water through tubewells and hand pumps in these areas. Now that the groundwater table is going down and hand pumps are drying up, water transportation is the only immediate available solution. The transportation norms allow 10 litre water per capita per day. This is for bare minimum drinking purposes only. Some areas have a lower population and the tankers have higher capacity. So there we supply water for a week to 10 days depending on the size," Chauhan explained, adding that villagers are now being encouraged to try water harvesting.
But rainwater harvesting in the state has its own challenges. In 2017, Rajasthan recorded 26 percent excess rainfall, and eight of the 33 districts in the state were reported to have received abnormal rain.
The situation of water availability is not pleasant at the macro level either. According to the latest report by NITI Aayog — "Composite Water Management Index" — 21 Indian cities are likely to run out of groundwater by 2020. This will affect an average of 100 million residents of the country. The report also warns that about 40 percent Indians are expected to have zero access to drinking water by 2030.
With inputs from Somdat Tripathi
The authors are Rajasthan-based freelance writers and members of 101Reporters.com, a pan-India network of grassroots reporters.
Find latest and upcoming tech gadgets online on Tech2 Gadgets. Get technology news, gadgets reviews & ratings. Popular gadgets including laptop, tablet and mobile specifications, features, prices, comparison.
India
The Buddha nullah picks up toxic effluents in massive quantities and around 200 MLD of untreated sewage a day before it meets the Sutlej river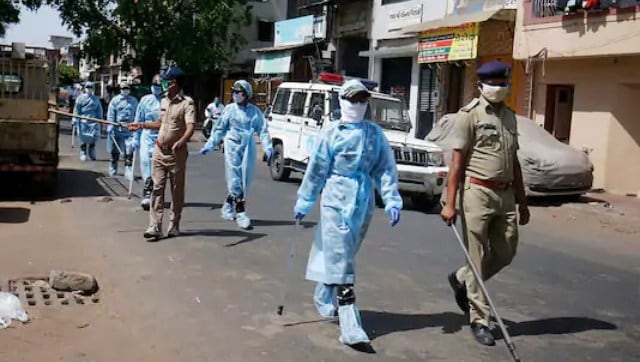 India
The police needs clean localised data to formulate strategies on where to increase patrolling and where to be stricter in enforcing the lockdown.
India
Sex workers in Kamathipura are desperate to get back to work despite the risks due to COVID-19, purely to end the vicious cycle of hunger and violence