Syed Salahuddin entry into US books as global terrorist does little for Kashmir; Valley stays hotbed of militancy
The US government's decision to designate Hizbul Mujahideen and United Jihad Council (UJC) chief Syed Salahuddin as a global terrorist is unlikely to have any major impact on Kashmir militancy.
The US government's decision to designate Hizbul Mujahideen and United Jihad Council (UJC) chief Syed Salahuddin as a global terrorist is unlikely to have any major impact on Kashmir militancy. In 2012, when the US had put a bounty on Lashkar-e-Taiba (LeT) chief Hafiz Saeed, it didn't affect the militant outfit's operations in Kashmir.
The LeT has carried out some of the deadliest strikes in Kashmir. In a recent attack, militants remained holed up inside Delhi Police School (DPS) near the army headquarter in Srinagar. Heavy gunfire were exchanged between the security personnel and the militants, a CRPF sub-inspector was killed, while three other security officials were injured.
While LeT has many Pakistani militants in its ranks, the Hizbul has local youths in its cadre. However, the LeT has more trained militants and have inflicted more casualties on the security forces. It is not the presence of militants, whose number has significantly reduced to 300 over the years, but the street protests and convergence of local youths at the encounter sites that worry the security officials. In the past one year, these have triggered a cycle of protests in Kashmir, resulting in deterioration of security situation. Even on Eid, youths protested in most of parts of Kashmir in which some, including policemen were injured.
The decision to designate Salahuddin and Hizbul as global terror sponsor has come for the first time in the state's history of militancy, said Noor Mohammad Baba, a political commentator in Kashmir. He added that the decision is more symbolic as Americans have a direct stake but it will not deter the political resistance in Kashmir. "In the past, many have been characterised as terrorists, but US did not get involved. As long as Pakistan is supporting Kashmir resistance movement, there will not be much change on the ground," he said.
The US Department of State noted in its statement that it was designating "Mohammad Yusuf Shah, also known as (AKA) Syed Salahuddin, as a Specially Designated Global Terrorist (SDGT) under Section 1(b) of Executive Order (E.O.) 13224, which imposes sanctions on foreign persons who have committed, or pose a significant risk of committing, acts of terrorism that threaten the security of US nationals or the national security, foreign policy, or economy of the United States. s a consequence of this designation, U.S. persons are generally prohibited from engaging in transactions with Salahuddin and all of Salahuddin's property and interests in property subject to United States jurisdiction are blocked." 
The statement further noted: "Syed Salahuddin, is the senior leader of the militant group Hizbul Mujahideen (HM). In September, 2016, Salahuddin vowed to block any peaceful resolution to the Kashmir conflict, threatened to train more Kashmiri suicide bombers, and vowed to turn the Kashmir valley "into a graveyard for Indian forces. Under Salahuddin's tenure as senior HM leader, HM has claimed responsibility for several attacks, including the April 2014 explosives attack in Indian-administered Jammu and Kashmir, which injured 17 people." 
"Today's action notifies the U.S. public and the international community that Mohammad Yusuf Shah, AKA Syed Salahuddin, has committed, or poses a significant risk of committing, acts of terrorism. Designations of terrorist individuals and groups expose and isolate organizations and individuals, and result in denial of access to the US financial system. Moreover, designations can assist or complement the law enforcement actions of other nations,'' the statement read.
In 2012, US had put a $10 million bounty on Saeed, the founder of Pakistan-based militant group LeT and the founding member of Jamaat-ud-Dawa, an Islamist organisation dedicated to installing Islamic rule over parts of India and Pakistan. The Indian government has designated him as the mastermind of the 2008 Mumbai terror attacks, which killed 166 people, including six American citizens. US had designated LeT as a foreign terrorist organisation in December 2001 and Jamaat-ud-Dawa in April 2008. The United Nations followed suit in December 2008. But these measures have hardly had any impact, the LeT has continued with their attacks on government forces.
The move has, however, angered some of the separatists. Senior leader of Quami Mahazi Azadi, Azam Inquilabi, said that the US will face repercussions of its "imperialist'' policies. "Narendra Modi and Donald Trump have simply added to the resolve of Kashmiris and we will take on both the powers," he said. Hurriyat executive member, Abdul Gani Bhat, refused on comment on the issue.
After the US action, Salahuddin has said that Trump has made a mockery of the UN charter, international conventions and ground realities. UJC spokesperson, Syed Sadaqat Hussain, told a local news agency that Salahuddin "is the leader of the indigenous Kashmiri pro-freedom people who are fighting against the Indian occupation. Kashmiri people and Hizbul are fighting the Indian occupation and the world knows about India's human rights violations in Kashmir. International rights bodies like Amnesty International and Human Rights Watch are witness to these violations," he said.
"Trump administration has announced the decision to keep Modi in his good books. As per UN resolutions, the Kashmir movement is a genuine struggle and Salahuddin is its real representative. We believe that the freedom loving nations will reject this announcement," he said. He further said that the Indian government should read the writing on the wall and understand that the struggle in Kashmir is at such a stage where nobody can stop or weaken it. "Entire Kashmir is at the forefront and will achieve its goal," he said.
News & Analysis
Pegasus is a spyware suite sold by Israeli company NSO Group to "vetted government clients". It is used to compromise and conduct surveillance on targeted Windows, Mac computers, and also Android and iOS smartphones
India
As per the Jammu and Kashmir Police, approximately 5 kilograms of explosives have been recovered from the drone.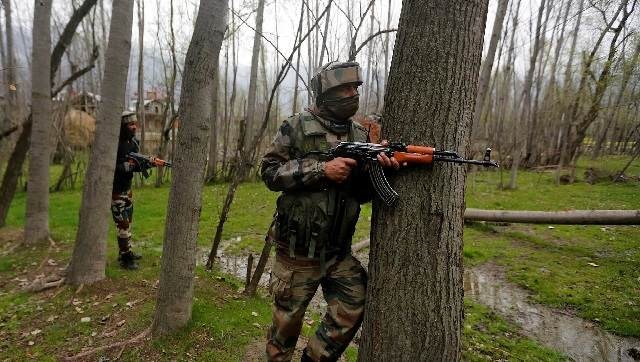 India
Security forces launched a cordon and search operation in Shokbaba forest in the Sumblar area of Bandipora in north Kashmir following inputs about the presence of terrorists, officials said