Swaraj at 70 Part 2: Not being able to disagree without causing upheaval is dangerous, says Sushobha Barve
Firstpost spoke to Sushobha about the situation in Kashmir, the recent spate of mob-lynchings and the meaning of Swaraj in present day India.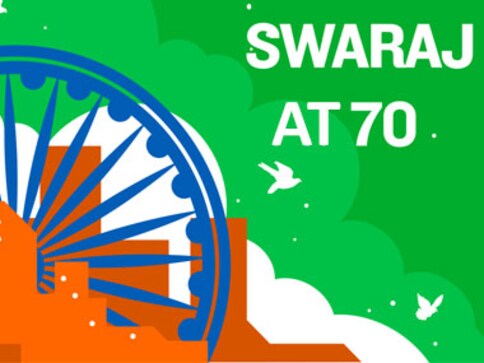 Editor's note: It's ironic that 70 years after India became an Independent country and a democracy, the invocation of aazadi evokes bitter conflicts. Whether it is on university campuses or in the midst of the conflict in the Kashmir Valley – both calling for aazadi and challenging that call as anti-national arouses mighty passions. By comparison, swaraj is hardly ever invoked in the public discourse. It almost seems like a historical artefact, a fragment of fading memories of the Freedom Struggle. This is the second part of a series titled Swaraj at 70 that seeks to take a closer look at this dichotomy.
When communal violence ripped through Mumbai in December 1992 and January 1993, Sushboha Barve led groups of citizens into the strife torn areas to try and restore peace. Subsequently, she went on to co-found the Mohalla Committees through which representatives of Mumbai Police still collaborate with members of Hindu and Muslim communities, in order to build bridges and prevent conflicts.
Barve, 68, is an Ashoka Fellow and the founder of the Centre for Dialogue and Reconciliation (CDR) in New Delhi, to build an academic base for the methods she has developed through her extensive work in conflict areas. Over the last 20 years, through the CDR, Barve has done extensive ground work for peace and justice in the Kashmir Valley.
She has also led Track III Dialogues on peace and stability between India and Pakistan. Last year, Barve was part of the Concerned Citizens Committee, led by BJP leader Yashwant Sinha, which visited the Kashmir Valley and made recommendations to the government on how to address the turmoil there.
Firstpost spoke to Sushobha about the situation in Kashmir, the recent spate of mob-lynchings and the meaning of Swaraj in present day India. Edited excerpts follow:
What feeling or associations does Swaraj have for you in 2017 India?
Over the years, one has grown to be proud of India and its Independence. The fact is that despite many turbulent periods we have survived, unlike other countries who got their Independence in a similar period. But I must confess that I am at times quite fearful of our Swaraj, whether it will remain, as it has been, in the future.
There are stresses and cleavages that have appeared and one should not be unduly complacent based on the past. We have many areas of the country where young people have had no experience of feeling the pride in India like we did.
Why is that so?
Because they have grown up in strife and poverty, they have not found good role models as far as political leaders are concerned or other social leaders that they could look up to.
Can you map which particular parts of India are more acutely affected by this?
Certainly the border areas. Assam is a tinder box. It started in the late 1970s with the Assam Students Union taking up the issue of foreign nationals which had a huge public support in Assam. It was largely non-violent. Some kind of accord was signed but it didn't really, as far as the Assamese are concerned, answer the foreign national issue. So, there was a public perception that you are always deceived and then the violent phases began – Assamese vs Bengali, migrants vs tribals.
And now, look at what is happening in the Bodo areas. We have not learnt to successfully deal with issues which were simmering since the 1960s and 1970s and deal with them when they would have been perhaps easier to handle. Now they have become so complicated. Three or four generations have lived there, how can you say they are illegal migrants.
It's the same thing in Kashmir – Delhi has often mocked their issue. Last year, many Kashmiris kept saying we just want this Kashmir dispute to be settled. How would you like it to be settled? Whichever way (they said), settle it once and for all so we don't have this sword hanging over us.
How much of the current unrest, whether it is Kashmir or on the eastern side is to do with people not experiencing an individual or collective sense of agency, and thus feeling helpless, frustrated and therefore fearful?
As far as the collective agency is concerned, young people in Kashmir ask a simple question. Why is it that in rest of India citizens have a right to protest but the same right does not apply to Kashmir? Even if you are protesting against ration cards not being given or some social issue like a road not being built. I've often seen these protests in Srinagar and they are so forcibly stopped.
How did the protests in 2010 (in the Valley) begin? The protests started because the army had killed five innocent civilians from a village. Initially, they said they were militants, then the truth came out and it was discovered that they had killed these innocent people.
All that the people were initially demanding was to get the army to admit this and have FIRs registered. They wanted the police to take over because they had no faith in the army as there had been a series of such cases. Those protests were brutally put down.
I had two Kashmiri young men working with me, one of them had done his law degree and he said "Everywhere else protests are allowed, why are we not allowed to protest. Was this a wrong cause for us to protest? Why is the gun used against us?"
Pellets guns are not used anywhere else. There was a far greater destruction of property in Haryana during the Jat agitation, and in the Cauvery agitation, but no pellets were used. Only in Kashmir, they are used.
Are you saying that when people don't feel either heard or seen, they cannot experience a sense of Swaraj?
Not just heard or seen, there is a grievance that the rights which are given to the citizens of this Republic under the Constitution of India are not equal for all citizens. What is left for them than to feel attached to this Swaraj you are talking about?
(The people in the Valley often say) "We want our Swaraj... we want to have our independent Kashmir, long before you started talking about independence, we had our independence movement from the Maharaja since 1930s. Why can't we have our struggle to get independence?"
So, if you are saying that they are a part of us, then surely something is going wrong for them to feel they are not. You can't just say they have a wrong idea, they are misled, they are wayward... you can't dismiss it like that. What I held dear of our Swaraj, I feel that in the areas where I have worked, I can't hold that ideal before those people... they don't see evidence of it in present day India in their experience.
Here Swaraj is being equated with Independence and freedom but in the Gandhian use of the word, Swaraj was an inward process…
But who is reading Gandhi, please tell me. Leave Kashmir, but here in Mumbai, how many are reading Gandhi today, how many can see Gandhi's meaning of Swaraj as an inward self-reflection... is there a self-reflection? Do we encourage young people to have self-reflection to correct themselves, to treat everyone as equal – that is Gandhi's philosophy.
Nevertheless, in spite of this darkness, there are creative endeavours on the ground in Kashmir. Do you think there is something in that which still gives you hope?
Human beings have an inherent sense of hopelessness, but that's no reason to give up. We must continue to work to preserve this Swaraj which we got, which others got for us, to endure and we must preserve it for future generations. We have made progress on so many fronts. I see in the slums of Mumbai, where people have got higher education, they have become doctors or are working with IT companies.
A friend of mine, now is in his early 40s, runs a roaring business selling equipment made in his workshop through e-commerce, selling it outside India as well. He proudly told me that he has now handed his business over to his son, aged 25. This is all in Dharavi.
I see those young people who never thought that they could make such economic and social progress but they have done it. And this man, who is otherwise quite conservative, has raised his children as liberals. I can feel very proud that in conservative pockets of Bhendi Bazaar, there are young people that have grown up with a good education. Even in health and Space, there has been a lot of progress. In environmental sciences, we have done a lot of progress as well.
A young man I've worked with in Kashmir has done his PhD from Beijing University, there are many others who are now going to Japan. So it is not just to the West but young people are going all over. India will be richer through their experiences, their education in countries of Asia. But the real challenge is how to hold on to their human values.
What are the essential values that you see as the foundation of Swaraj?
Equality for all in all spheres of life, justice for all without any prejudice, no hunger, no poverty and no conflicts which have sapped so much of our national energy and resources form the foundation of Swaraj. Once these are achieved, then only can we really feel the same pride in our Swaraj which we felt at the time of Independence, that sense of Indianness.
Are we indeed in a situation when the society is getting more and more polarised? Or, is there a deeper resilience in society to resist the forces of divisiveness?
What we have not learnt to do is to have difficult conversations about our differences. Having prejudices, having differences is not a problem. Being able to talk about the other and knowing the art of talking about our differences and our prejudices against the other is what we have to do. In a civilised discussion, we can say I differ from you. However, we are not able to say I differ from you without causing a huge social upheaval and I see that as a danger. We have developed the attitude of skirting around issues.
How do you view the current mob-lynching phenomenon?
It is all because of the atmosphere, so even if you didn't have a prejudice. seeds of suspicion have been planted in your mind which make you believe anything can happen. Otherwise, why would a white man drive his truck into the Muslims coming out of the mosque in London? Why would there be white people involved in attacks on Sikhs who look like Muslims in the US?
Do you see lynching as a global phenomenon then?
The global phenomenon is against Muslims. When an atmosphere in any country is created, others take up sides. I can understand the Sikh and Hindu families, who were refugees from the time of Partition, and the Muslims who went from here to there having bitterness, a deep sense of grief and hatred of the other because they suffered. It's a painful past for them.
But thousands have come out of that experience without passing on that pain to their children and their grand children. So, human beings do have a capacity to deal with their pain on their own and move on and are in a position to tell the suffering along with good things (memories of) to their neighbours and friends. And, it is these people who visit their villages (across the border) where their ancestors lived and come back feeling healed with something being restored.
Therefore, I know that if in a certain kind of atmosphere which has been created, these kind of tragedies do happen and are inflicted on minorities. There is also, on the other side, the capacity of the victim to heal and be restored and still have faith in humanity. That's the only hope on which I feel our Swaraj will survive.
Can this outlook be fostered through civil society interventions?
Of course, civil society must be engaged. Just having protests is not enough. But this particular protest at the moment (Not In My Name) was important because I always feel that if the silent majority remains concerned about their own security – they are guilty because they don't want to be exposed. They also have this false pride that if somebody from my own community has done something which I know is wrong then I have to overlook that.
These are the sort of difficult conversations I am saying, in which we must be engaged. A majority of people have a deep conscience and it is to that conscience we must appeal.
In what ways do we sometimes inadvertently cause that conscience to be torn down? What is the critique of liberal, progressive activism?
A group of concerned citizens, including Yashwant Sinha, went to Kashmir last year. We issued a statement appealing for a peaceful Ramadan, with a ceasefire during Ramadan. And, this led some left leaning secular groups to say we should not get into religious things. However, the majority of Indians, whichever community they belong to, are religious people.
They are not fanatically religious so you must learn how to communicate with them. But if you think that calling for a peaceful Ramadan is also a religious appeal, then I am sorry to say liberal secularists are not going to go anywhere. And, we were appealing to the government, to the security forces in Kashmir, militant groups as well as to Pakistan – body criticised us. The least we could have expected was support from liberal groups.
So, the willingness to listen to whoever is deemed to be the 'other' and listen empathically is the essence of Swaraj?
Yes. Our Indian tradition, the subcontinental tradition has been this – we hear of Gargi sitting with all these men in intellectual discussions. How did they manage to have these discussions? They must have listened to one another because the discussions went on for hours and hours and days on end.
But in the contemporary context, the listening has to be followed by action.
Even if there isn't action, even if you just listen with empathy, half of people's grievances are addressed. People are not fools, they know that a lot of their grievances cannot be addressed. 'Hamari sunvai nahi hoti (no one listens to us), I kept hearing this repeatedly from Bhagalpur to Bombay during the riots. For the last 30 years, people have been saying this. Do we think that only a certain people in academia have all the wisdom and the rest don't?
Then how could we act on this?
We must learn to listen so that people can express what they want in terms of personal, social and economic development. If we think that some ministry in Delhi has all the wisdom to make one policy, which is suitable for tribals in eastern India, Bodos in Assam, Nagas in Nagaland and Kashmiris in Kashmir – I'm afraid that it's not going to work. We must be in a conversation to ask them for ideas and how they want to shape their destiny.
Swaraj at 70: The concept of aazadi is no longer enough
Part 1: Past 25 years are a matter of pride, but there's a long way to go, says Baijayant 'Jay' Panda
Part 3: Alternative brand of politics has disappeared from India, says Piyush Mishra
Part 4: Youth can play a significant role in solving farm crisis, says Kavitha Kuruganti
Part 5: For true freedom, we need to end oppression of handouts and subsidies, says Arun Maira
Part 6: People's aspirations are no longer limited by age and class, says Ashni Biyani
Part 7: India needs a more inclusive model of development, says Vijay Mahajan
Part 8: Politicising of human rights issues has pushed liberal discourse into corner, says Kalyani Menon-Sen
Part 9: Technology has the potential to redefine social fabric of India, says Siddharth Sthalekar


India
The incident has attracted strong condemnation from political parties and employees' association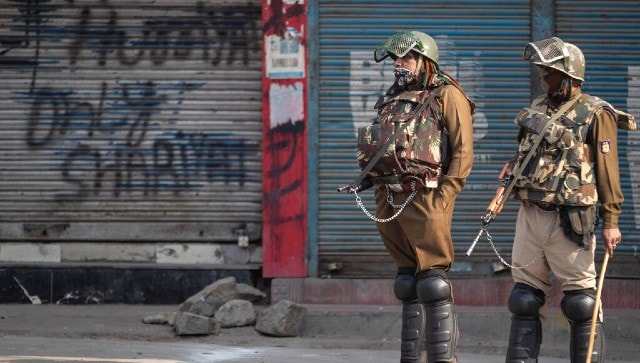 India
According to the order issued late on Wednesday night, the divisional commissioner of Jammu and six deputy commissioners (DCs) are among those transferred with immediate effect.
India
This comes after a Pakistani terrorist of Lashkar-e-Taiba (LeT) and a local terrorist were killed in the Kulgam district on Sunday