Swachh Bharat, global warming, Kashmir unrest: Here is what people want to hear from PM on Independence Day
Since Prime Minister Narendra Modi has sought suggestions from public for his Independence Day speech to be given from ramparts of the Red Fort, let's take a look at what is expected from the prime minister.
Many people have responded to Prime Minister Narendra Modi's request to his fellow citizens seeking suggestions on what to focus upon during his Independence Day speech to be given from ramparts of the Red Fort. Ranging from  Swachh Bharat to road rage, the citizenry wants him to speak on a plethora of subjects. Here are a few of the top topics that the Prime Minister is likely to mention in his I-Day speech:
Talk 'Swachh Bharat' to government officials and public, again
Thangiah Immanuel wrote on Narendra Modi's website that the PM should urge the IAS and government officials to ensure that 'Swachh Bharat' activities are duly undertaken in their designated areas. The officials should make sure that the general public follows the initiatives diligently.
Echoing a similar thought, Manmohan Satpathy writes that the PM should talk to the non-governmental organisations (NGOs) and all civic bodies at urban as well as at rural areas and should instruct to include cleanliness in their main agenda. In a country like India where awareness level of the general public is extremely poor, it is very difficult to achieve the target without involving the above categories.
Vijay Kulkarni says there is a need for a concrete plan for clean India campaign.
Santhanakumar EP  said, "Honourable sir, you started Swachh Bharat mission in 2014. But the progress of Swachh Bharat was not as expected. People should cooperate with the government officials. But there are many flaws in the mission as there is no proper waste management in both rural and urban areas. In each and every street there should be a dustbin which should be cleared daily. Our country's human capital should be used fully for this mission. The government should recruit jobless and lesser-educated persons for the mission which involves huge physical work such as Swachh Bharat, Rurban mission, Amrut mission."
Ramachandra from Hyderabad Telangana writes, "Honoured Sir, everybody pledged to keep our Bharat 'swachh' but hardly anyone practices it on the ground. Ask the general public to take a second oath in order to truly follow the mission of cleanliness."
Sacheen Benjamin Rumao said, "Dear PM, the 'Swachh Bharat' mission should become part of school syllabus. The awareness to keep around you clean should be taught in school. Every school and college should contribute some time to clean public places. School should give awards to students for their contribution to 'Swachh Bharat' mission.
PM should talk more about patriotism in these troubled times 
Mehul Dedhia from Vile Parle, Mumbai says, "I want that our PM should erlaborate on true 'patriotism' in his speech. Nowadays, it has become common among the youth to abuse the neighbouring nation or a particular community to express 'patriotism'. Most forget their own basic responsibilities towards the nation and point out others' errors. Use of social media also adds fuel to this disguised hatred and I feel public is by and large divided over patriotism in social media. Our PM should speak to the masses about this simmering hatred.
... reining in the anti-social elements
Harinder Singh Anand said, "Our country is going through a very important phase. Most of the countries in the EU and US are in turmoil due to lowest ever GDPs. Though we have really sitting at a comfortable position with one of the fastest growing economies. I am pretty sure that we will be number one in time to come. But here I would also like you to take some stringent and aggressive steps in demoralising anti-social elements (some media houses/renowned writers) within the country."
On public apathy in the wake of road rage incident in Delhi
Rajat Jain says, "I request you to please speak about the recent shocking incident happened in Delhi in which an auto-rickshaw driver hit a person and left him dying on the road. Road rage incidents are also involved killings. You should strictly ask the citizens of India to change this nature of indifference and apathy. We should apply laws like the countries abroad have made for helping in emergency situations on the roads. Such a culture on the roads paints a scary picture."
On a similar note, Dr Dvgsrao suggests the prime minister to start a 'Sansakara Bharat' movement. He says, "Sir, please start movement 'Sanskara Bharat' on par with Swachh Bharat to foster civility, courtesy and empathy in public life. The hit-and-run victim being ignored by hundreds of passers-by and being robbed as he lay dying in Delhi has shamed the humanity."
PM should talk on global warming
"Please express your views on global warming, solar power system, tree plantation, water harvesting, in a nutshell, please talk about our nature. How can we all save our earth for us, from us and for our future generation? Increase the utilisation of solar power system. Take up some policy and scheme to increase the usage of this energy to decrease the pollution level and make all citizens aware."
Firstpost asked our readers to tweet and comment on our social media page on what they think PM Modi should talk about in his speech. Here is what we got:
@firstpost @narendramodi #70thindependenceday India should clear it's foreign policy. We always run behind every other country.

— Amrendra Singh (@_Amrendra_) August 12, 2016
@firstpost @narendramodi Appeal to Youth to come above politics/caste/region and personal indifference to build Nation.#70thindependenceday

— Bhagwat Yagnik (@BabaYagnik) August 12, 2016
Then some crisp suggestions followed:
@firstpost @narendramodi yes.pls keep it short.

— Rohit anand (@rohit_dr_infi) August 12, 2016
@firstpost @narendramodi PM should talk not for mere J&K but the Entire Kashmir in which the POK & Pak Sold Kashmir to China.

— Gleshumanovski (@gleshumanovski) August 12, 2016
@firstpost @narendramodi insteadof talking let him listen n do some thing for real..he talks more than a salesman!

— Raghu Bhat (@bhatrax) August 12, 2016
@firstpost @narendramodi Job creatn fr uth alng wid rodmap,revamp agricltr sectr n a promice dat BJP thinks evry ctzn 2 b of eqal importnce

— AMIT SINGH (@amit88bhu) August 12, 2016
India
Modi tweeted, "I pray for the good health and speedy recovery of Dr. Manmohan Singh Ji."
India
The 'annadata' narrative is slowly peeling off. Indians can now clearly see that beneath the costume of farmers exist many hardened criminals and anti-national elements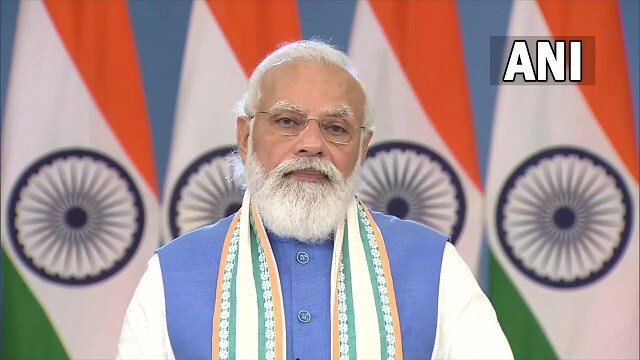 Politics
Since his days as Gujarat Chief Minister, Modi repeatedly said that, with the same laws, same rules, same officers, same people, same files, he has shown things can happen