Sushma Swaraj tells SAARC terrorism remains largest threat to peace in South Asia, urges alliance to 'eliminate' problem
Sushma Swaraj said that an environment of peace and security is essential for regional cooperation to progress and achieve economic development and prosperity.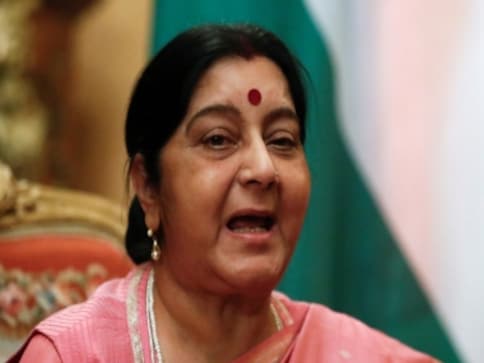 New York: In a veiled attack on Pakistan, External Affairs Minister Sushma Swaraj has told a meeting of the SAARC foreign ministers that the scourge of terrorism remains the single largest threat to peace and stability in the South Asian region and it is necessary to eliminate the ecosystem of its support.
Addressing a meeting, also attended by her Pakistani counterpart Shah Mehmood Qureshi, Swaraj emphasised that regional cooperation can only be successful if it meets the expectations of the people.
The meeting, chaired by Foreign Minister of Nepal Pradeep Kumar Gyawali, was held on the margins of the 73rd session of the UN General Assembly and attended by foreign ministers of the SAARC bloc - Afghanistan, Bangladesh, Bhutan, India, Maldives, Nepal, Pakistan and Sri Lanka.
"An environment of peace and security is essential for regional cooperation to progress and achieve economic development and prosperity of our people. The number of threats and incidents that endanger South Asia are on the rise," Swaraj said in her statement at the Informal meeting of the SAARC Council of Ministers on Thursday.
She said terrorism remained the single largest threat to peace and stability in the region and to the world. "It is necessary that we eliminate the scourge of terrorism in all its forms, without any discrimination, and end the ecosystem of its support," she said.
Swaraj stressed that meetings, including high-level ones, can only be effective if expressions of resolve are translated into concrete action on the ground.
India had boycotted the 2016 SAARC summit citing Islamabad's unrelenting support to terrorist activities in India and after Pakistan-based terrorists attacked an Indian Army base in Uri in Jammu and Kashmir.
Bhutan, Bangladesh and Afghanistan had also joined India in boycotting the summit.
"The world is moving ahead to become more integrated and connected where movement of goods and people is becoming easier with each passing day. SAARC needs to deliver on its commitments or risk being left behind," she said.
Swaraj underscored that in order to realise the region's immense potential for trade, it was imperative that further trade liberalisation under South Asian Free Trade Ageement (SAFTA) and operationalisation of SAARC Agreement on Trade in Services (SATIS) are done at the earliest.
Cooperation in the energy sector is also critical for meeting the high energy needs, she added.
Swaraj noted that the SAARC Framework Agreement for Energy Cooperation that the group's leaders signed at the 18th SAARC Summit had not yet entered into force due to non-ratification by some Member States. With South Asia being one of the fastest growing regions of the world, Swaraj said its true potential can be realised only if all countries contribute constructively towards delivering on the commitments SAARC has made to the people of the region.
She voiced India's commitment to regional cooperation, saying it attaches the highest priority to the development and prosperity of the region, under the government's 'Neighbourhood First' policy.
Improving connectivity in all forms also remains vital for progress of the region and for increasing people-to-people contacts, Swaraj said, adding that India is working on extending its National Knowledge Network to participating SAARC countries. "Development of seamless physical connectivity is key for achieving regional growth, employment and prosperity," she said.
Swaraj said India had collectively decided to finalise a SAARC Motor Vehicle Agreement and SAARC Regional Railways Agreement, which, however, still remains pending. She emphasised that India was willing to share the fruits of its economic, scientific and technological progress with the South Asian community and the country has taken various initiatives including asymmetrical responsibilities for enhancing regional cooperation under SAARC.
Swaraj cited the example of the South Asia Satellite, a first-of-its-kind initiative, that was launched in May 2017 and will positively impact lives of the people even in remote areas of the region through its wide-ranging applications in health, education, disaster response, weather forecasting and communications.
Further, the SAARC Disaster Management Centre in Gandhinagar is now in its second year of operation. A wide-ranging calendar of activities in areas of disaster risk reduction and response prepared by the Centre is being implemented with the active participation of all Member States, she said.
Swaraj also assured speedy completion of the new campus of the South Asian University.
SAARC summits are usually held biennially. The member-state hosting the summit assumes the Chair of the association. The last SAARC Summit in 2014 was held in Kathmandu, which was attended by Prime Minister Narendra Modi.
India
Jammu and Kashmir Lieutenant Governor Manoj Sinha at the opening ceremony said that about 68 varieties of tulips will bloom in the garden this year
India
A video of the incident that happened in Chanti village on Saturday surfaced on social media, prompting authorities to initiate an inquiry against the accused
India
Addressing mediapersons at the first run of a track-mounted trolley on the world's highest arch bridge constructed on the Chenab river, Ashwini Vaishnaw said the USBRL project will be completed by December this year or January 2024