Sushma Swaraj should apologise to 39 bereaved families for 'misleading' them, says Congress
The Congress on Tuesday demanded that External Affairs Minister Sushma Swaraj should apologise to families of the 39 Indians, killed in Iraq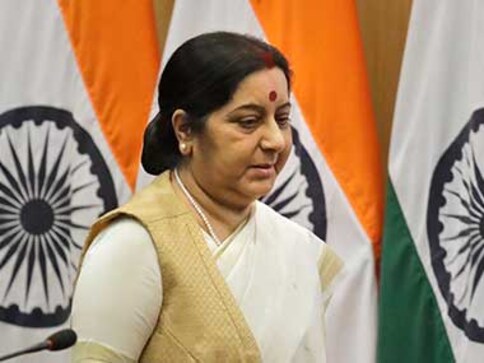 New Delhi: The Congress on Tuesday demanded that External Affairs Minister Sushma Swaraj should apologise to families of the 39 Indians, killed in Iraq, for "misleading" them and also demanded that the Narendra Modi government compensate them.
The party also accused the government of crossing all limits of "insensitivity, inhumanity, and being merciless" as well as politicising the issue.
"The 39 Indians were kidnapped in June 2014. The entire world and the neighbouring countries had confirmed that they were not alive," said Congress spokesperson Randeep Singh Surjewala.
However, the government had however assured the country and the families seven times from 2014 till July 2017 that they were and being provided basic amenities and food, he said.
"When Indian media went to Mosul in July 2017 and reported that the Indians were not alive, Sushma Swaraj and Modi government rejected it. When an eyewitness came forward said that the Islamic State have killed the Indians, they rejected it too.
"Sushma Swaraj had said when Iraqi prime minister comes to India, the government will confirm it from him, but didn't do anything," he added.
"Did the government think about the families even once, when they were desperately waiting for their dear ones for four years.
"Now they are blaming us for politicising it. 39 Indians have died, but the minister is praising the government and thanking the PM and her junior minister," he said.
Surjewala also asked what was the need to give the statement in a hurry. "Was it not because Iraq's Martyrs Foundation was going to hold a press conference in the afternoon today (Tuesday) and was about the reveal the truth about the killing of 39 Indians? She, therefore, gave the statement in a hurry.
"She gave the statement when the issue of no-confidence came up. Sushma Swaraj and Modi government should not have done politics with this. Unfortunately, even today they are politicising it."
"We demand, if there is slightest of humanity left, the minister should visit all the families and apologise to them for misleading them. Modi government must also compensate the families respectfully for the long wait of four years," he demanded.
also read
Explainers
Although lip kissing is an act that's so natural and common in many present-day societies, the history and causes for kissing are more complex than anticipated
World
"It's like IS but actually worse than IS. There is no distinction between someone who forcibly converts you at gunpoint, like IS, and someone who manipulates your difficult circumstances to pressure you into converting"
World
Over the past few days, senior political leaders, in most parts of West Asia, have been persistently making statements, suggesting the dollar's dominance in the region may fade