Sushma Swaraj reaches China for four-day visit, to meet her counterpart Wang Yi, attend SCO meeting
Sushma Swaraj arrived in Beijing on Saturday on a four-day visit during which she will hold talks with her Chinese counterpart Wang Yi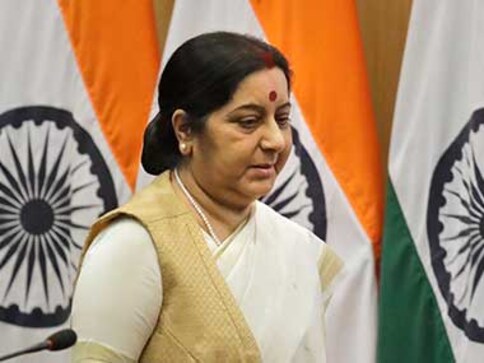 Beijing:External Affairs Minister Sushma Swaraj arrived in Beijing on Saturday on a four-day visit during which she will hold talks with her Chinese counterpart Wang Yi and take part in the foreign ministers' meeting of the Shanghai Cooperation Organisation (SCO).
Swaraj is due to meet Wang on Sunday.
This is their first meeting after Wang was elevated as state councillor last month which makes him the top diplomat of the country in the Chinese hierarchy.
He also continues to be foreign minister.
Their meeting is part of efforts by the two countries to step up the pace of high-level interactions to improve relations, official sources told PTI.
Following the Dokalam standoff last year both countries increased dialogue to scale down tensions and improve relations with talks at various levels.
Swaraj and Wang are meeting in the immediate backdrop of the recent meeting between National Security Advisor Ajit Doval and top official of the ruling Communist Party of China (CPC) Yang Jiechi in Shanghai.
Both sides also held the 11th Joint Economic Group meeting and the fifth Strategic Economic Dialogue (SED).
Besides meetings between officials from the two foreign ministries, both sides also held working mechanism meetings on border affairs and cross border rivers as well disarmament and non-proliferation dialogue in which India's entry into NSG was discussed.
Swaraj will take part in the foreign ministers' meeting of the eight-member SCO on 24 April. She along with other foreign ministers of the group would call on Chinese President Xi Jinping on 23 April, and will leave for Mongolia the next day.
This is the first meeting of the group after India and Pakistan were admitted into the SCO last year.
The SCO, in which China and Russia play an influential role, specialises in regional security and counter terrorism and related issues.
The organisation is comprised of China, Russia, India, Pakistan, Tajikistan, Kazakhstan, Uzbekistan and Kyrgyzstan.
A host of issues, including regional security and terrorism, would be discussed at the meeting which is a preparatory meet ahead of the SCO summit to be held in the Chinese city of Qingdao in June with Prime Minister Narendra Modi also scheduled to take part in it.
Also, Defence Minister Nirmala Sitharaman will arrive in Beijing on 23 April to take part in the SCO defence ministers' meeting to be held the next day. Swaraj and Sitharaman would be in Beijing around the same time to attend their respective meetings.
Sitharaman is also expected to meet her Chinese counterpart Lt Gen Wei Fenghe.
India
For all we know, at the SCO meet later this week, Xi Jinping, like the proverbial Zhuge Liang, may well be playing the 'Bhai-Bhai' tune through his 'qin', but that will just be a ruse to hide his sinister agenda
World
President Putin and PM Modi will meet on the sidelines of the SCO Summit in Uzbekistan this week and discuss issues of strategic stability, the situation in the Asia Pacific region and bilateral cooperation within the UN and G20, the Kremlin announced.
India
India's participation was desirable and the 24-hour sojourn of Prime Minister Narendra Modi in Samarkand was meaningful for India's national interests and foreign policy goals