Sushma Swaraj delivers punchy statement on Jadhav, but it's naive to think Pakistan will rein in dark impulses
Sushma Swaraj's statement achieved the rare distinction of bringing every single member of the Upper House together in agreement. But, it's likely to achieve very little else.
"We condemn such shameful behaviour by Pakistan and will not take in silently. We will expose Pakistan's utterly disgusting behaviour," raged Minister of External Affairs Sushma Swaraj in the Rajya Sabha on Thursday morning, as part of her statement on Kulbhushan Jadhav's meeting with his wife Chetankul and mother Avanti in Islamabad. After a fractious election season that saw the BJP and the Opposition at each other's throats, Swaraj's statement achieved the rare distinction of bringing every single member of the Upper House together in agreement.
But, it's likely to achieve very little else.
Before getting to the why of the above contention, let's take a closer look at the points raised by Swaraj:
1) "Pakistan had clearly assured us that media will not be allowed anywhere near Jadhav's mother or wife. But the Pakistani media not only was given clear access to the venue of the meeting, they also hounded the two women and asked insensitive questions about Jadhav."
2) "Pakistan somehow found something 'metallic' in (Avanti's shoe). It is an absurdity beyond measure."
3) "Both Jadhav's mother and wife were presented as widows in front of him."
4) "Their clothes, shoes, bangles and even their mangalsutras were taken away."
5) "Jadhav's mother was not allowed to speak in Marathi. In fact, the authorities kept stopping her repeatedly but when she continued to speak in Marathi, they switched off the intercom."
And then there was the glass screen between Jadhav and his family during the closely-monitored interaction.
Whatever your stand on the Jadhav issue, the details above amount to nothing less than treatment of the shabbiest kind meted out to Chetankul and Avanti, who have been turned into collateral damage of sorts in this whole episode. But why did it come as such a surprise? After all, should the Government of India not have been prepared for a worst-case scenario and countermeasures to spare Jadhav's wife and mother the ordeal they underwent?
A look at recent history is instructive. The Narendra Modi government was sworn in on 26 May, 2014 and he invited the leaders of SAARC nations to the ceremony as part of his vision to improve relations with the country's neighbours. Then prime minister Nawaz Sharif was in attendance and despite the subsequent frostiness that crept into bilateral relations (see: November 2014's SAARC Summit in Kathmandu), Modi was intent on improving ties. It was with this in mind that he made a 'surprise' visit to Lahore on Christmas Day the following year.
The apparent thaw would last a little over a week. Eight days after Modi's Pakistan visit, a heavily armed group attacked the Pathankot Air Force Station. Relations between the two South Asian neighbours have been on a steady decline ever since, to the point where every bit of military action along the Line of Control is seen by the Indian media as a 'surgical strike' and Pakistani government officials seem unable to rein in their threats of nuclear war. The Indian government, during this time, has realigned its Pakistan (and ergo, neighbourhood) policy, preferring to freeze out Islamabad and carve out a SAARC minus Pakistan.
This brings us back to the Jadhav family reunion.
Given the circumstances detailed above, it seems naive at best — and delusional at worst — not to have expected the very worst from Pakistani hospitality in this situation, because it's clear that Islamabad expected the worst from New Delhi.
First off, remove the possibility of the wife and mother carrying in anything that could either be harmful (in any way imaginable) or comforting (like reminders of home) to Jadhav. Second, allow the Pakistani media to unleash its own equivalent of our microphone-wielding warriors, the likes of whom we saw trailing Vijay Mallya not so long ago. The combined effect would be to produce weary, harassed and unrecognisable versions of Chetankul and Avanti before the supposed spy. Third, closely monitor the conversation in a decipherable language to ensure there's no funny business afoot. Fourth, confiscate footwear and play it up as an implement of espionage or worse. By the time the results of the blessed forensic test actually come in, the world will have long moved on from the issue.
Ultimately, Pakistan treated the family of someone it accuses of spying on it (and being involved in the deaths of many of its citizens) in a very predictable manner.
Swaraj hit the nail squarely on the head when she said in her statement that Islamabad used the Jadhav family meeting as 'a tool for propaganda'; but should she, and indeed the government, not have seen it coming? Surely, the MEA could have had someone on standby to live tweet the meeting or failing that, call for a press conference — taken by an Indian envoy and not the Jadhavs — immediately after the meeting in an effort to control the narrative. Pakistan has turned creation of narrative, dissemination of propaganda and shaping of public perception into a fine art — look at the country's pronouncements in the UN about Kashmir as an indicator — and in this category, India is a rank amateur.
Fortunately for New Delhi, courts are not swayed by public perception and the International Court of Justice, which is set to hear the Jadhav case sometime in the middle of 2018, is no exception. There's plenty of time for India to toughen up by then and perhaps even acquaint itself with some of the dark arts that it, at present, sorely lacks.
Find latest and upcoming tech gadgets online on Tech2 Gadgets. Get technology news, gadgets reviews & ratings. Popular gadgets including laptop, tablet and mobile specifications, features, prices, comparison.
India
There is much debate on social media and opinion within the Army is divided. Many like me have had women officers serving under us in the most challenging circumstances in Kashmir and elsewhere and vouch for their professional capability and dedication. There are challenges galore awaiting them.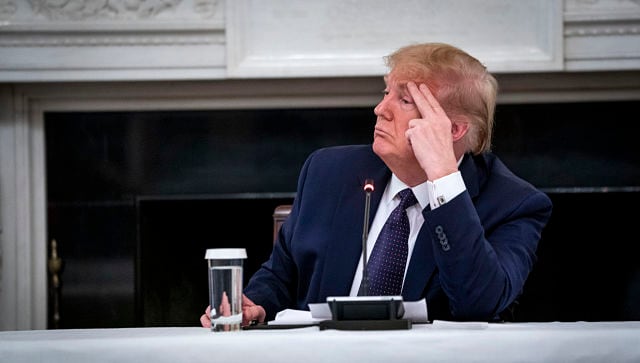 World
There is no strategy that Donald Trump could adopt, no policy choice that he could make, no tweet of himself in a mask that he could issue, that would fundamentally alter his political position
India
Instead of constructive criticism of a responsible Opposition, the Congress party has sided with and fanned the most radical elements