Sushma Swaraj at UNGA raises concern over maritime security, nuclear proliferation
Sushma Swaraj warned the international community that there is a growing question mark over maritime security and that nuclear proliferation is again making dangerous headlines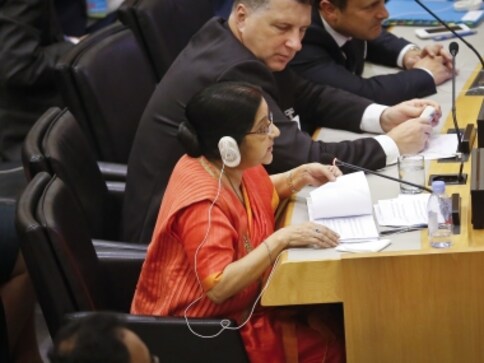 United Nations: India on Saturday warned the international community that there is a growing question mark over maritime security and that nuclear proliferation is again making dangerous headlines.
In her second consecutive annual address to the UN General Assembly, external affairs minister Sushma Swaraj said the contemporary world is trapped in a deluge of troubles of which, surely, the most dangerous is the relentless rise of violence.
"Terrorism, and the ideas that engineer this evil are spreading at the pace of a conflagration. Climate change stares us in the face and threatens us with its dimensions. There is a growing question mark over maritime security," Swaraj said.
"For a mix of reasons, provocative and inflammatory, people are leaving the psychological, cultural and economic comfort of their traditional home space to seek refuge on distant shores causing global anxiety," she said.
A large part of the globe's population is still tortured by hunger and poverty, she said adding that the young are beginning to lose hope as they confront unemployment.
Women, victims of historic discrimination, are demanding what they must get gender empowerment, she noted.
"Nuclear proliferation is back in the zone of dangerous headlines. Cyber-security has become a source of deep insecurity," Swaraj said in an apparent reference to the continued provocative behaviour of North Korea which has been carrying out missile tests and nuclear tests in violation of the UN Security Council resolution.
Welcoming new UN Secretary General Antonio Guterres, Swaraj said he is determined to prepare and strengthen the world body to meet the challenges of the 21st century.
"We welcome his efforts, and see in him a leader who can give practical shape to a vision," she said.
The UN, she said, was established for the welfare, security, harmony, rights and economic progress of the people of the world.
India fully supports efforts in this great mission, she said.
In her address, Swaraj said India's culture and thought have been shaped by a history and philosophy that believes in peace as humankind's only rational and practical objective.
"We truly believe that the world is one family and we hope that every member of this family deserves that elixir of life, happiness," she said.
India
The UK Met Office study put the odds of a heatwave exceeding the average temperature as just once in 312 years. Unfortunately, that's the best-case scenario. When climate change is taken into account, those odds change dramatically to once every 3.1 years
World
A press release from the Samoan government confirmed that Chinese Foreign Minister Wang Yi and Samoan Prime Minister Fiame Naomi Mata'afa had met and discussed 'climate change, the pandemic and peace and security'
World
President Vladimir Putin's war means Russian business and political leaders haven't been invited to Davos this year