Supreme Court verdict on Right to Privacy: Memo to Aadhaar critics; it's not an unequivocal win
The positive aspect of Aadhaar should not be dismissed lightly and it should not be struck down on grounds of violation of privacy
Does the Supreme Court's historic judgement holding privacy to be a fundamental right mean a slap in the face of a government pushing Aadhaar in a highly intrusive manner? On the face of it, that seems to be the case – and the opposition parties and the Aadhaar opponents are making it out to be so – but a quick read through of the judgement gives a slightly different picture.
Noting that "informational privacy is a facet of the right to privacy", the judgement urges the government to put a robust data protection regime in place. It then goes on to say that such a regime has to do a balancing act between the interests of the individual and the legitimate concerns of the state. These legitimate concerns are listed as: "protecting national security, preventing and investigating crime, encouraging innovation and the spread of knowledge, and preventing the dissipation of social welfare benefits" (emphasis added). It then says "these are matters of policy to be considered by the Union government" while designing a data protection regime.
Now, one knows that all fundamental rights come with reasonable restrictions but this explicit mention of "preventing the dissipation of social welfare benefits" is significant. This is not the unequivocal victory that the opponents of Aadhaar would have wanted.
Remember the issue of whether privacy is a fundamental right or not landed up before a Constitution bench only because this question arose when the Court was hearing several petitions challenging the legal validity of Aadhaar. The Aadhaar case will be heard now in the light of this judgement. And the views of the Constitution bench will carry weight. It is not just the government which will have to rework its strategy on Aadhaar; the anti-Aadhaar activists also will need to.
The issue now is whether Aadhaar should be struck down on grounds of violation of privacy. Biju Janata Dal's Baijayant Jay Panda has been arguing – and rightly so – that Aadhaar should not be junked on privacy concerns and that a privacy law is needed regardless of Aadhaar. This is the right, nuanced, line to take. Today's judgement appears to be doing just that. What has been the objection to Aadhaar? That it involves capturing of biometrics and its use for verification and that this involves an invasion of an individual's very personal space. Further, that Aadhaar is mandatory to receive welfare benefits and, therefore, there is an element of coercion involved.
But it is precisely the capture and use of biometrics that make Aadhaar the best tool, as of now, to curb leakages in welfare delivery. The accessing of any benefit or service is based upon some proof of identity and eligibility – a ration card to avail subsidised food grains or kerosene, an age certificate to avail old age pension and the like. All of these can be – and have been – duplicated and forged. Aadhaar cannot. And wherever it has been used, leakages have come down significantly, even if government claims about savings to the tune of hundreds of crores are taken with a huge pinch of salt. This positive aspect of Aadhaar should not be dismissed lightly.
There is no denying that the rollout of Aadhaar and its use has not been as problem-free as it should have been. There have been reports of fake Aadhaar cards. There have been innumerable reports of biometric authentication failing, resulting in people being denied the welfare benefits. But these are problems that have to be addressed. These cannot be reasons to junk Aadhaar wholesale.
What many of the Aadhaar opponents argue is for the state to go back to the old, leaky system of welfare delivery. Can they seriously argue that was a better system? That there were no cases of identity fraud where X walked off with money/rice/kerosene meant for Y? That situation cannot be allowed to continue.
If people want to avail welfare benefits, they will need to prove their identity - it was a ration card or income certificate earlier; it has to be accompanied by an Aadhaar-based authentication now. The former establishes eligibility; the latter establishes identity.
This is not to deny the poor the right to privacy. The judgement rightly trashes the snobbish argument put out by the defenders of Aadhaar that privacy is an elitist concept that the poor are not bothered about. ". . . The submission that the right to privacy is an elitist construct which stands apart from the needs and aspirations of the large majority constituting the rest of society, is unsustainable."
The poor should also have the right to make an informed choice: if they want subsidised benefits are they willing to give their biometrics? This sounds like callous coercion, it may be impractical, but this is needed. No welfare state can hand out doles/benefits without establishing eligibility and identity. It would be better for activists to help the people in whose name they speak to get enrolled under Aadhaar and to work with governments to reduce chances of failed authentication or work out solutions to this problem.
That said the government also needs to rethink its blanket application of Aadhaar beyond welfare benefits. Much of the opposition to Aadhaar is arising because of this creep into practically every activity of an individual. People who earlier supported Aadhaar as a way to improve targeted delivery of welfare have become staunch opponents because of this. Aadhaar cannot be mandatory for all financial and movement-related transactions of citizens.
It's over now to the Aadhaar bench of the Supreme Court. Will it take forward the nuanced view on the trade-off between privacy and welfare that this historic judgement sets out?
Entertainment
Aadhaar was gearing up for a release earlier this year when it was abruptly 'pulled out' a week before its opening, said director Suman Ghosh.
India
The Internet Freedom Foundation has revealed sensitive data of lakhs of students is available for purchase online.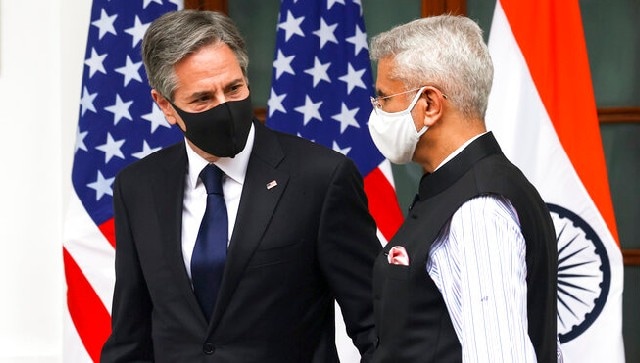 India
It is evident that both nations are finding pockets of space and purpose to increase cooperation and engagement, and issues of convergence far outstrip those of divergence