Supreme Court satisfied with Centre's progress over installing CCTVs in courtrooms; next hearing on 5 April
Expressing satisfaction over the Centre's progress in installing CCTVs in courts, the Supreme Court of India on Tuesday said that such a move is 'to ensure security of court premises, not to record court proceedings.'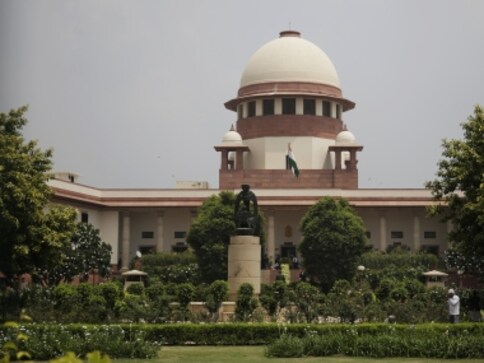 Expressing satisfaction over the Centre's progress in installing CCTVs in courts, the Supreme Court of India on Tuesday said that such a move is 'to ensure security of court premises, not to record court proceedings.' ANI reported that the apex court also set 5 April as the next date of hearing.
Plea seeking installation of CCTVs in courtrooms: Supreme Court said 'intent is to ensure security of court premises, not to record court proceedings.' SC expressed satisfaction on the work done by govt in this regard. Next date of hearing is 5th April. pic.twitter.com/gRegpI1gNQ

— ANI (@ANI) February 13, 2018
A two judge bench, comprising of Justices UU Lalit and AK Goel, was briefed on the progress by Additional Solicitor-General Pinky Anand, reported Bar & Bench.
According to the report, the judges also asked whether CCTVs can be installed in quasi-judicial and state tribunals.
On 21 November last year, the apex court had said that there is no need for privacy in courtrooms as nothing private happens there, while favouring early installation of close circuit televisions in the courts. The top court had said the installation of CCTV cameras in the courts would be in larger public interest, discipline and security.
"What privacy? This is not a case of privacy. We don't need privacy here. Judges don't need privacy in court proceedings. Nothing private is happening here. We all are sitting in front of you," the bench had observed.
The issue first came to the apex court's attention after Pradyuman Bisht filed a petition in the Supreme Court. Bisht believed that CCTVs in courtrooms would bring transparency in judiciary.
With inputs from PTI 
India
Around a dozen of industry bodies had written to the Union IT and telecom minister Ashwini Vaishnaw that implementation of the proposed Data Protection Bill, would significantly degrade India's business environment and reduce foreign investment inflows
India
The CJI referred to Article 38 of the Constitution on the Directive Principles of State Policy and said it was the responsibility of the state to secure a social order in which 'justice, social, economic and political', are rendered
News & Analysis
Nearly 49 per cent of Android users across the world would like to or are considering switching to iPhones, due to their perceived "superiority" in security and privacy.