Supreme Court refuses to hear rape-accused Daati Maharaj's plea opposing transfer of case to CBI
Daati Maharaj is accused of raping a disciple two years ago and was booked under relevant Sections of the IPC.
New Delhi: The Supreme Court on Monday refused to hear the plea of self-styled godman Daati Maharaj against the Delhi High Court order of transferring the rape case against him to the Central Bureau of Investigation (CBI).
Last week, Daati Maharaj had moved the Supreme Court arguing that he was not heard before passing the order to transfer the case to the CBI. The High Court on 3 October allowed the alleged victim's plea seeking transfer of the case to the CBI, saying that the manner in which the Delhi Police carried out the probe "casts a shadow on the investigation."
Previously, the probe was being helmed by the Delhi Police Crime Branch.
Daati Maharaj is accused of raping a disciple two years ago and was booked under Sections 376 (rape), 377 (unnatural sex), 354 (molestation) and 34 (common intention) of the Indian Penal Code (IPC). However, he has maintained that he is being framed in a false case.
The 25-year-old complainant had alleged that she was raped at Gurukul Ashwasan in Rajasthan's Bal Gram, adding that she did not file a complaint earlier as she felt intimidated by the self-styled godman.
On 7 June, a complaint was filed against Daati Madan Lal alias Daati Maharaj and on 11 June an FIR was registered.
Find latest and upcoming tech gadgets online on Tech2 Gadgets. Get technology news, gadgets reviews & ratings. Popular gadgets including laptop, tablet and mobile specifications, features, prices, comparison.
India
Khalid's counsel, Trideep Pais, had earlier told the court he has been attacked on several occasions in the past and hence there was "apprehension" of his safety in prison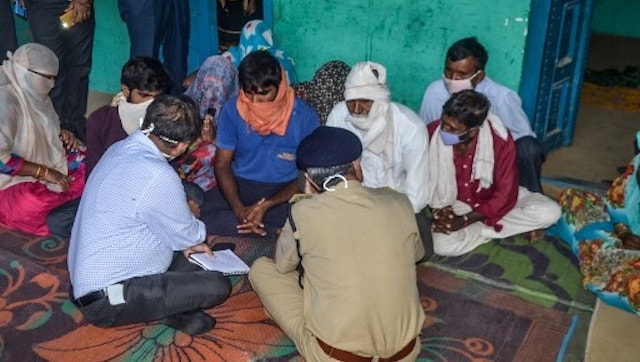 India
In an affidavit filed in the top court, the state government has said that it has deployed adequate security forces to the victim's family and witnesses to 'ensure free and fair investigation'
India
In the context of rape in particular, the trend of the accused seeking to prevent the media from covering trials presents a unique challenge for media reportage.