Supreme Court must address legality of Article 35A's introduction and human rights violations it has caused
Article 35A appears in the Constitution as an Appendix. How can an Article, which has been implemented as if it's a part of the Constitution, be missing from the main text of the Constitution?
New Delhi: When she was 16 years old, Meena (name changed) was determined to work hard to realise her mother's dream. She studied day and night because her family, especially her mother, wanted her to become a doctor — potentially the first doctor in the family ever. She was so excited. When she secured good marks in her senior secondary exams, she was all set to go. Her parents were ecstatic. She would be the first child of the safai karmachari community to become a doctor.
Meena's parents are both safai karmacharis employed with the Jammu Municipal Corporation. They worked hard cleaning the city all their working lives to ensure a bright future for their children. Their hopes touched the skies when they realised their daughter Meena was bright and good at studies. They loved to hear her speak in English — her confidence and clear diction matched the convent-educated children of their city. They had saved their hard-earned money for years in order to be able to afford the cost of her medical education. They were determined that their daughter's higher education would not suffer due to a lack of funds. Now nothing could stop their family from rising out of the generations-old tag of 'safai karmachari'.
In the great democracy that is India, every citizen has the right to equality. There are innumerable examples of achievers who have risen out of poverty, backwardness and social stigmas to become role models for the future. Meena had dreamed she would become such a role model. But it was not to be.
Her dreams were shattered. Her mother is often in tears these days, her father is an angry man. It was not just the dream of a family that was shattered, but the dream of an entire community, an entire generation.
When Meena went to apply for the medical entrance exam, she found herself persona non grata. They told her it was mandatory to attach the Permanent Resident Certificate (PRC) along with her application form. And Meena did not have this certificate. In fact, her entire community did not have this certificate.
Meena's father and other family members tried all possible means to get past this mandatory provision, but to no avail. Then, like all parents, they tried to get Meena admitted into other higher technical education courses, considering her high grades. But here too their only roadblock was the PRC.
It's been some years now since Meena and her family took this blow. But life has changed drastically. Now they have nothing to look forward to. No dreams, no hopes, no excitement. Meena has become a loner, the once smiling face is devoid of expression. She avoids meeting outsiders, and spends her time taking tuitions at home.
This is Article 35A for you.
Meena's case is not unique in Jammu and Kashmir. There are hundreds and thousands of youngsters like her who are discriminated against by the very state in which they were born and brought up. In 1957, the government of Jammu and Kashmir state invited around 200 Valmiki families from Punjab, specifically to be employed as safai karmacharis (sweepers). These families agreed to work in the state after being promised that they would be given permanent resident status in the state. What they did not realise was that their permanent resident status would be beset with the clause 'only to the extent of being safai karmacharis' — a clause that would ruin the aspirations of generations to come!
After a lapse of five decades, the community has grown in numbers. Parents sent their children to school and hoped to build a better future for them. However, their dreams and efforts are shattered simply because they are 'permanent residents' of Jammu and Kashmir only to the extent of being safai karmacharis!
Their children cannot get admission to government-run professional institutes. The educated youths from these Valmiki families are only eligible to be appointed as safai karmacharis.
Even when educated safai karmacharis working in Jammu Municipality qualify for promotion, they are denied the opportunity as they can only be sweepers, nothing else. These safai karmacharis can vote in Lok Sabha elections, but not state Assembly or municipality elections. Hence the state-level political leadership does not bother about them — because they'll never be a votebank. Their voice is not heard by anyone in power corridors.
Safai karmacharis/Valmikis share this plight with other communities in the state such as West Pakistan refugees. Half the population of the state ie the women are also severely affected by the conditions set by the state government on who is granted PRC.
What is Article 35A?
Article 35A is a provision incorporated in the Constitution giving the Jammu and Kashmir legislature a carte blanche to decide who are 'permanent residents' of the state. Those who are granted 'permanent resident' status have access to rights and privileges enjoyed by citizens across India — right to public sector jobs, acquisition of property in the state, scholarships and other public aid and welfare. However, those who are not granted this status are denied these rights, thus creating an unimaginable divide among the communities — a legally sanctioned division of 'haves and have-nots'.
On 14 May, 1954, the President of India issued an order called the Constitution (Application to Jammu and Kashmir) Order, 1954. It came into effect immediately and superseded the Constitution (Application to Jammu and Kashmir) Order, 1950. Besides carrying out many modifications and changes, this presidential order 'added' a new "Article 35A" after Article 35 to the Constitution of India. But you will not find this new article in the main text of the Constitution.
Article 35(A) enables the state Assembly to define 'permanent residents' and to give them rights and privileges that are denied to all other citizens of India who do not fit into this definition of 'permanent resident'. This Article has denied basic rights to many communities living within Jammu and Kashmir for the past six decades.
As a result, none except those defined as 'permanent residents' are entitled to property rights; employment in state government; participation in the panchayat, municipalities and legislative Assembly elections; admission to government-run technical education institutions; scholarships and other social benefits.
Why was Article 35A challenged in the Supreme Court?
Addition or deletion of an Article amounts to amendment to the Constitution. And the Constitution can be amended only by Parliament as per procedure clearly laid out in Article 368. But Article 35A was never presented before the Parliament.
It appears, in this case, the president bypassed the amending procedure as laid out in the Constitution on India in order to add the new Article 35A. This also means that Article 368 of the Constitution, in its application to Jammu and Kashmir, also got amended. The President of India does not have legislative power, but in this case he appears to have performed the function of Parliament itself.
The 1954 order states it is being issued "in exercise of powers conferred by clause (1) of Article 370 of the Constitution, with the concurrence of the Government of Jammu and Kashmir".
Article 370 does not state anywhere that it confers on the president executive powers so vast that he can amend the Constitution to the extend of adding a new Article. So, was it not the abuse and misuse of Article 370 through which Article 35A was brought into existence?
It is noteworthy that this 'amendment' to the Constitution was concealed from general audit by not mentioning the same in the text of editions of the main Constitution. Till very recently, most constitutional experts were completely unaware of this Article 35A and its implications. This deliberate secrecy itself puts a big question mark on the intentions behind the making of this Article.
Article 35A appears in the Constitution as an Appendix. How can an Article, which has been implemented as if it's a part of the Constitution, be missing from the main text of the Constitution?
Article 35A has been challenged in the Supreme Court, because only the apex court is empowered to hear cases relating to the Constitution of India.
Besides the legality of how Article 35A was added to the Constitution via the back door, the Supreme Court will also have to take into account the gross human rights violations that are existing on the ground in Jammu and Kashmir state because of the implementation of this dubious Article. After all, it's a matter of the rights of lakhs of citizens of India and their future generations.
The author, a senior journalist, is currently the media director of Jammu Kashmir Study Centre, a think-tank on issues and policies relating to Jammu and Kashmir
Subscribe to Moneycontrol Pro at ₹499 for the first year. Use code PRO499. Limited period offer. *T&C apply
India
Speaking at a function in Jammu on Sunday, Azad had said that the prime minister speaks frankly about his past as a tea-seller and does not try to hide his background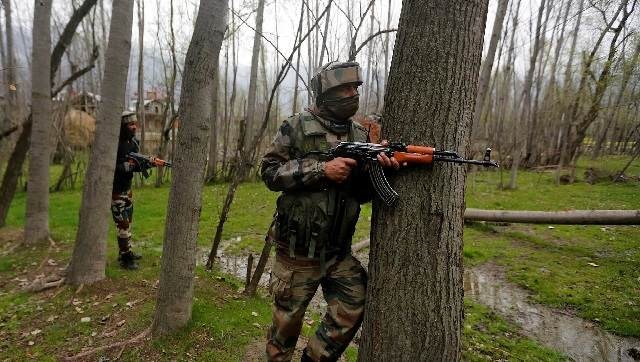 India
Without naming China and Pakistan, Indian Army's northern commander Lt Gen YK Joshi said the army has maintained its domination on its borders with the neighbouring countries