Supreme Court judges address media as it happened: Rahul Gandhi says questions raised by 4 judges must be thoroughly investigated
In an unprecedented event, four Supreme Court Justices will speak directly to the media. It is unclear as to what they will be speaking on.
Auto refresh feeds
LIVE NEWS and UPDATES
Latest updates: Congress leader and senior advocate Salman Khurshid termed this a sad day as he commented on the unprecedented public fall out between the Supreme Court judges. He said that the roster related differences will always remain, until a computerised system is introduced. The Congress party will addres a media briefing at 6.30 pm today.
According to latest reports, the Chief Justice of India is hearing cases like he always does. Bar and Bench reported that there will be no media briefing at 2 pm as media earlier reported. The report also clarified that CJI Dipak Misra met Attorney-General KK Venugopal over Unitech case and not to discuss the judges press conference.
Meanwhile, top government sources told News18 that the Centre is likely to distance itself from the crisis, in the hope that the judges will be able to sort it among themselves.
"This is an internal matter of the judiciary, it is best they solve it themselves," a top source told CNN-News18, adding that Law Minister Ravi Shankar Prasad has received a copy of the dissenting note circulated by Justice J Chelameswar, Justice Ranjan Gogoi, Justice Madan B Lokur and Justice Kurian Joseph.
Reacting to the press conference which shocked everyone, The Congress said "democracy is in danger" after four seniormost Supreme Court judges came out in the open to say that the situation in the apex court was "not in order".
Meanwhile, several former judges, current advocates and politicians reacted to the unprecedented press conference held by four sitting Supreme Court judges. The opinion on whether the four sitting judges were right in calling the press conference was heavily divided by few supporting them and others saying that the move was "childish and immature" and that they have denigrated the institution and the sanctity of the judiciary.
Meanwhile, Chief Justice of India Dipak Misra will address the media shortly and ANI reported that Attorney General KK Venugopal will accompany him. The CJI, earlier, met Venugopal soon after the country's top judiciary was rocked by an unprecedented press conference by four sitting judges. At the press meet, Justice J Chelameswar, the second senior-most judge in the top court, said the administration of the top court is "not in order" and that efforts to convince Chief Justice of India Dipak Misra had "failed".
Chelameswar sounded caution over the "survival of democracy" and replying to a question on whether the CJI should be impeached said it was for the nation to "decide". Apart from J Chelameswar, other sitting judges present included Justice Ranjan Gogoi, Justice Madan B Lokur and Justice Kurien Joseph.
The media briefing has been organised by Justice Chelameswar at his house. The four judges who will address the media are Justice J Chelameswar, Justice Ranjan Gogoi, Justice Madan Lokur, Justice Kurian Joseph.
"It is an extremly painful moment for all four of us and there is no pleasure in holding this press conference," Justice J Chelameswar told the press on Friday. Justice Chelameswar, the second senior most judge in the Supreme Court, today said the administration of the apex court is "sometimes not in order" and many "less than desirable things" have taken place.
Besides Justice Chelameswar, the other judges were Justices Ranjan Gogoi, MB Lokur and Kurian Joseph.
"Sometimes administration of the Supreme Court is not in order and many things which are less than desirable have happened...," Justice Chelameswar said.
The press conference was called at his Tughlaq Road residence here.
Find latest and upcoming tech gadgets online on Tech2 Gadgets. Get technology news, gadgets reviews & ratings. Popular gadgets including laptop, tablet and mobile specifications, features, prices, comparison.
India
Fire at Serum Institute of India LIVE Updates: Reports said that the team that will probe the cause of the SII fire and review its fire safety norms, is likely to be headed by the Pune district collector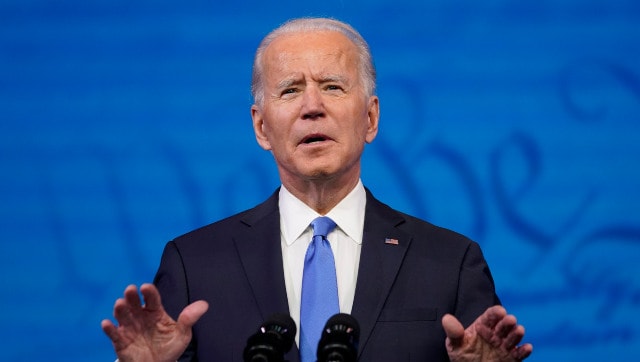 World
Biden slammed the outgoing president's record, saying the former real estate mogul had 'unleashed an all-out assault on the institutions of our democracy from the outset'
World
In Photos: Pro-Trump supporters swarm US Capitol in attempt to overturn election results; one woman dead, dozens arrested