The Supreme Court on Monday banned the sale of firecrackers in the Delhi-National Capital Region during the upcoming festive season of Diwali, according to several media reports.
#BREAKING | No firecrackers to be sold during Diwali this year in Delhi NCR, Supreme Court bans their sale for 2017 pic.twitter.com/eCQJYp8OwZ

— Times of India (@timesofindia) October 9, 2017
The ban on sale of firecrackers will apply till 1 November, CNN-News-18 reported.
#BREAKING -- Ban on firecrackers till after Diwali; Firecrackers sale after November1 with restrictions: Supreme Court | Reports @SubhajitSG pic.twitter.com/j5B3Jqy6WM — News18 (@CNNnews18) October 9, 2017
A ban on bursting crackers, however, was not made explicit in the verdict. Those who have purchased firecrackers can still burst them on Diwali, according to NDTV.
People who had already purchased crackers will be able to burst them. Hopefully they won't do that: Haripriya Padmanabhan, Lawyer

— ANI (@ANI) October 9, 2017
On 6 October, a bench headed by Justice AK Sikri reserved its order on a plea seeking restoration of the apex court's 2016 order banning the sale of firecrackers in Delhi-NCR.
The top court, through its 11 November, 2016 order, suspended all licences which "permit sale of fireworks, wholesale and retail within the territory of NCR".
Later, on 12 September, the apex court had temporarily lifted its earlier order and permitted sale of firecrackers. During the hearing on the plea seeking restoration of last year's order, the Central Pollution Control Board (CPCB) had told the bench that they "support" the application.
Advocate Gopal Shankarnarayanan, appearing for petitioner Arjun Gopal, had contended before the court that ban on use of firecrackers should be restored as the NCR had witnessed a huge rise in air pollution during and after Diwali in 2016. He had said that rise in air pollution during last Diwali was because of several reasons, including the extensive use of firecrackers.
The counsel, appearing for the permanent licencees selling crackers, had opposed the plea, and said the 12 September order temporarily lifting the ban was "well-reasoned" and passed after hearing all the parties, including the CPCB. He had argued that all aspects raised by the petitioner now were considered by the apex court while passing the order in September and though firecrackers impacted air quality, it was "not the greatest cause of particulate matter 2.5".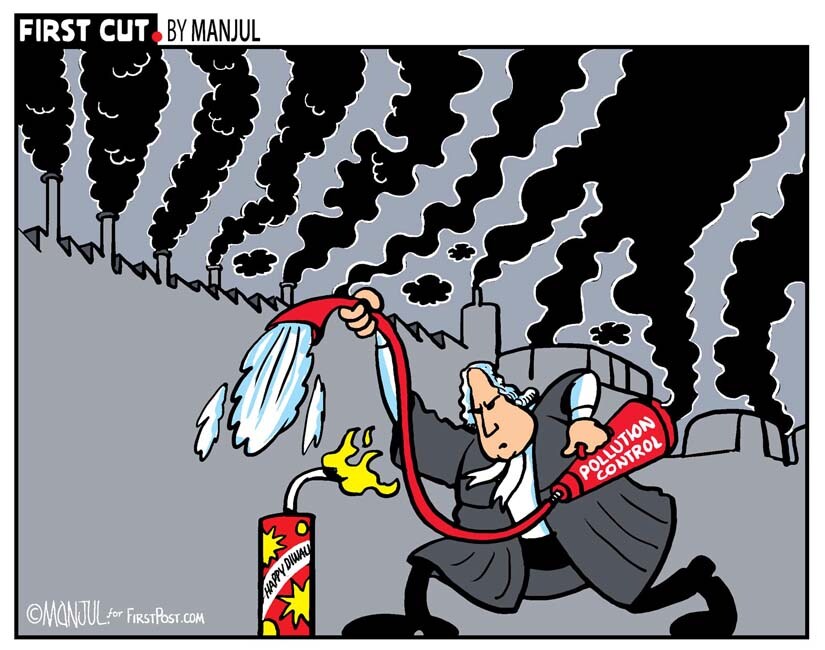 In September, the apex court had temporarily lifted its earlier order suspending licences for sale of fire crackers, saying a complete ban would be an "extreme step" and a graded approach was needed to curb pollution caused by them.
The court, however, had said its order lifting the ban on sale of fire crackers might require a "review" after Diwali depending on the ambient air quality after the festival.
With inputs from PTI
Updated Date: Oct 10, 2017 17:14 PM