Sunjuwan attack: Locals serve meals to camping security personnel day after JeM terrorists strike military camp
As the operation to flush out JeM terrorists who stormed an army camp in Sunjuwan entered the second day, locals have been frequenting the area to serve meals and snacks to police and paramilitary personnel
Sunjuwan: As the operation to flush out JeM terrorists who stormed an army camp in Sunjuwan entered the second day, local residents have been frequenting the area to serve meals and snacks to police and paramilitary personnel camped nearby.
The admiring gesture by residents of Sainik Colony have also been well-received by the mediapersons stationed in Sunjuwan.
The residents pooled their resources and have been serving meals, tea, snacks and water to hundreds of people, mostly police and paramilitary personnel and scribes, camping outside the main gate of the sprawling military station since Saturday.
"It's a small effort on our part... We want to contribute to the nation and decided to provide tea and snacks to the security forces deployed outside and to the mediapersons," Sanjeev Manmotra, who is leading the initiative, told PTI.
He said their effort was also aimed at sending a message to the misguided youth in the Kashmir Valley who target security forces with stones during anti-terrorist operations.
Two army personnel, including a junior commissioned officer (JCO), were killed and nine others injured when the Jaish-e-Mohammad terrorists stormed the camp early on Saturday.
Two attackers in combat gear have been killed by the army and a huge cache of arms and ammunition were recovered from them. An operation to flush out surviving terrorists is still underway.
"They (security forces) are sacrificing their lives to ensure our safety and it is our responsibility to do whatever possible to help them especially during such a situation," Manmotra, state president of Bharat Tibet Sahyog Manch, said.
However, another volunteer, Prakash Singh Jamwal, said the forum had nothing to do with the initiative. "We have come together and are spending from our own pockets," he said.
Jamwal said the army was battling it out with the terrorists and "as nationalists, we want to contribute. Since we cannot fight the terrorists, we took this initiative."
Manmotra said they provided lunch, dinner and snacks to 500 people on Saturday. "We are Indians and it is our responsibility to see that our forces do not go hungry while on duty."
He said they had to buy fresh stock on Sunday morning.
BJP and Bajrang Dal activists had visited the area on Saturday and staged "anti-Pakistan" demonstrations to condemn the attack and express solidarity with the security forces.
The activists also raised pro-army and pro-India slogans.
Jammu-based army PRO Lieutenant Colonel Devender Anand told PTI that the operation against the terrorists was still on.
"There was no firing since last night," the officer said, adding that bodies of only two terrorists have been recovered from the encounter site.
Saturday's attack on the army camp happened nearly 15 months after the Jammu region was hit by a similar attack.
On 29 November 2016, terrorists had stormed the army's Nagrota camp on the outskirts of Jammu city, killing seven Army personnel including two officers. Three terrorists were also gunned down.
Politics
The all-party meet in Jammu and Kashmir is the first such exercise since the Centre announced the abrogation of the erstwhile state's special status and its bifurcation into two Union territories in August 2019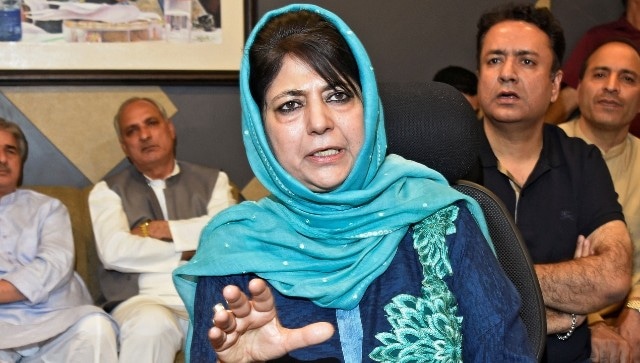 India
Her remarks came amidst growing criticism of the Congress and Digvijaya Singh over his purported comments that his party will have a 'relook' at Article 370 if it returns to power
India
Officials said the fire started around 4.15 pm due to a short circuit and was completely controlled by 5 pm