Sumitra Mahajan inaugurates NERCPA, association urges govt to form ministry for 'Act East Policy'
NERCPA has urged the Centre to create a separate ministry for 'Act East' policy to speed up development of northeast region and improve economic links with neighbouring countries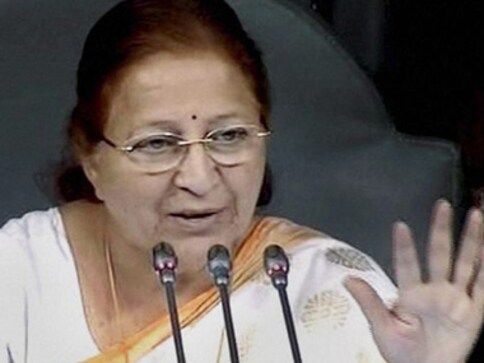 Agartala: The North East Region Commonwealth Parliamentary Association (NERCPA) has urged the central government to create a separate ministry for "Act East" policy to speed up development of northeast region and improve economic links with neighbouring countries, Tripura Deputy Speaker Pabitra Kar said on Monday.
Attended by Speakers and Deputy Speakers and senior officials of eight northeastern states, the four-day 16th annual conference of NERCPA, inaugurated by Lok Sabha Speaker Sumitra Mahajan, ended in Imphal on Sunday.
"The NERCPA in an unanimous resolution has urged the central government to create a separate ministry for 'Act East' Policy to accelerate the development of northeast region and to improve economic ties with the neighbouring countries," Kar told reporters in Agartala.
"The resolution signed by eight Speakers and Deputy Speakers said that the northeastern region needs immediate expansion and up gradation of telecommunication with high speed bandwidth networks," he added.
The NERCPA also requested the central goverment to revive the special category state status, backward region grand fund and the North East Industrial and Investment Promotion Policy for all-round development of the region.
"All the speakers in the conference expressed concern about the acute unemployment problem. The region has potentiality for development in energy, tourism, trade and commerce," Kar said quoting the deliberation of the conference.
He said that the northeastern region shares 98 percent of the international borders with southeast Asia and serves as the gateway to connect with south east Asian countries through Myanmar.
Politics
Speaker Sumitra Mahajan on Wednesday granted two more weeks to the Lok Sabha panel probing the issue regarding Bhagwant Mann shooting a video of the Parliament complex
India
Mizoram Governor Lt Gen (Retd) Nirbhay Sharma expressed optimism that President Ram Nath Kovind's visit to the state would bring several issues concerning it to the forefront.
India
Hailing Mizoram as "special", President Ram Nath Kovind said it is the focus of the Centre's Act East Policy that aims at providing access to new markets for the state.