Sukma Maoist attack: Intelligence, SOP failures led to massacre that killed 25 CRPF jawans in Chhattisgarh
Multiple factors — from leadership failure to loopholes in the functioning of the security forces — have led to the death of 25 CRPF personnel. But despite repeated incidents, no lessons are being learned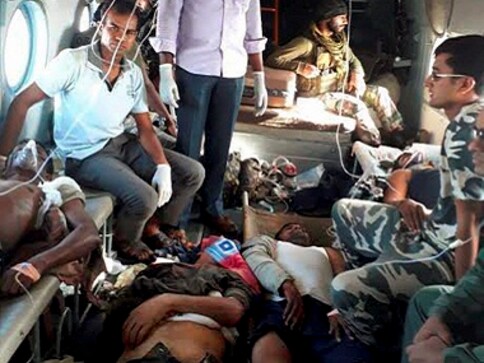 At least 25 Central Reserve Police Force (CRPF) personnel were killed in a Maoist ambush at Burkapal in Sukma district of Chhattisgarh on Monday afternoon. This is the second Naxal attack in just over one month in the same district. The last was on 11 March, when 12 jawans were killed.
What makes the security forces operating in the Maoist-hotbed of Bastar so vulnerable to Naxal attack? Why do the Maoists succeed in killing our jawans in large numbers almost every time?
Monday's ambush has again compelled us to think and search for the cause. Despite having sophisticated weapons and training to combat guerrilla warfare, each attack by the Left-wing extremists leaves the forces and general public helpless.
According to sources in Bastar, Monday's ambush was planned by Hidma, the commander of the Maoists' military battalion. He succeeded in overpowering the 74th battalion of the CRPF by reportedly using an S-shaped ambush, and looted sophisticated weapons from the security forces in broad daylight.
This has exposed loopholes and failures in the functioning of the security forces, including the state police, in the Red Corridor.
According to internal security experts, "multiple factors" led to the massacre. And this is not the first time it has happened; they are being repeated year after year in Chhattisgarh's tribal belt. This is the fourth attack on such a large scale in the last six years.
The previous attacks on CRPF personnel:
- 6 April, 2010: Maoists kill 76 CRPF personnel in Tadmetla.
- 29 June, 2010: 26 jawans were killed at Dhaurai in Narayanpur
- 25 May, 2013: At Darbha Ghati, 27 people, including CRPF personnel and political leaders, were killed. The top Congress leadership in Chhattisgarh was virtually wiped out.
Apart from these, an attack also took place on 11 March this year, in which an IED blast killed 12 jawans, but didn't get much traction from the media, as it took place on the same day that results to Assembly elections in five states were announced.
"Multiple factors — from leadership failure to loopholes in the functioning of the security forces — have led to the death of 25 CRPF personnel. The most unfortunate part is that despite repeated incidents, no lessons are being learned," Prakash Singh, said former director general, Border Security Force, and an expert on Left-wing extremism.
Factors leading to repeated attacks and killing of jawans:
Non following of SOPs: According to local sources, a road opening party (ROP) by the CRPF, divided into two groups, was having lunch when the ambush occurred. According to standard operating procedures (SOPs), instead of sitting together in a large group, the jawans should have divided themselves into small groups of four or five. "It's against basic SOP. Prima facie evidence indicates this SOP wasn't followed. If one jawan takes lunch, the other protects. Even when jawans march, a gap is always maintained. Repeated attacks and killings of CRPF personnel indicates failure in following SOPs. Secondly, was there a quick response team (QRT) to back the ROP?" questioned counter-terrorism analyst Anil Kamboj.
Lack of leadership: Experts have questioned the CRPF leadership, from the top to the platoon commandant level. The post of director general in the CRPF has been lying vacant for over 50 days and it demoralises the force at all levels.
Lack of coordination: Lack of coordination between the state police and central forces gives Maoists an opportunity to have the upper hand over CRPF and the police. Instead of putting the onus of countering Naxalism on the Centre, the state police should be at the forefront. Combating Naxalism shouldn't be considered a battle between the Centre and the Maoist cadre. Instead of playing second fiddle, the Chhattisgarh police have to play an active role," Singh remarked.
Lack of proper training: Security experts have questioned whether the CRPF personnel are adequately trained in guerrilla warfare against the Maoists in the difficult terrain in Bastar. The CoBRA battalion — an elite force within CRPF, that is efficiently trained for this purpose — has only eight battalions deployed in Bastar. Why did the Chhattisgarh government fail to develop an effective anti-Naxal squad, like Andhra Pradesh's Greyhound?
Poor infrastructure and manpower: According to sources, out of 425 sanctioned police stations in Chhattisgarh, only 403 exists; out of which 161 don't have vehicles. Many police stations in these highly sensitive areas are half-staffed, as policemen prefer not to have postings there. Nearly 10,000 vacancies have fallen short in Chhattisgarh police.
Intelligence failure: "Obviously, the large number of Maoists who led the ambush were not paratrooped on a single day. Why did CRPF fail to get information about their movement and gathering?" questioned Singh, former DGP, UP police.
Area domination: "CRPF personnel are there to protect the road construction work and the workers. But if they are unable to defend themselves from Maoist attacks, how can we expect them to protect the area? The foremost requirement in combating Maoists is area domination. Repeated ambushes shows failure on the part of security forces in this effort," added Kamboj, a former senior fellow at IDSA.
India
He criticized a number of recent Supreme Court judgements and stated that even if a landmark judgement is passed by the apex court, it hardly ever changes the ground reality
India
A police personnel was injured in a terrorist attack on a joint team of police and CRPF in the Bijbehara area of Jammu and Kashmir's Anantnag on Friday.
India
MGNREGA is a demand-driven wage employment program that provides of livelihood security to households in rural areas by providing at least one hundred days of guaranteed employment every year