Sukma Naxal attack: CRPF troops' use of mine protected vehicle under scanner; court of inquiry ordered
The usage of an 'all visible' mine protected vehicle (MPV), in which nine CRPF men were killed in Chhattisgarh, is being seen as a glaring lapse.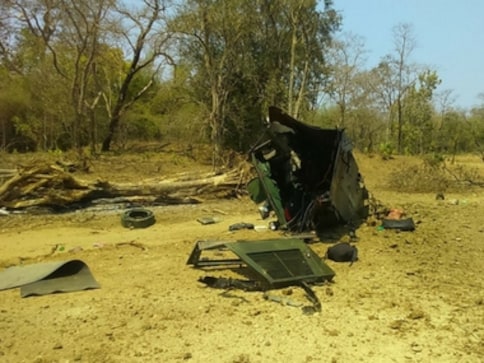 New Delhi: The use of an 'all visible' mine protected vehicle (MPV), in which nine CRPF men were killed on Tuesday in Chhattisgarh, with Naxal lurking around in a denuded forest area is being seen as a glaring lapse and the rationale to use them is being probed, officials said.
The CRPF headquarters has ordered for a Court of Inquiry (CoI) into the incident even as field commanders of the paramilitary and local police have been asked to prepare a detailed sequence of events that led to the deadly improvised explosive device (IED) attack, where a modern armoured vehicle was blown into multiple pieces.
Officials said after a strong squad of about 120-150 Naxals was first spotted at about 8 am along the 5-kilometre under-construction road between Kistaram and Palodi in the Sukma district, a local alert was issued to all the security forces camps in the area to watch their movements and ensure camp security.
On Tuesday morning, ambush was thwarted by the commandos of the CoBRA — CRPF's special jungle warfare contingent — and a Naxal was suspected to have been killed.
Few hours later, officials said, a convoy of motor cycles and MPVs were out for sanitising the same area at about 12.30 pm as district superintendent of police Abhishek Meena was moving towards the Palodi camp along with the CRPF squad.
The Commanding officer (CO) of the 212th CRPF battalion Prashant Dhar was accompanying the SP, they said.
As trees along the road have shed leaves due to the spring season, it was easy for Naxals to keep an eye on even any small movement happening on the track, leave alone two large MPVs, they said.
Despite that, sources said, two green-coloured MPVs were rolled out from the Kistaram security camp with CRPF personnel on-board and one amongst them was trapped in the deadly blast, which it is suspected, was carried out by the Naxals by joining electric wires of an already concealed IED.
It is learnt that the Naxals had a good view of the track and they triggered the blast as soon as the MPV went over the hidden land mine, which could be as powerful as laden with over 50-kg explosives.
Also, apart of new directives issued by the force in December, MPVs and bikes were supposed to be used only during "reinforcement" tasks when the teams rush to an ambush spot to assist those who are trapped.
All the nine personnel who died and the two others who were injured suffered serious blast and ground impact injuries as the MPV went up as high as about 10-feet in the air before crashing with a bang on the road.
As per standard operating procedures, MPVs are only used when the area to be used for movement is under "good control" of the forces and the threat of landmines and IEDs is totally negated.
However, it is now being investigated as to why and how the MPVs were used during the operation on Tuesday, they said.
Some of the killed troops had come back from leave and were using the heavy four-wheeler to reach the Palodi camp for duty after collecting their luggage and weapons from the Kistaram camp.
Find latest and upcoming tech gadgets online on Tech2 Gadgets. Get technology news, gadgets reviews & ratings. Popular gadgets including laptop, tablet and mobile specifications, features, prices, comparison.
India
Coronavirus LIVE Updates: The BMC on Tuesday said that a serological surveillance for COVID-19 infection was commissioned by NITI-Aayog, Municipal Corporation of Greater Mumbai and Tata Institute of Fundamental Research.
India
During the search at Hany Babu's house, the NIA seized one account ledger, one receipt book of a committee formed for the defence and release of GN Saibaba, several documents as well as electronic items such as hard disk, USB pen drive among others
India
Mitra was among the most firebrand Congress leaders of the 1960s and 1970s and played a crucial role in the fight against the Naxals in Kolkata