Sugarcane emerges as likely culprit in drought-hit Marathwada; growing cultivation of cash crop depleted groundwater
Sugarcane requires 2,500mm of water and rainfall in Marathwada is between 500-700mm. The remaining 80 percent of water has been pumped out of groundwater for years now, causing a depletion of groundwater level so much that there is no water left to pump out, say experts
Pune: If sugarcane was not cultivated at such large extent in Marathwada, the region would not be facing drought at such horrible scale. According to experts, though rainfall in Marathwada (534mm) was 22 percent below the average (768mm), it's not too bad. Even with this amount of rain, one crop could have been cultivated leaving enough water for drinking, regular usage and for animals.
The situation in Marathwada, however, is bleak as farmers have been unable to sow Rabi crops. Even the production of Kharif crops was almost half than expected due to insufficient and scanty rain. It's only November, and people from all the eight districts of the region are already struggling to arrange water to drink.
Travelling through the rural part of Marathwada, one sees yellow dried barren land as well as green patches of sugarcane. Some of these sugarcane patches are in good condition while others have begun drying and part of them have turned yellow. The barren lands are there because farmers haven't sowed Rabi crops due to drought and lack of water.
One wonders why sugarcane is still there despite drought.
Leela Somvanshi, a social activist from Latur, said, "Sugarcane is a 12-15 months crop. Whatever sugarcane you see here was sowed in October-November last year and would soon be cut to be sent to sugar mills. Last year it rained 25 percent more than the average rainfall. After seeing all water bodies full of water by October, farmers opted for sugarcane, a cash crop."
As per statistics from the Agriculture Department of Maharashtra, over three lakh hectares of land is under sugarcane cultivation currently. Area under sugarcane cultivation in 2017-18 was over two lakh hectares while in 2016-17, it was 92,000 hectares. Thus cultivation of sugarcane has been increasing by 50 percent per year for the last three years.
"Marathwada witnessed drought for four consecutive years from 2013, 2014, 2015 and 2016. It rained well in 2017 and cultivation doubled. Last year, rain was in excess and farmers cultivated sugarcane like never before," informs Somvanshi.
The region has 69 sugar mills that is one fourth of the total 244 mills across the state.
Rainfall was not sufficient since June this year in the region. But farmers kept pumping out water from the water bodies for sugarcane. By June, there was 22 percent of water in dams in Marathwada as per records of Water Resources Department of the state.
Though it rained 534mm this monsoon, currently, water level has gone down below 20 percent and most of the dams are dry. That is because, farmers have been pumping out water
at large extent for sugarcane.
HM Desrada, a senior economist and former member of the State planning Commission, who has been studying drought conditions, says, "One hectare of sugarcane consumes three crore liters of water in 12-15 months. That water is sufficient for 1,000 people throughout the year. Sugarcane requires 2,500mm of water and rainfall here is 500-700mm. The remaining 80 percent of water, apart from rainfall, has been pumped out for many years now. This has led to depletion of groundwater level so much that there is no water left to pump out."
Desrada informs that Marathwada has always been drought prone area and crops like jowar, pulses, oil seeds have been grown traditionally here because they are drought resilient. "They don't require much water. But farmers have been opting for sugarcane for many years now because it requires lesser work and returns are sure and good," he adds.
Dnaneshwar Pawar who owns 25 acres of land at Nagzari village near Manjra dam in Latur, had sowed sugarcane on 20 acres of land last October. He said, "It rained well last year and all dams, rivers, and well were 100 percent full. That is why I decided to cultivate sugarcane at 20 acres of my land. There was good amount of water even in June and July this year. But as it didn't rain much this year, water in dams started to diminish speedily. And no there is no water here in Manjara. And that is situation everywhere. My sugarcane is little dried but still I will be able to sell it at sugar mills, though I will get lower rates."
But sugarcane is not the only culprit. Pawar says that traditional furrow irrigation leads to wastage of half of the water, and that farmers need to adopt drip or sprinkler irrigation. However, high cost is preventing farmers from adopting it.
"If the state offers 100 percent subsidy (on drip or sprinkler irrigation systems) like that of Telangana then water can be saved," he says.
Pawar is not the only sugarcane farmer in Latur. Farmers who have land near dams or rivers or the ones having wells on their lands have also cultivated sugarcane at large extent.
Kishor Dhamale, a member of Shetkari Satyshodhak Sabha, farmers organisation, said, "We want the government to stop supplying water to grow crops like sugarcane, cotton immediately, and reserve the available water for people and cattle. The sugarcane in farms should be used as fodder for cattle."
Purushottam Bhapkar, divisional commissioner, Aurangabad division, said that water supply to agriculture and industries has completely stopped and water has been reserved for drinking purposes.
"Many water pumps have been seized from riverbeds across the region," he said.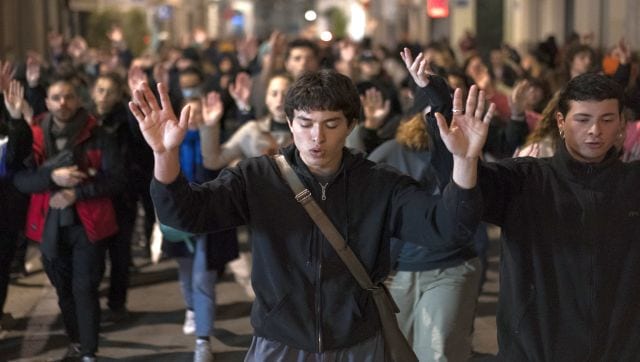 World
France has been seeing protests, which have turned violent in recent days, as the Emmanuel Macron government pushes pension reforms through parliament. In India too, there's a debate on the pension scheme, some arguing that the old method is fiscally unsafe
Explainers
The combination has resulted in some of the US' most destructive and costly floods, including the 1996 Midwest floods and the 2017 flood that damaged California's Oroville Dam
World
California and the western United States have been in an extended drought for about two decades