Subramanian Swamy's homophobic remarks will drag BJP down, even as party tries to walk a fine line on Section 377
Even as lawyers on both sides weigh in on Section 377 before a 5-judge bench of the Indian Supreme Court, Subramanian Swamy, whose Twitter bio makes it a point to mention he is a "Rajya Sabha MP, former Union Cabinet minister, Harvard Ph D in Economics", keeps piping up like the irrepressible boy who just cannot keep quiet in class.
Shhh, Dr. Swamy, the adults are talking.
Even as lawyers on both sides weigh in on Section 377 before a 5-judge bench of the Indian Supreme Court, Subramanian Swamy, whose Twitter bio makes it a point to mention he is a "Rajya Sabha MP, former Union Cabinet minister, Harvard Ph D in Economics", keeps piping up like the irrepressible boy who just cannot keep quiet in class.
He wants a seven or nine judge bench to review the possible scrapping of Section 377. "It is not a normal thing. We cannot celebrate it. It's against Hindutva," ANI quoted Dr Swamy as saying.
Come to think of it, all of that holds true for Dr Swamy as well. Many would consider him (and his bee in the bonnet about homosexuality) as a not a normal thing. Many would refuse to celebrate him. And at one point in his checkered career he, too, was vehemently against Hindutva.
His argument makes no sense. Not discriminating against consenting adults having sex is not the same as celebrating it. No one, God forbid, is inviting Dr Swamy into their bedrooms. They would just much rather have the government, the police and Dr Swamy out of their bedrooms. As mythologist Devdutt Pattanaik succinctly put it, "When someone asks 'Should we support homosexuality?' I reply 'Should we support homophobia?'".
Repealing Section 377 is not about celebrating homosexuality, it is about repealing homophobia and discrimination.
Secondly, Section 377 is very much a colonial construct, leftover from Victorian morals. Dr Swamy ventures into tricky territory by dragging Hinduism into it. A recent book I Am Divine, So Are You – How Buddhism, Jainism, Sikhism and Hinduism Affirm the Dignity of Queer Identities and Sexualities is part of the materials submitted to the Supreme Court. The section on Hinduism points out that, "Hinduism has no paradigm of 'sin' under which it locates homosexuality. The punishment for sex between men (as prescribed by the Manusmriti) has less to do with the act and more to do with the compromises on their duties as householders." Manu equates homosexual sex with having sex with a menstruating woman, an unproductive act. And none of it prevented Hindu texts from being replete with stories of gender crossing and queerness.
But as Dr Swamy well knows, in India our rights will flow eventually from the Constitution. Whether our mythological texts and sacred books refer to homosexuality positively or negatively can colour our social attitudes but not whether homosexuals are deserving of the same rights and protections under the law as anyone else.
Swamy thinks 84 percent of Indians disapprove of homosexuality but as Mukul Rohatgi argued in Supreme Court if a provision is bad, it does not matter what the perception of society is.
It's strange. When a two-judge bench of the Supreme Court decided to let Section 377 stand in 2013, the judges opined that this was an issue that affected a "minuscule fraction" as if a minuscule minority was undeserving of their rights and protection. But if it is a minuscule minority, then why does it keep getting Dr Swamy so hot under the collar? Why has it been his personal bugbear for so long?
In 2015, Swamy had tweeted, "Issue is not respect. We respect handicapped people. Homos are genetically handicapped." What a person of Swamy's obvious intelligence misses in his flailing homophobia, is that if it is indeed a genetic handicap, then that's all the more reason not to criminalise it. Which other "genetic handicap" is part of the Indian Penal Code?
In 2013, he called homosexuality a "mental disorder". In 2012 he called it a "brain disorder". Now, he thinks we should "invest in medical research to see if it can be cured." At least, we should be thankful that Swamy does not belong to the lobby that thinks homosexuality just does not exist in India because Indians can't be gay. On the bright side, Dr Swamy with this gay bee in his bonnet has probably done more to give the LGBT movement exposure in India than most activists.
On a more serious note though Subramanian Swamy is no longer just the eccentric maverick who shoots off his mouth, like the unpredictable irascible uncle at the family get together. Now he is a Rajya Sabha MP from the BJP. He is a national executive member. When he goes off the rails, he inevitably takes his party with him.
The government has tried to walk a fine line on Section 377. It understands fully well that blatant homophobia runs very much counter to the image it wants to cultivate of India as a forward-thinking liberal democracy. But it also knows this is a conservative country and full-throated embrace of gay rights is politically tricky. An out of power Congress can do it but the BJP speaks in many voices on this issue even within the cabinet from Rajnath Singh to Arun Jaitley.
The government has shown no inclination to take on Section 377. It requested the court for a delay which the court turned down. But it was careful not to appear bigoted or dismissive of the issue. ASG Tushar Mehta has merely complained it is unfair that no time was given to the Union of India to take a stand. Swamy does his party no favours by putting his homophobia on blatant display. It's clear that the court is in a hurry to decide on this issue once and for all whether the government is so inclined or not. When Mukul Rohatgi said, "Do not restrict it to Section 377, further directions are needed for protection of my life and property", the CJI Dipak Misra retorted "First let us get out of this mess of Naz Foundation/Kaushal."
The court seems to be looking for a way out of this "mess". That Subramanian Swamy seems hellbent on remaining bogged down in his mess is his choice.This is an issue that's been winding around the court system for decades. The first petition was actually filed in 1994 but never followed up. When the Naz Foundation revived it in 2001, no gay person was willing to stand up in court to challenge Section 377. Naz took it on. In those two decades since the country has changed a lot. The court is looking at six petitions and has had to turn down others. That is a measure of the change that has happened in India. That a person as smart as Dr Swamy has refused to change is ultimately his loss. But it will not stop progress.
World
In his concluding address to the 18th meeting of chief justices/chairpersons of the Supreme Courts of the SCO member states hosted by Supreme Court of India, CJI Chandrachud emphasised upon the need to collectively adopt new mechanisms to make court processes simpler and more accessible
India
A bench headed by Chief Justice D Y Chandrachud said the submissions on the issue involve an interplay between constitutional rights on the one hand and special legislative enactments, including the Special Marriage Act, on the other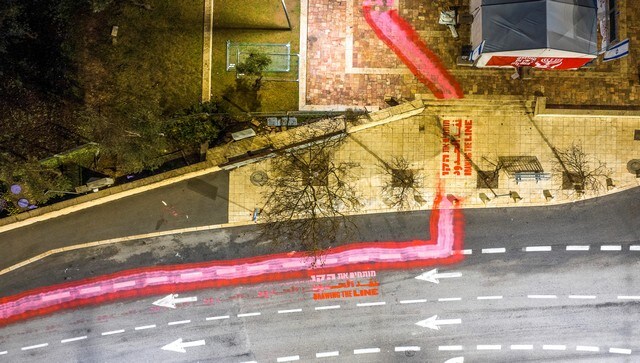 World
Drone footage showed a small group of people in protective suits spraying a wide red stripe along mostly deserted roads leading from a police and magistrate's compound up to the Supreme Court in central Jerusalem