Stubble-burning and Diwali crackers are useful diversions; air pollution needs comprehensive year-round plan
Just how small industries are killing air will be evident if one drives out of Delhi towards Rohtak in Haryana, as this writer did a few days ago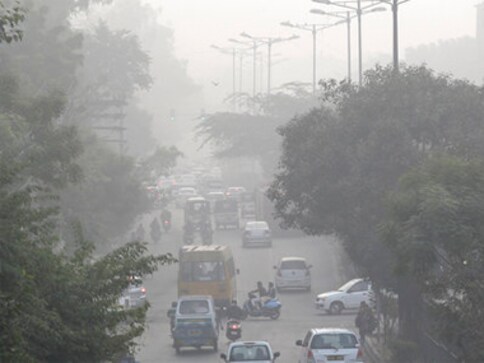 Monday's rather provocative headline in a national daily declaring that the "Air is back to very poor and stubble-burning has got nothing to do with it" should not come as a surprise to those who are aware that stubble-burning contributes only marginally to air pollution, but receives disproportionate attention because policymakers look for easy targets to escape accountability and responsibility to improve the air quality.
For the record, stubble-burning reportedly contributed merely two to eight percent to Delhi's PM2.5 concentration the preceding Friday and Saturday. The last daily Air Quality Index (AQI) — which measures eight pollutants like suspended particulate matters of PM2.5, PM10 and carbon dioxide, nitrogen dioxide, sulphur dioxide, methane, ozone, etc — released by the Central Pollution Control Board (CPCB) showed that last Sunday's air quality in Delhi, Kanpur, Kolkata, Lucknow, Patna, Muzaffarnagar, Noida, Ghaziabad, Greater Noida, Hapur, Bhiwadi, Bulandsahr were "very poor" — between 300 and 400, when AQI needs to be less than 50 to be termed as good.
A recent study by The Energy and Resources Institute (TERI) says that stubble-burning in Haryana, Punjab and western Uttar Pradesh, which remained in headline for weeks, contribute only 4 percent of PM2.5 levels in Delhi during the entire winter season. However, the 15 to 20 days in October and November during which farmers resort to stubble-burning, it causes 30 percent of Delhi's air pollution. So if stubble-burning, which has subsided now, is not to be blamed for the "very poor" air quality in Delhi (or in other parts of India) at the moment, what is causing it?
Going by the TERI study, the main contributors to high PM2.5 levels are industries (30 percent), vehicles (18 percent), dust (18 percent) and households (10 percent). While vehicular pollution and dust generated from construction activities found mention in the report. mentioned  and form part of the graded response action plan (GRAP) of the Environment Pollution (Prevention and Control) Authority (EPCA), and rightly so, the industry attracts very little attention, except for closing down the Badarpur Thermal Power Station. Among the industries, the TERI report says, 14 percent of the total PM2.5 pollution comes from small industries, followed by brick kilns at eight percent.
Just how small industries are killing air will be evident if one drives out of Delhi towards Rohtak in Haryana, as this writer did a few days ago. For miles together, the road around Bahadurgarh is filled with toxic industrial smoke, causing teary eyes and a cough. It is simply not possible to drive through the area without shutting the windows of your vehicle. Aren't such industries supposed to have smoke filters? Similar is the case with rice mills in the states too. As one drives through, rice mills belch out black fumes. In fact, farmers of the state have serious objections to the fines being imposed on them for stubble-burning while industries killing air round the year attract no official sanction.
Like stubble-burning, bursting of crackers during the Diwali celebrations also attracts high attention. This year, days ahead of the festivities, the Supreme Court allowed only a two-hour window for this throughout the country. While it is true that crackers add significantly to air pollution, this together with stubble-burning are restricted to very few days in the year while air pollution is a round-the-year phenomenon.
One study analysing CPCB data says that toxic air is now a year-round problem for Delhi. This analysis says air quality data between March and May 2018 reflected high level of PM2.5 across the capital region, with zero day of "good" quality air. Another study says while the capital region usually experiences its best spell of air between January and August, CPCB data showed air quality was "poor", "very poor" and "severe" on at least 120 days of the 244 days during the same period this year.
This being the case, what the extraordinary attention on stubble-burning and Diwali fire crackers does is that it allows politicians, governments, media and activists to pick easy targets – ordinary citizens and farmers in these cases – while diverting the attention from and hiding the inefficiency and complicity of the authorities in addressing a concern by no means limited to these events and which call for a comprehensive and rigorous plan of action.
The GRAP, devised in 2017 following a Supreme Court directive of 2016, is an emergency plan of action which comes into play only during the winter days when air pollution hits very high. The NITI Aayog, the top think-tank of the Central government, circulated a draft 15-point action plan in July this year , called 'Breathe India' – proposing the encouragement of electric vehicles, phase-out of private diesel vehicles, reform in regulatory framework for industrial air pollution etc.
But going by the way governance machinery works, this draft policy is more likely to remain in the files until at least the next winter when another round of public bashing over stubble-burning and Diwali crackers is unleashed to delude the citizens into believing that the National Capital's toxic air is being fixed. So long as such a diversionary tactic and practice is at play, there is little hope of the real problem being tackled in the urgency it deserves.
also read
Explainers
Ben Roberts-Smith, a former Special Air Service Regiment corporal and recipient of the Victoria Cross, was a national hero in Australia. Now, a judge has ruled that he unlawfully killed prisoners and committed war crimes in Afghanistan
Explainers
Sanjeev Maheshwari Jeeva was a dreaded shooter and the aide of gangster-politician Mukhtar Ansari. Hailing from Muzaffarnagar, the 48-year-old worked as a compounder at a clinic before joining the underworld
Explainers
Researchers at the University of Massachusetts Amherst showed that nearly any material can be turned into a device that can harvest electricity from humidity in the air. The discovery has been dubbed the 'generic Air-gen effect'