Striking militants in Myanmar: The #56inchrocks Rambo rhetoric is delusional
Why couldn't India just do a Rambo?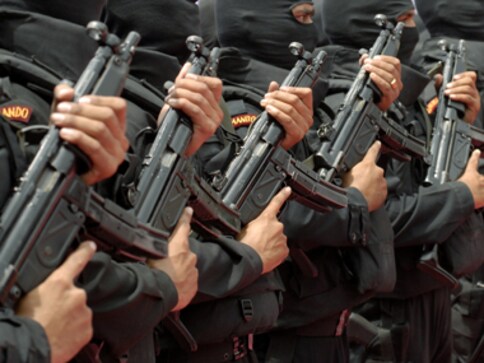 India has grappled with terror -- internally and externally -- for a long time. At numerous times during this war, we have all wondered why India couldn't just do an Israel; send crack assassin teams and eliminate the known faces of terror; 'bump off' the likes of Dawood Ibrahim. Why couldn't India just do a Rambo?
So when the special forces of the Indian Army carried out a surgical covert strike deep inside Myanmar early Tuesday, it seemed like India had finally found the guts to go after terrorists undeterred by international borders.
Hours after the Army's operations in Myanmar, Minister of State for Information & Broadcasting Rajyavardhan Rathore -- who is a retired Colonel -- said that the strikes were a message to all hostile countries and groups.
"We will not tolerate any strikes on India or Indians. We'll always wield the initiative on either being friendly or engaging in aggressive action. We will strike at a place and at a time of our choosing," Rathore told The Indian Express.
"This is a message for all countries, including Pakistan, and groups harbouring terror intent towards India. A terrorist is a terrorist and has no other identity. We will strike when we want to."
Rathore also tweeted out a stern message.
The Army, on its part, also declared that this wasn't a one-off operation in its official statement: "While ensuring peace and tranquility along the border and in the border states, any threat to our security, safety and national integrity will meet a firm response."
The reality, however, is very different.
A country cannot just go out there and attack groups without any real evidence or international sanction. Even the United States can't bomb or infiltrate countries at whim.
Until a while ago Indian authorities didn't know where Dawood Ibrahim was, and that was their excuse for not taking action.  But how about Jamaat-ud-Dawa chief Hafeez Saeed who is out and about in plain sight? TV channels manage to track him down, videos surface all the time, but all India can do is politely ask Pakistan to hand him over. There isn't even an extradition treaty in place. The reason a strike -- similar to the one we conducted in Myanmar -- is not possible in Pakistan: they have a nuclear deterrent and of course, they really don't like us.
We have a similar case in China which regularly makes border incursions; issues stapled visas; makes claims on Tawang in Arunachal Pradesh and provided Pakistan with weapons and aid as well. But does India do anything? Incredibly, there were Chinese incursions in Leh while their Premier Xi Jinping was enjoying a feast with Modi in 2014.
Instead, when PM Narendra Modi goes to China -- he talks business because that's all we can do.
In May, while speaking at the annual K F Rustamji lecture, National Security Advisor Ajit Doval said: "Both (China and Pakistan) these countries are not that type of democracy that we understand as an enabling democracy." A remark that clearly shows normal measures won't suffice here.
Any military foray into China or Pakistan will be taken as an act of war. And is India really in a position to fight a war? The Indian Army's war wastage reserves are just at around 50 percent -- which means that they can probably fight a full-fledged battle for just 20 days.
Let's face it! We can only play tough in places like Myanmar, which we can push around the way the US did Pakistan. So let's not pretend we can just saunter over the border with China or Pakistan without creating an international incident whose consequences we likely can't bear.
So really, Rathore and co need to spare us the Rambo rhetoric -- we do what we can but that is about it. All this talk of 'we will strike at a place and at a time of our choosing' is great PR, but let's not buy our own hype.
To send a stern message to Pakistan, target known terrorists in Pakistan. To send a stern message to China, we could start by at least protesting their constant incursions over our border. Taking out 20-odd militants is not going to make us a superpower anytime soon.
India
The rescued animals included four tortoises, 11 snakes, 442 lizards, four toed sloths, two beavers, four pattos and one wild cat, the officer said on 26 May
Politics
On eight years of the Narendra Modi government in power, the Manipur chief minister N Biren Singh told News18 that he would give it full marks and also praised the prime minister for taking a deep interest in the affairs and cultures of the Northeast
India
The Sangai deer is an endangered species native to Manipur, and is also the state animal. Also known as the Dancing Deer, only about 200 of the species exist in the state