Sterlite protests: Today's DMK bandh against Thoothukudi firing likely to affect transport services in Tamil Nadu, Puducherry
Transport services are likely to be affected in Tamil Nadu and Puducherry with Opposition parties supporting a day-long bandh today in Tamil Nadu and Puducherry to condemn the 'killing' of 13 people during anti-Sterlite protests in Tamil Nadu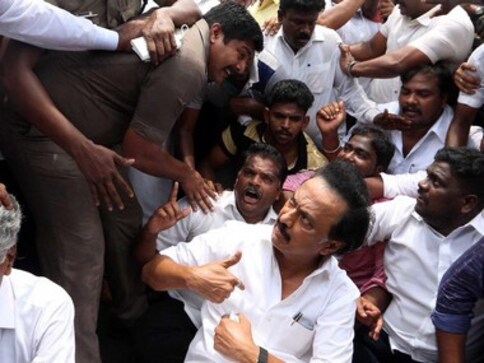 Transport services are likely to be affected in Tamil Nadu and Puducherry with Opposition parties supporting a day-long bandh today in Tamil Nadu and Puducherry to condemn the 'killing' of 13 people during anti-Sterlite protests in Tamil Nadu. CITU Auto Drivers Association General Secretary Shivaji told Firstpost that autos will not run on the streets on Friday across Tamil Nadu from 6 am to 6 pm.
The DMK, led by its working president MK Stalin and other opposition parties in Tamil Nadu, on Thursday called for a dawn-to-dusk bandh, condemning the police action against protesters in Tuticorin. The ruling Congress in Puducherry has also announced its support to the day-long strike.
Puducherry PWD Minister and PCC president A Namassivayam said on Thursday that the Congress supports the bandh being observed in Puducherry to demand the closure of Vedanta's Sterlite unit in Tuticorin and to seek justice for those affected by the police action.
According to reports, apart from Congress, Marumalarchi Dravida Munnetra Kazhagam, CPI, CPM, Indian Union Muslim League, Viduthalai Chiruthaigal Katchi, Manithaneya Makkal Katchi and Dravidar Kazhagam are also supporting the DMK-led bandh.
According to The News Minute, though the administration is likely to run public transport with limited manpower, auto rickshaws may remain off roads. Basic supplies like fruits, vegetables, and milk, however, are likely to remain available throughout the day with potato sellers and the Tamil Nadu Milk Distributors Welfare Association refusing to support the bandh.
Meanwhile, in Tuticorin, which is already affected by the strikes, action is being taken to keep Aavin milk booths and Amma canteens, vegetable outlets, and ration shops open in the district, the report said. Public transport, however, had remained nonfunctional on Thursday.
Meanwhile, the new district collector for Thoothukudi, Sandeep Nanduri said, "There aren't any chances of the Sterlite Plant starting operations again. This is the wish of the Tamil Nadu government as well." Nanduri also said that the decision on whether to recommence bus services from Thoothukudi will be taken on Friday. Meanwhile arrangements are being made to truck in vegetables from Madurai.
Tuticorin had witnessed large-scale violence and arson, on 22 May, which led to the killing of 10 people in police firing. Protests erupted again on Wednesday, prompting police to open fire again, killing one person. Overall, 13 people have been killed in police fire since Tuesday for protesting against the expansion of the Vedanta-owned Sterlite Copper Plant. At least 65 people were arrested.
On Thursday, Tuticorin continued to wear a deserted look even as the Tamil Nadu Pollution Control Board (TNPCB) issued an order to close down the Sterlite plant, and disconnected electricity to the factory. Shutters remained down, as occasional protests rocked the district, every now and then protesters continued to clash with the police.
Stalin and party functionaries along with Congress MLAs, who staged a demonstration on Thursday in front of the chief minister's office at the Secretariat were detained.
Meanwhile, the National Human Rights Commission has filed a petition in the Delhi high court to order an inquiry into the police killings in Thoothukudi. This plea will be heard on Friday by the court.
Tamil Nadu chief minister Edapaddi Palaniswami claimed that "some anti-social elements" who had intruded the agitation attacked the police and torched the police vehicles. However, residents termed it a "cheap stunt" by the police administration.
"What the government is doing is completely ridiculous. They are pulling off a cheap stunt by burning their own vehicles and blaming people for it. I have been mentally affected," said a Thoothukudi resident, on the condition of anonymity.
Other residents too want to raise their voices against what is being seen as police vandalism, but the brutality that they have been facing since the last three days have left them afraid of talking to the media.
"They (the government) does not want any information to leave the place. They have cut internet connectivity in three districts. They don't want the entire state to stand up in protest and that is why they banned internet connectivity. We are afraid that they might cut all our television connections as well if the situation is not resolved," said a resident from Naggapuram in Thoothukudi.
Before the internet was shut, social media did not in any way help contain the violence that erupted after police opened fire on protestors in Thoothukudi on Tuesday.
(With inputs from NewsCart and 101 Reporters)
Education
Apply for the TNPSC Jailor Recruitment 2022 by visiting the official website at tnpsc.gov.in. Aspirants can apply for the same till 13 October 2022
India
According to police, a suicide note had been found in which she had mentioned that a failed relationship was the main reason behind her death
India
Raja, the DMK deputy general secretary had recently stoked controversy over his Shudra remark and drew the BJP's ire with the saffron party accusing him of spewing hatred against a community to appease others