Sterlite protests in Tuticorin: Vedanta's businesses violate human rights, bypass environmental norms globally, says Nityanand Jayaraman
Nityanand Jayaraman speaks about how Vedanta's Sterlite has been evading accountability in spite of repeated statutory and human rights violations.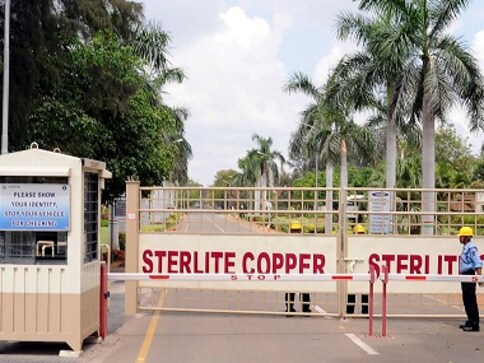 The movement against Sterlite Corporation in Thoothukudi has been a long one. It has seen the coming together of local residents and environmental activists from across Tamil Nadu. In spite of recorded violations pointing to widespread pollution, Sterlite continued to function with full government support leading to regular protests across the state calling for its closure.
This 24-year struggle hit rock bottom on 22 May, when 13 protesters were killed in police firing. Thoothukudi has been under curfew since, with internet connectivity being suspended till 27 May. While the ongoing outrage might have forced the Tamil Nadu Pollution Control Board (TNPCB) to act and cut off electricity to Sterlite's Copper Unit, it is crucial to understand the history of Sterlite's parent company, Vedanta Limited.
Nityanand Jayaraman is a writer and environment activist based out of Tamil Nadu. He has been part of the struggle and has been documenting Vedanta Sterlite's environmental violations for more than 15 years. Firstpost spoke to him to get a closer look at how Vedanta Limited has been evading accountability in spite of repeated statutory and human rights violations on their part. Edited excerpts follow:
Sterlite's parent company Vedanta seems to be in trouble everywhere that it is operating in India. Can you tell us more about Vedanta's track record in India?
Vedanta, not just in India but around the world, has had a very controversial track record on human rights and environment. One of the largest pension funds in the world, Norwegian Pension Fund, has an advisory body called Norwegian Council Ethics, which goes into different corporate stocks and checks which ones are eligible for Norwegian Pension Fund to invest into.
This is because Norwegian law has a requirement that government money should not be put into stocks that are engaged in problematic environmental and human rights violation. This fund has actually blacklisted Vedanta since 2007 which is primarily because of their long list of violations not only in India but also in Zambia, Australia and other places where Vedanta has its operations.
In India, the most notable cases are the ones which have seen big community struggles, one of them concerning the Aluminium Smelter in Lanjigarh in Kalahandi district of Odisha and the other one being the struggle against the company's proposed bauxite mines in Niyamgiri Hills, also in Kalahandi.
Both these projects were fought tooth and nail by the local communities. In both cases, the company managed to recruit the government and the police to do its dirty work, to ensure that the projects went through. Of course, the projects didn't go through in the end, that is a different story.
But in the process, what came out as the collateral damage, with Vedanta's emergence as one of the most significant non-ferrous metals manufacturers in the world, is that communities have been left shattered, local livelihoods have been completely disrupted and the members of local communities have been criminalised.
Any kind of dissent has been criminalised. The relationship between the state and its people has been vitiated wherever the company has entered. 22 May is probably the most extreme vitiation of the relationship between people and the state, promoted by the one actor who has been consistent in all the places, be it Odisha, Chhattisgarh or Tamil Nadu. Or like in Goa, where again the mines have caused a lot of conflict between the State and its people.
In Niyamgiri, in particular, the companies' actions have resulted in seeking out a community that has been completely cut off from the mainstream. This is the Dongria Konds, who live in the hills of Niyamgiri, worship the hill as a deity. When the hilltop was to be mined by Vedanta, they fought back. It is a very small community and they fought it with the means they knew.
This entire community was criminalised. Their leader, Lado Srikala, one of the eldest in the community who was very articulate and spoke for his people, was hunted down, caught by the police, tortured and then returned to his village.
This has happened time and again. Many more have been victims of police violence, just because they've challenged Vedanta. In Thoothukudi too, boys are being picked up from their homes by the police. Even now, the state is devoted to the company and they've still not started working for their people.
For all the companies to be functional, they are subject to obtaining statutory clearances, from across departments of the state...
One key thing that one needs to look at is that the company has deep pockets. Any company with deep pockets and the desire to impose its will can do it in India. Let us not look at it like Vedanta is the only company that is bypassing norms. Large corporations generally get away with what they want.
In Cauvery Delta, ONGC, a public sector unit but a corporation never the less operates 183 hydrocarbon extraction wells. Not one of them has a valid license to operate. How does that happen? That happens because these are big corporations. Eminent offenders are never questioned by the court or the authorities. In fact, everybody works with these people.
In 2013, the Supreme Court of India heard the case regarding Thoothukudi's copper smelter. After hearing the matter for three years, they concluded that the company had violated environmental laws, had polluted the environment, had operated for most of its lifetime without licenses and had made false representations to various statutory authorities, including the apex court.
After observing all this, the Supreme Court goes on to allow the company to resume operations, after the payment of a fine of Rs 100 crores, saying that India needs copper. These are two completely different things. For the need of copper, you can kill, you can pollute, you can do whatever you want. This is the message the highest court of law in the land has given.
When you have the Supreme Court with such a view on the importance of environmental due diligence, how can we blame the pollution control board or the district collector for being any different?
So they are just going along?
They will collude, knowing full well that the Supreme Court of India doesn't really care about licences as long as you are a big company. If you have a thirty percent market share, the worst consequences of the law will never trouble you. But if you are a small entrepreneur trying to make ends meet, then the courts will throw the book at you, will tell you what justice means, what environmental sustenance means. I would like the SC to talk about Vedanta's refinery in Thoothukudi. We heard them talk about this and their judgment is a very pathetic one.
Time and again, Vedanta has responded that they've complied to the norms, like for instance, their main contention has been that Sterlite is well within the SIPCOT Industrial Complex limits...
So what? The issue is, is the SIPCOT Industrial Complex equipped to handle large red category hazardous industries? The answer is no. How does one arrive at that conclusion? A look at the master plan will tell you this.
Red category industries can be permitted only in areas specifically earmarked as Special Industries and Hazardous Use Zones. This is what the Tamil Nadu Town and Country Planning Act of 1971 says. When you look at the master plan, a portion of SIPCOT Industrial Estate is for the use of general and light industries.
The bulk of the remaining estate is agricultural land, which has not even been converted for industrial use, leave alone for special or hazardous industries. So here, they've been able to get by the local land use laws by cosying up to the district administration.
Yes, because even in 2004, TNPCB official records point to Vedanta for constructing another factory complex without obtaining consent but still they were not held in default?
That's right.
And the Supreme Court judgment came much after these officially recorded violations?
Much after that, yes, but usually it's not a matter of whether or not Sterlite has a license now. Licenses have to be obtained prior. But in Sterlite's case, licenses usually follow violations. Meaning that they'll violate first, and then they'll wait for the license followed by the TNPCB hurrying up and giving them the license.
Isn't that visible impunity?
Most large corporations enjoy that. In Vedanta's case, it's particularly more blatant because Copper Smelters are very dirty industries the world over. I can't just single out Vedanta and say their copper smelter is polluting. Their smelter may be more polluting or less polluting which is dependent on various factors.
The issue over here is that such large copper smelters are generally located away from urban spaces but here we have one right one within the municipal limits. If one were to use this as an excuse saying that in 1996, there wasn't much awareness... okay, but now the central and state governments have allowed Sterlite to double its capacity within city limits. That is like asking for trouble, especially because we've had a tragedy like Bhopal before us.
What do you think about Vedanta's official responses to the protests and recent killings?
Anil Agarwal, founder and Chairman of Vedanta, seems to have said sorry about something which is fantastic, it is an unprecedented move, and he usually doesn't feel sorry but the company's press release which I saw two days ago did not even mention the lives that were lost.
It is an extremely insensitive press release which only talked about the factory and its premises. It mentions that Sterlite hopes for the safety of its factory and the safety of a so-called community living around it. The safety of this faceless community is endangered not by agitators, outside protestors or by the police but by Sterlite itself. This is what the protestors have been saying as the state took action for Sterlite and not those protesting.
Sterlite has been talking about zero waste and how there are no health effects because of them, that Thuthukudi has very low cancer statistics in comparison to other places. We know the quality of our cancer registry. In India, we also know the quality of science. The central or state governments do not undertake scientific exercises to assess problem.
Even to this date, if you were to go to Bhopal and ask for a sound epidemiological report on what has happened, say by the Indian Council of Medical Research, you will not get it. This is because the ICMR was asked to suspend all medical investigations and studies in the 1990's by the Government of India once they started finding evidence of very serious problems including inter-generational problems. What governments in India usually do is they say that there is no evidence but they'll do nothing to gather evidence. Even now that is what is being done.
The complaints about cancer started 14 years ago, in 2004. Around that time, the TNPCB asked Sterlite to conduct comprehensive health studies. It took four more years of insistence from people and the TNPCB for Sterlite to finally submit its health study in 2008. This health study was done by the Government Medical College of Tirunelveli which found a high incidence of respiratory disorders, muscular-skeletal disorders, high incidence of menstrual disorders and they linked this to the presence of industries in the area.
The largest industry in that area is Sterlite. Normally, when you've such important tentative evidence – I'm calling it that because high incidence of respiratory disorders in this particular area as compared to rest of Tamil Nadu or Thoothukudi indicates the presence of some kind of problem – then, the normal thing that any science-oriented society would do is to go in for a deeper, much better study.
From 2008, ten years have been spent with not a single study sanctioned by the government to look into this. What that tells us is that even when Sterlite has spent a lot of money on the government, the government doesn't even want to find out what is happening to its people. Let's say you have a person suffering from a disease in your family and for ten years you don't take them to a doctor. Or you don't try to find out what happened to them. This is the situation in Thoothukudi.
Anil Agarwal kept stressing on how the company is trying its best to make India less import-dependent and job generation is also something they should be given credit for – be it in this case or the other projects in India.
A corporation is not set up for the public interest. A corporation is a legal entity set up under the companies act to maximise returns for its shareholders. That is the dharma of a corporation and they've to do this in a lawful manner. This is what the law requires.
A corporation is not required to build toilets, sponsor Swatch Bharat or purchase CCTV cameras for the Thuthukudi police. That is not the job of the corporate, if the corporation is doing it, that might be because it is incidental to its business. Probably it is required for its business because it requires the police to do what it did on 22 May. Therefore, purchasing CCTV cameras for the Thuthukudi police is a small price to pay for the kind of protection that they get.
Sterlite's job is to manufacture copper. Sterlite's obligation is to ensure that its shareholders do not get shafted. In this case, Sterlite has done not even that, they've not even been loyal to their shareholders.
If Vedanta is interest in India and its development, then why set up in London? The founder is from Bihar, why hasn't he kept the headquarters there? Why doesn't the bulk of the GDP show up over here? Why did it have to be in UK's GDP?
India
In a letter to PM Modi, CM MK Stalin pointed out that the OCA in its executive committee meet held on 6 May, 2022 at Tashkent had in principle accepted holding the ABG in Tamil Nadu in January, 2024
Education
The Tamil Nadu Medical Recruitment Board (TN MRB) has opened the applications window for the recruitment to the post of Pharmacist. Apply at mrb.tn.gov.in till 30 August 2022
India
Former Karnataka Chief Minister and Congress leader, Siddarmaiah, who's on a visit to Tamil Nadu, met Chief Minister MK Stalin and praised DMK's commitment to Ambedkar and Periyar's ideology and harped on its importance to fight the BJP