Why did Rev. Valson Thampu disrupt the quality criteria at St Stephen's College by championing the case for reservations for (Anglican) Christians (and SC, STs) for 50% of total seats? Thampu, the first St Stephen's principal in the college's 136 year history to have written a memoir, spoke with Firstpost from his Thiruvananthapuram residence on this and 10 other issues that inform what he calls his "explosive" book - "On a stormy course - In the hot seat at St. Stephen's". Thampu's tenure at St. Stephen's was dogged by controversy and front page news week on week. But the recently retired principal isn't giving up just yet.
Excerpts from the conversation, lightly edited, are here:
Firstpost: What made you choose the word "storm," what are the chapters, the serious dimensions in the book, specific controversies that you think you have addressed?
Valson Thampu: The word storm exists in the title merely to connect the book with the existing perceptions about my tenure which as everybody knows was extremely tumultous. To start a dialogue, it always helps to start with a settled image and then subject it to objective discourse. The metaphor of storm exists in the title for the purposes of linkage of prevailing public imagination.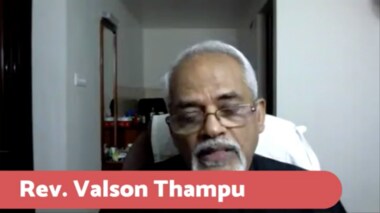 FP: Coming to your tenure as Principal, your critics say you were too much in the news and you were forever getting into trouble. Give us a peek into the book which I imagine has your counter version.
Valson Thampu: I have not written this book in order to counter anybody's view. I have written this book in the interest of truth. Unfortulately, when things were happening, for reasons unclear to me, the media chose to play a partisan role. Therefore, the truth was not available to the public. I owed it to the public to present my side of the story, since all these details were played out in front of the same public. That is why I allowed six months to pass so I could distance myself emotionally from all these events before I wrote with completely scientific and objective treatment.
FP: I tread here on ground that many non-Stephanians ask of your tenure. Why did you ruin the quality criteria by championing the case for reservations for (Anglican) Christians (and SC, STs) for 50% of total seats. Other colleges have 50% reservation too. But their criteria allows millions of OBCs to compete for the reserved seats, not merely a handful of Anglican Christians. Didn't your decision amount to a sell out to the Church of North India and add to the state that St Stephen's is in - kids failing, kids not getting into IIMs or the IAS?
Valson Thampu: Whether I ruined the academic standards of the college or not has to be discussed objectively. When I took charge of the college in 2007, the college was not in the list of the top 5 colleges in this country in the India Today MARG Survey which is considered the most elaborate, comprehensive rating exercise in this country. By 2011, the college was recognised as the best for all science subjects. By 2012, it was adjudged the best among 40,000 colleges in the Arts and Humanities which means all subjects taught in college. I leave it to the viewers to decide whether the academic standards of the college were ruined or bolstered in my time.
What is at work in this kind of apprehension is a class bias which we inherit. In India, we are accustomed to think of merit being domicile in certain castes and classes. This was one myth I wanted to subject to empirical examination, and my exercise undertaken and completed in full public view in total transparency proves this myth beyond reasonable doubt that such associations and ascriptions are purely arbitrary. What one of my predecessors, namely S K Rudra said in 1909 - he was the first Indian principal of St Stephen's college - he said the real merit of India is to be found in her villages. In fact, Gandhi got this idea from S K Rudra which I was called upon to steward. So I will not accept the idea that merit can be found only among certain classes and certain castes. My task was to open up the portals of St Stephen's College to people from all walks of life. In fact everybody agrees that the composition of the student body changed for the better. When students started coming from different socio economic backgrounds, they brought a new enthusiasm into the life of the college, It became a transformed place. Look at any parameter of assessing an institution. You will find that during my tenure, St Stephen's not only improved but improved very dramatically. There is absolutely no basis in saying that the college suffered on account of my tenure and on account of my initiating social justice into higher education, which I believe is a fundamental need in higher education in India.
FP: At one time you reported great pressure on you by your religious leadership to admit undeserving students. There was talk of money changing hands. Does your book talk of that? Do you talk of times when the UPA chairperson's envoys supposedly asked you to sneak a loyalist's child through the back door? How lonely is the Principal of St Stephen's among the swamp of denominational reservations, keeping the church happy and having a criteria for interviews where the entire elite of the country (and alumni, of course) want to sneak their young?
Valson Thampu: A position and a responsibility is only as difficult or complex as you want to make it. What life has taught me is that the path of truth and transparency is fairly simple. There will always be conflicts. The most difficult thing is not that there are pressures from external sources, particularly in a city like New Delhi where almost everybody is in a position to exercise pressure. Therefore, if one has to stay afloat and not sink in this process, one has to be abide by simple principles - that I will practice justice to every applicant. That I will not allow influence or money to tilt admission to this or that candidate. If I did, I would not be able to sleep that night. I have dealt with this subject in great detail in my book. I have resisted all pressures but (yes), there is one exception….I leave it to the curiosity of the readers. There is one particular instance where I compromised this inflexible conviction on my part. It was done as a strategy and that strategy was absolutely necessary at that time.
FP: Your term is called the worst ever by way of relations between the Principal and the entire faculty, at least the non-Christian ones and even a Christian faculty who had been your competitor for the Principal's job. We thought the defining point in St Stephen's is the faculty. Why did you fail to take them along?
Valson Thampu: Did I fail? Did I not try? If you try to do anything with the administration of St. Stephen's college….the history is such that the bane of the college from long ago has been that administration has been kept a closely guarded mystery and very, very few individuals were allowed a foothold into that exercise. The first thing I did was to broadbase administration so that more colleagues could participate. Unfortulately, my relationship with the faculty got politicised but till the last moment, I continued with my effort to include more and more colleagues in the administration. I created new offices and new frontiers of academic activity. Human nature has the habit of being unhappy with whatever is provided. Embracing victimhood is a common, cheap temptation and nobody should succumb to it.
FP: A question on Rohtas, the iconic dhaba owner who you shooed away to penury and complete breakdown - couldn't he have been treated better? Similarly, one Ms Jain who claimed she was sexually harassed. These are things that have never been said of any Principal of the college in 136 years. Why you?
Valson Thampu: I don't know who gave you this idea that Rohtas was shooed out. He retained that kiosk in college till the last day. Nobody shooed him out. The only restriction I brought in was that he would not be allowed to indulge in activities that are inimical to the discipline of the college. I am very troubled that you mentioned the name of a former employee of mine because you know that in such matters, taking anybody's name in unlawful, so I will not comment on it. All I can say is that the internal committee looked into the matter and the person concerned went and testified before the community that nothing of the sort happened.
FP: Let's end on a sombre note, respectful of both the hard work entailing a book like this and a life of service that you have led. What are the broader issues staring higher education, a notch above a slightly self-absorbed image we have of  (St) Stephen's and Stephanians?
Valson Thampu: I wrote this book primarily as a case study on what ails higher education. There is really no attempt to engage with ground realities when attempts to reform higher education are undertaken. Now, no matter what fantastic models of higher education you evolve, if an institution is not rendered approrpriate medium of translating policies into action. If St Stephen's is beset with such problems, then you can imagine the state of the other colleges. If we say that the 12th principal of the college was a villain and all the problems happened only because of him, then we are running away from reality. When the idea of introducing college autonomy was introduced in January 2017, it ended up in turmoil. Any such idea will meet with resistance. I have only two things to say. I was aware of the great tradition that I was called upon to steward and I delivered consistent to that spirit and enlarged opportunities. Principals are the most vulnerable employees in India, they live in fear…I have proved to them that it is possible to lead a useful and inspiring life.
FP: Finally,  your successor Prof John Varghese has vouched for autonomy and therein power to announce new courses and become more self dependent than UGC has allowed the college to ever be. What's your wager - can St Stephen's survive this gamble?
Valson Thampu: First of all, autonomous colleges cannot grant degrees. That power rests only with the University. I have serious apprehensions about how the college would exercise its autonomy because to bring in academic results, the faculty must be willing to take on additional responsibilities. Unfortunately, in this country, the teaching faculty are accustomed to a very laidback life. They are not used to hard work, very unlike the US where it is very rigorous and where there is accountability and transparency. In the Indian system, a person can spend their entire life teaching 5,6,7 texts. For autonomy to work, I have analysed the spiritual and cultural aspects for success. It is very sad that teachers in higher education lack understanding, they hang on to status quo. Why can't we as a nation look at the reasons for our continuing institutional mediocrity in education…?
Some other questions that Rev. Thampu answered:
Tell us about yourself - not as Principal, but well before that. Tell us about your life as a child and the formative influences. What/who shaped your world view. Your was your mother impacted you in a truly meaningful way. Do you, as you look at your life, miss the imprint of your Dad?
I understand you faced considerable economic difficulties when you joined St Stephen's as an MA student. So much that despite having the requisite marks to be allotted a room in Residence, you had to live outside the College campus. How did absence of abundance, which I imagine many of your fellow students had, impact your relationship with money (and with God)?
Having done well in MA, you were invited to join the St Stephen's faculty. Did the idea of doing a PhD first (or even concurrently with teaching) strike you then? I ask because at the pinnacle of your professional career, when you were appointed Principal, the absence of PhD (rules state it should be in a subject relevant to St Stephen's) became an object of national interest. You finally had to show the world a theology doctorate from an agriculture institute in Allahabad. Have you addressed this matter in your book?
Updated Date: Nov 03, 2017 23:15 PM