Islamic State snubs Sri Sri's peace message, sends him photo of beheaded body
Spiritual leader Sri Sri Ravi Shankar tried to open a dialogue with the Islamic State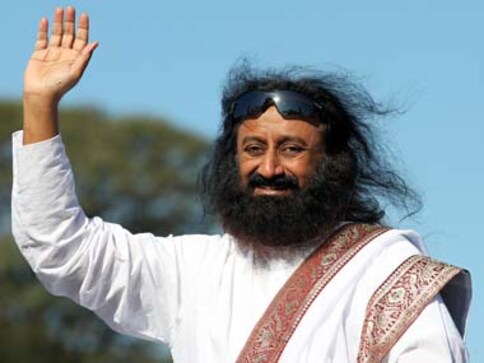 Agartala: Spiritual leader Sri Sri Ravi Shankar said on Thursday that he tried to open a dialogue with the Islamic State group but it rebuffed him by sending him a photograph of a beheaded man.
"I tried to initiate peace talks with the IS (Islamic State) recently but they sent me a photograph of a beheaded body of a man. Thus, my effort for a peace dialogue with the ISIS ended," he said.
"I think the IS does not want any peace talks," he told the media. "Hence, they should be dealt with militarily."
Ravi Shankar left Agartala on Thursday for Kolkata after a three-day visit to Tripura.
Holding a series of meetings across the state, he stressed on the need to bring peace to India's northeastern region.
Ravi Shankar urged the militant outfits of the region to hold peace talks with the government.
The 59-year-old said his aim was to unite all cultures, religions, faith and ideologies.
He said the National Green Tribunal's decision to fine the Art of Living Foundation Rs 5 crore for allegedly causing environmental damage to the Yamuna flood plains in Delhi "was politically motivated".
World
Pakistan foreign minister Shah Mahmood Qureshi also alleged that India's presence in Afghanistan 'larger than it ought to be'
India
In 1966, former US president Lyndon B Johnson declared the third Sunday of June as Father's Day . It became a national holiday in the US in 1972 after being officially recognized by Richard Nixon's administration.
Gaming
Nintendo revealed new information and trailers for Tekken's Kazuya Mishima coming to Super Smash Bros Ultimate.