Sri Sri meets Muzzaffar Wani: Dialogue may not sustain but certainly rouses curiosity
The dialogue between Sri Sri and Muzaffar Wani may or may not sustain, but it surely has fired the curiosities and imaginations of Kashmiris and Indians alike.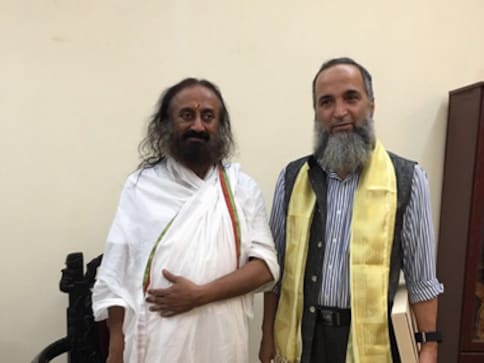 Politics is the art of possible.
It also makes for strange bedfellows.
That's the first thought which comes to the mind when one looks at this 'all smiles' photo tweeted by Sri Sri Ravi Shankar, the 'Art of Living' guru featuring him with Muzaffar Wani, the father of Burhan Wani, the Hizbul Mujahideen commander, whose killing more than a month ago has brought the Kashmir Valley on the edge of the precipice.
It surely earned some brownie points for Sri Sri. Even an ardent critique like journalist Rajdeep Sardesai was impressed.
On a different note, does anyone remember this meeting between journalist, Ved Pratap Vedic and Lashkar-e-Tayyaba's Amir, Hafiz Saeed? The photo of Sri Sri and Wani reminds one of that.
Just look at that photo again. The casting of characters in it tells us something. After receiving brickbats from the opposition and Kashmiris alike, the government is surely looking for some desperate measures to recover the lost initiative and launch dialogue in Kashmir. And this meeting between Sri Sri and Wani appears to be the first salvo.
On Kashmir's streets today when the mainstream pro-India parties stand discredited and when even the diktats of the likes of SAS Geelani and the Hurriyat are no longer valid, Muzaffar Wani has emerged as a voice who  can speak with command and authority for the entire 'Azaadi seeking brigade' in Kashmir. More than one and half a month after Burhan Wani's killing, his house in Tral continues to receive hordes of Kashmiris, seeking to pay their obeisance to the family and Muzaffar is the main person that they are seeking.
As for the other person in the photo, it is entirely possible that the government must have been really hard-pressed to find someone who could reach out to him and put forward the Indian viewpoint. And ultimately it settled down for Sri Sri.
After all, how can we forget that Sri Sri and his million dollar spiritual empire is currently at the centre of controversy for allegedly destroying the Yamuna floodplains when he hosted the World Culture Festival earlier this year.
And it doesn't help the case, that Sri Sri's earlier forays in resolving another conflict has turned out to be a big dud.
But it doesn't matter. Over the last few days it appears that New Delhi and Srinagar are trying hard to make a course correction on Kashmir, even as the security forces slug it out on Srinagar's streets. An outreach has been made. The dialogue between Sri Sri and Muzaffar Wani may or may not sustain, but it surely has fired the curiosities and imaginations of Kashmiris and Indians alike. Most of them, actually the conspiracy theories.
Something is brewing in Kashmir and for once it appears to have a positive vibe.
Find latest and upcoming tech gadgets online on Tech2 Gadgets. Get technology news, gadgets reviews & ratings. Popular gadgets including laptop, tablet and mobile specifications, features, prices, comparison.
India
The new 35 COVID-19 positive cases at one of the biggest prisons in Kashmir has come weeks after more than 90 inmates were found positive at the Anantnag jail. Capable of holding not more than 3,234 inmates, prisons in Jammu and Kashmir currently have 3,700 inmates.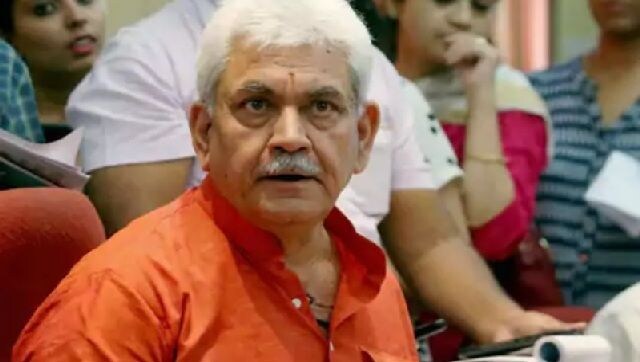 India
Sinha was a minister in Prime Minister Narendra Modi's government between 2014 and 2019
India
Soz has alleged that he has been detained in his house since 5 August, 2019, when the Centre abrogated Article 370. However, the UT administration denied the charge in the SC on Wednesday