Speeding vehicle kills 9 children in Bihar: Police, Tejashwi Yadav say car belonged to BJP leader; party denies charge
RJD said the speeding vehicle that killed nine school students and injured 24 in Bihar's Muzaffarpur district belongs to BJP leader Manoj Baitha from Sitamarhi district
Opposition RJD on Saturday said the speeding vehicle that killed nine school students and injured 24 in Bihar's Muzaffarpur district belongs to a BJP leader and demanded stern against those responsible for the death of innocent children.
Quoting district police officials, IANS said that the speeding vehicle — a Bolero — belongs to Manoj Baitha, a Bharatiya Janata Party (BJP) leader from Sitamarhi district. Baitha was reportedly present in the vehicle at the time of the accident, but he along with the driver fled and has reportedly gone underground since then.
Leader of Opposition Tejashwi Yadav, after visiting the injured, said that the families of the victims told him that the killer vehicle belonged to the BJP leader and no arrest had been made so far. "The vehicle has a BJP board attached to it and the driver was drunk at the time of the incident. BJP leaders are totally drunk in power," he said.
Reacting to Yadav's allegations, BJP spokesperson Rajiv Ranjan said: "The party banner on the vehicle appears to be fake. Nevertheless, the party's district president for Muzaffarpur has been asked to look into the matter and if the owner or the driver turns out to be connected with the party at any level, stern action will be taken".
According to The New Indian Express, the car allegedly bore a BJP flag and nameplate that said it belonged to "BJP state general secretary Manoj Baitha". The locals said that Baitha was general secretary of BJP's state Dalit wing. However, the party said there was no leader by that name. "Anyone can put a BJP flag in their vehicle. Our party has no leader named Manoj Baitha. Police should be allowed to carry out investigation," BJP leader Devesh Chandra Thakur told The New Indian Express.
The incident took place near a school on NH 77 under Minapur block of the district. Angry over the death of school children, local residents vandalised the school, beat up teachers and set ablaze chairs and benches.
Muzaffarpur Senior Superintendent of Police Vivek Kumar said the speeding vehicle run over the children when they were crossing the road, and all the injured children were admitted to a hospital in the city.
Bihar chief minister Nitish Kumar has expressed grief and sorrow over the incident. The state government has announced a compensation of Rs 4 lakh to the next of kin of each child killed in the accident.
With inputs from agencies
India
In the video, some school children can be seen explaining Hindi grammar through poetry and drama. They can be seen singing the concepts of Hindi Grammar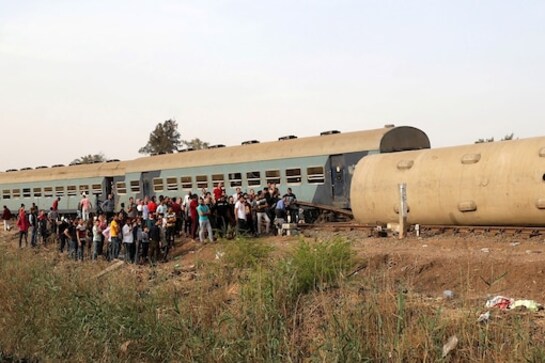 India
Following the incident, six trains were diverted and five cancelled
India
A Delhi court on Wednesday directed Bihar Deputy Chief Minister and RJD leader Tejashwi Yadav to personally appear before it on the CBI's plea seeking cancellation of his bail in the Indian Railway Catering and Tourism Corporation (IRCTC) scam