Somnath Chatterjee dies at 89: Eventful political career of ups and downs shows he was no ordinary mortal
Few politicians could claim to have seen as many twists and turns of human life as former Lok Sabha speaker and expelled Marxist Somnath Chatterjee had.
Few politicians could claim to have seen as many twists and turns of human life as former Lok Sabha speaker and expelled Marxist Somnath Chatterjee had. The son of an All India Hindu Mahasabha leader, jurist and parliamentarian Nirmal Chandra Chatterjee, he essayed easily on both sides of political divide by embracing communism.
In the 1960s, communism was a dominant ideology internationally and NC Chatterjee was also disenchanted by the politics of Hindu Mahasabha. Like a chip of the old block, Somnath Chatterjee became singularly attracted to Marxism and remained wedded to it till he was forcibly evicted by new apparatchiks of the communist ideology in 2008.
He was sad when he was expelled from the Communist Party of India (Marxist) following his refusal to kowtow to the party line as speaker of the Lok Sabha. In the UPA-I government, then prime minister Manmohan Singh ramrodded his pet issue — the India-US nuclear deal — through the Parliament despite warning from the single largest alliance partner, CPM. Party general secretary Prakash Karat, considered a hardliner, withdrew support and asked Chatterjee to resign as Speaker. Chatterjee found the condition unacceptable and faced expulsion even though he continued as Speaker.
One of the most famous quotes after expulsion from the CPM attributed to him reveals his pain. "I will carry the scar of expulsion on my heart when I die," he said. Of course, Chatterjee remained steadfastly wedded to communism till he breathed his last. But his eviction from the party was one episode that got closed with his passing.
The brilliant parliamentarian that he was, Chatterjee made friends irrespective of their ideological persuasions. Perhaps there were few parliamentarians who evoked unmitigated respect from veterans like Atal Bihari Vajpayee, LK Advani, Chandra Shekhar and PV Narasimha Rao. Once he was at the receiving end of Vajpayee's temper in Lok Sabha in the 1990s. But the next day Vajpayee offered an unconditional apology and said that he never meant to insult his good friend "Somnath Dada".
There is another instance of his run in with Vajpayee in his role as the speaker of the fourteenth Lok Sabha. The house had been facing a stand-off for days on end without resolution in sight. The Congress leader of the house, Pranab Mukherjee, was insisting that the BJP was not only subverting the parliamentary procedure but was also disrespectful to the speaker as well. Chatterjee took a position that was not acceptable to the BJP. In the din, Vajpayee shot off a stinging rebuke to the speaker in which he said, "Respect is commanded not demanded." The obvious implication of the letter was that Chatterjee's role as a Speaker was not above board.
This letter provoked angry exchanges as the Congress cited it as an instance of running down the institution of the speaker. Chatterjee however maintained his sagacity and said, "I am sure Vajpayeeji likes me and he is prompted by people (implying Advani) to write this letter." Chatterjee was right as the draft of the letter was believed to be prepared at Advani's office. However, the row got amicably settled when Chatterjee allowed the issue to die down by claiming that he held Vajpayee in high esteem.
As a successive member of the Lok Sabha since he inherited the Burdwan seat as political legacy of his father, Chatterjee was a permanent feature of the Lower House till 2009. His baritone interventions in the House used to be quite instructive and enriched the debate. Endowed with excellent gift of gab, he could be seen deftly negotiating with legacy of his father (Hindu Mahasabha background) and his own political position in the Lok Sabha. His smiling demeanour was quite encouraging to win friends across the party.
But there is no denying that he died as a disillusioned politician.
For an ideological party to which he proclaimed eternal loyalty, he was seen as highly compromised in his role as the Speaker. Perhaps one of the biggest blots of his career as politician in an otherwise unblemished track record was his presiding over a House in which MPs were bought over by the Manmohan government to seek a confidence vote on the India-US nuclear deal. The fact that Chatterjee was a wilful accomplice in what is known as the "cash-for-vote" scam is the biggest blot that he carried with him in his passing. In a four-decade long career, his eventful political life had seen twists and turns which were exceptional. But then Somnath Chatterjee was not an ordinary mortal.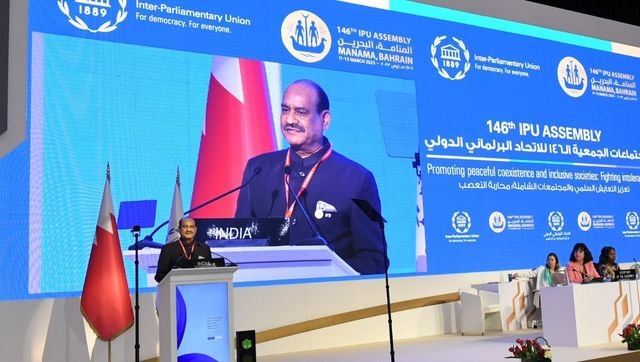 World
UNSC reforms cannot be stopped forever and the reforms are on India's global agenda, Om Birla said
World
The move will strengthen the November 2022 peace deal between the TPLF and the federal government
World
'The United States is extremely troubled that the Israeli Knesset has passed legislation rescinding important parts of the 2005 disengagement law,' said State Department spokesman Vedant Patel