Slowdown in economy is real, but Narendra Modi deserves praise for initiating structural reforms
The argument against Narendra Modi, that he mishandled the economy, is unsupported by data, If anything, he has done what few politicians dare to do
The decline in India's GDP growth and the slowdown in key sectors has triggered a raucous debate about the state of India's economy. The discourse, while not lacking in entertainment, mostly fails to tackle a key question central to the debate: if demonetisation and GST have been suicidal missions for the Indian economy, why did Narendra Modi shoot himself in the foot?
Why did Modi initiate steps that have grounded the economy and seems to have eroded considerably his political capital? Which politician does that?
The middle class is said to be BJP's core constituency. Anecdotal evidence suggests it is deeply disappointed and even angry with Modi. WhatsApp groups that had elevated the prime minister to almost demi-god status are brimming with indignation. If we accept that Modi isn't a daft politician (even his staunchest opponents will agree), there's a need then to address this logical inconsistency in the criticism against him and his handling of the economy.
To do that, we must recognise that Modinomics is intrinsically tied to his politics, and we cannot understand the former if we see it in isolation. The prime minister's speech on Monday, for instance, the 148th birth anniversary of Mahatma Gandhi, was all about cleanliness. A man of symbolism, Modi was well aware that the occasion also marks the third anniversary of his flagship 'clean India' initiative.
Calling it a "people's movement", Modi likened the Swacchh Bharat Abhiyan to Satyagraha and termed the participants 'Swachhagrahis'. Beyond the obvious attempt to use Gandhi as a totem for his pet project and the not-so-subtle pitch to be considered as the 'father of New India', Modi's focus on cleanliness was apparent.
In little over three years in power, Modi government has shown a figurative and literal obsession with cleanliness. On Sunday, urban Maharashtra was declared open defecation free. This hurry to erect a nationwide sanitation framework and push for a mass behavioral change has bordered on impracticality at times. The public-shaming strategy has invited charges of insensitivity.
Modi is evidently convinced of the efficacy of his policy and has shown an unflinching ability to stay the course.
In this, social theorist Ashish Nandy detects an inferiority complex but that doesn't adequately explain the single-minded fixation, nor does it explain why this 'clean India' campaign is as much an economic strategy as it is an infrastructural push.
Demonetisation and the implementation of GST are much better understood if we place these deeply disruptive moves within the 'cleanliness' paradigm. Modi interpreted the 2014 win as not only a mandate to build a 'cleaner India' but also to (and necessarily) clean up India's economy. And, he evidently believed that nothing less than a shock therapy will be enough to cleanse the system.
Never to hold back on criticism against Modi or his policies, Pratap Bhanu Mehta had written in The Indian Express last year, the day after demonetisation was announced, "It would be churlish not to recognise that it comes from the prime minister's depth of conviction and sincerity. But that is exactly its danger. What it threatens to institutionalise is a new kind of politics. This is politics as a vast morality play whose three central elements are personification, puritanism, and punitive imagination."
Modi distressed the economy through the currency ban and before it could recover, inflicted another disruptive GST with missionary zeal. Such audaciousness makes policymaking less of an administrative and more of a religious act, and Modi couldn't have taken these steps had he not believed that he was introducing morality in the economy where honest taxpayers are rewarded and tax evaders are punished.
Modinomics, stripped of the ambient noise, is a binary. And the prime minister has made a choice. He has prioritised transparency, 'cleanliness' and formalisation of the economy over the pursuit of faster growth at the risk of courting a slowdown and this purification exercise is a reactionary step against faster growth that fell into disrepute and corruption that haunted UPA 2 in its dying years.
P Chidambaram may claim that UPA handed a golden chalice to Modi, but not even his own leader believes him. In his recent tour of the US, Rahul Gandhi admitted that Congress had stopped working by 2010-11 and that it had been a failure on the jobs front.
The UPA's mishandling of the economy had created such a vicious cycle that to sustain or improve upon the trajectory of growth, the government would have had to close its eyes to massive, institutionalised corruption.
In his rebuttal to Yashwant Sinha's scathing indictment of the Indian economy in Modi regime, Rajya Sabha MP Rajeev Chandrasekhar, who served with Sinha in the parliamentary committee on finance, writes in The Indian Express, "The UPA had left behind a broken economy: over 12 quarters of successive GDP decline, 24 quarters of rising inflation, a record Current Account Deficit of $400 billion, fiscal profligacy, declining capital formation, flight of foreign investors and scam-inspired plummeting of investor confidence, a banking system wrecked by years of politically-directed lending, a tenth of the jobs created by NDA 1, an economic model that created jobless growth, corrupt crony capitalism of the worst kind (written by Raghuram Rajan himself), a cash and high-denomination note dominant economy that was, in turn, inflating asset prices and a dysfunctional administration…"
Modi has faced a lot of flak for a three-year low of 5.7 percent GDP growth, following a sub-par 6.1 percent in the previous quarter and critics have panned him for the pincer attack (GST and demonetisation) on the economy.
Modi's steps (ballsy or nutty, depending on one's political inclination) arose out of a belief that people want him to stop big corruption. Some commentators feel that Modi shouldn't have prioritised "cleanliness" over speed because India is at a stage of development where it can afford some corruption, but not slow growth. This is a question of priority.
The price for this 'swacchh economy' drive has been a near-recessionary cycle. In his zeal for plugging the black money loopholes, Modi has prevented investors from accessing easy money through the shell network. The Centre has already cancelled the registration of 1 lakh shell companies, while 37,000 other such firms have been identified.
In September, the finance ministry said that bank accounts of 2,09,032 suspected shell companies have been frozen to prevent illegal transactions and tax evasion.
As R Jagannathan writes in Swarajyamag, "The capital crunch resulting from this new normal, where surpluses for fresh investment have to be generated largely through normal profits and market expansion, is a big reason for slow revival…. India Inc is still to adjust to this new normal, especially since they can't anymore count on friendly bankers and political influence to gold-plate projects and generate their own equity contributions from this capital cushion."
Whether Modi should have initiated such deep structural reforms that are politically noxious and economically counterproductive in the short-to-medium term but beneficial in the long run is debatable. There is a need to allay the troubles of those who have been affected by the shoddiness on the implementation side. There is also a case to be made that GST is far from being 'one-nation one-tax' that Modi has touted it to be. But the core argument against Modi, that he mishandled the economy, is unsupported by data. If anything, he has done what few politicians dare to do.
Politics
PM Modi also paid tributes to Rajiv Gandhi on his 31st death anniversary
Opinion
Prime Minister Narendra Modi's recent visit to three European countries — Germany, Denmark and France — and participation in the Indo-Nordic Summit at Copenhagen have prompted much celebration and speculation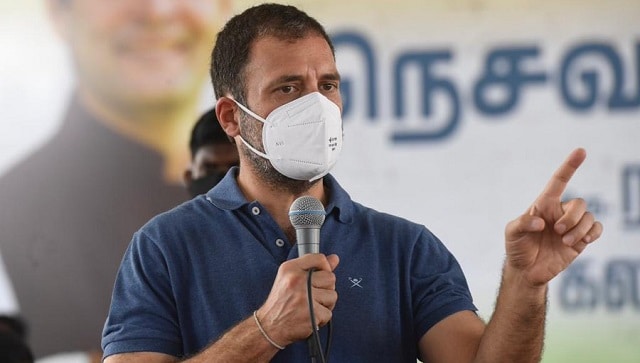 India
Congress leader Rahul Gandhi said there is a fight between two ideologies in the country