Slavery is not yours to keep, servants' quarters are not yours to give
We have the highest number of slaves in the world and the nation is unmoved by the fact that it has won the gold medal for slavery in the Global Survey Index
We have the highest number of slaves in the world. No one gives a toss.
Over 18 million Indians are bonded labourers and either work for free or for a pittance or they are exploited. Big deal.
A nation is unmoved by the fact that it has won the gold medal for slavery in the latest Global Survey Index.
The media carries it as an also-ran item; of no great consequence. The fact that these chained Indians would fill 400 cricket stadiums cuts no ice. Who gives a damn?
Who even wants to read further? Sure, it is sad, but what can one do? True, seeing as how you may be a slave owner under the law and not even realise it.
You have children doing your housework? You use office staff for personal errands? Your driver's wife works for free in your kitchen because you got him a job and he has to be eternally grateful? The cook's school-going son has to wash your car, because, hey, he lives with his dad in the back of your house. Cannot say no. And when you have a party on a Saturday night, is the whole lot co-opted to serve the master? Does the dhobi do all your laundry, Mr Minister and have to pay for the soap because even that you don't give. I hope you are reading this.
Welcome to the club all you urban slave owners. Go get your whip.
The rural exploitation? That is another story; a saga in itself.
Where are the NGOs? Silent. A smattering of coverage here and there is all that this survey gets, eliciting feeble responses. Not even the foul-mouthed trolls feel energised to express an opinion. You would think that something as grotesque as this would resonate harshly against the nation's conscience.
Nothing. Bigger fish to fry than bonded labour, than families selling girls into prostitution, than paying interest for the past twenty years on a Rs 1,000 loan, than working at fields and homes for nothing, because a roof over their heads and emotional blackmail is the weapon that is held over their heads.
I know of a senior bureaucrat in Delhi who lives in a government house and has given the servant's quarters to a family. They all work for him for free. Cook, clean, wash, sweep and not a penny. I want to name and shame him.
The head of this wretchedly defeated family, crammed into a room, told me that if I did say anything to anyone he would deny it.
I asked him how common this was as a practice, where the government quarters were exchanged for the enslavement of everyone living there. He laughed. And then laughed some more. With a dry, mirthless, shake of the head. Then he looked at me with contempt and asked, where does it not happen?
Think of it. These are our lawmakers, senior bureaucrats and politicians, snuffling at the public and lecturing the nation while thinking nothing about using manpower, childpower and womanpower, because these people are powerless.
And why does it flourish with such disdain for the freedoms we supposedly cherish. Because the majority of the privileged do it, they see it as an entitlement. They do not even think it is wrong to protect and preserve serfdom.
Out of 167 nations examined in the exploitation stakes, we account for 40 percent of slaves in the world and we also lead in the abuse of children, besides being strong contenders for the victory podium in human trafficking, having made it to the finals. The scorching shame of it leaves us unaffected and unmoved. Try making it a subject of conversation at a party. Everyone will walk away.
If the editor of Firstpost decides to put this up it will scarcely reach the 'trending' column. More likely it will die away with three comments.
One comment for every six million slaves. Unlike the 3,500 responses to Tanmay Bhatt.
Sure, we have more important things to discuss.
My suggestion: Unchain bonded labour in those big, white bungalows and those government colonies. Those servants quarters are not yours to give.
Not in Delhi, not in any of the cities and towns and villages of our nation.
India
India needs to be an equal partner on a host of other responses – not the least among them is our Co-Win software. In this situation, Britain can antagonise India at its own peril. And the ramifications of it will not be restricted to the Covid response alone.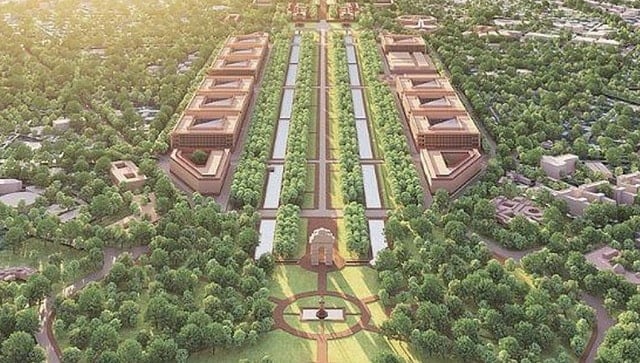 India
In this day and age where even private homes undergo renovation regularly, the Indian State continues to operate out of 90-year-old repurposed colonial homes retained after independence
India
In trying new faces, the BJP seems to be focused on building a generation of political successors who can take over after a period of astonishing growth the party has seen under Modi and Shah