SIMI encounter, Vyapam deaths: Lawlessness in Shivraj Singh Chouhan's Madhya Pradesh
We may or may not find out whether the SIMI encounter was fake. What we should note is that such sort of murky violence is not new for Madhya Pradesh.
On Monday, once again we got a sense of the kind of lawlessness prevailing in Madhya Pradesh when eight activists of the Students Islamic Movement of India (SIMI) escaped from the high-security Bhopal Central Jail after slitting the throat of a guard and scaling the wall using bedsheets between 2 and 3 am.
Two of these activists, by the way, were involved in a similar jailbreak in Khandwa three years ago.
But the sinister nature of the condition of law and order in the state only emerged later. Even though the state government and the police tried to portray a picture of efficiency as they claimed to have tracked and gunned down the activists in less than five hours, a video purportedly from the encounter site painted a different picture.
The video clip, which was shared on social media and then shown on TV news channels, shows a policeman shooting at a group of men lying still on a deserted strip. The men, wearing jeans and sports shoes, were said to be the escaped SIMI activists. It also shows a policeman pulling out a knife from one of the dead men.
The policemen are heard shooting at the bodies in the video despite there being no threat or requirement to fire their weapons as a group of people are heard saying, "maro, maro (kill, kill)".
As if this was not bad enough, IG Yogesh Choudhary said the fleeing SIMI activists had weapons in their possession and opened fire when confronted and the police fired in retaliation, in comments that appeared to contradict the state Home Minister Bhupendra Singh's statement. Bhupendra Singh said the undertrials used spoons and plates they carried from the prison as weapons to attack the security personnel. Asked for his comments on the TV footage that appeared to contradict the encounter theory, he maintained that it was an encounter and the police had no option but to eliminate them.
We may or may not find out whether this encounter was fake or genuine. What we should note, however, is that such sort of murky violence is not new in Madhya Pradesh.
The Vyapam deaths
The most infamous example of such violence is the Vyapam scam, which involved massive admission and recruitment irregularities in the Madhya Pradesh Professional Examination Board (MPPEB), popularly known by its Hindi acronym 'Vyapam' or Vyavsayik Pariksha Mandal.
According to IANS, at least 48 people linked to the scam have died till now, some under extremely dark and mysterious circumstances.
One of the first of these deaths was reported in 2012 when the body of deceased girl Namrata Damor was found near the railway tracks in Ujjain district on 7 January that year. Damor was studying at the Government MGM Medical College in Indore and it was suspected that she had taken admission with the help of the racket involved in the Vyapam scam.
The PTI had reported that the police had then registered a murder case but later called the incident an "accident" and closed the case. But in June 2015, doctors who had conducted the post-mortem in the case said that Damor had died a "homicidal" death caused by "violent asphyxia as a result of smothering". They had also said that nail injuries were found on her face.
On 8 January, 2015, the body of Ramendra Singh Bhadoria — a student of Garja Raja Medical College, Gwalior and an accused in the scam — was found hanging from a ceiling fan at his home at Khanchmil Mohalla. His face was found covered with a pillow and his neck stifled with TV cable wire. Shaken by his death, Bhadoria's mother Kusma Devi ended her life too, five days later.
On 17 January the same year, another student of the GRMCG and accused in Vyapam scam, was found dead under a bridge under mysterious condition in Morena district.
In February 2015, the then Governor Ram Naresh Yadav's son Shailesh was booked in connection with the scam. In the last week of March, Shailesh Yadav was found dead in Lucknow under mysterious circumstances.
In June, Ravindra Pratap Singh, another accused in the scam, died in Singrauli district after reportedly consuming poison. This was not the end as three persons died within 72 hours in July.
Akshay Singh, a Hindi news channel reporter covering the scam, died in Jhabua on 4 July. He died after having interviewed the parents of Namrata Damor. The PTI had reported that minutes after the interview, Akshay Singh started frothing at the mouth. He was rushed to the civic hospital and later to a private hospital, but doctors failed to revive him.
A day after Akshay Singh's death, Jabalpur Medical College dean Arun Sharma, said to be assisting the investigation into the scam, was found dead in a hotel room in New Delhi under suspicious conditions. Incidentally, Sharma was the second dean of the medical college to have died under mysterious circumstances. DK Sakalle, who was inquiring into admissions of candidates for whom proxies had allegedly appeared in the Pre-Medical Test, had been found burnt at his residence.
On 6 July, a woman trainee sub-inspector Anamika Kushwaha was found dead in a lake at MP's Sagar district amid alleged reports that she was recruited by a test conducted by Vyapam.
Finally, on 9 July, the Supreme Court ordered a CBI probe into the scam and the deaths related to it.
Even though the Opposition had demanded the resignation of CM Shivraj Singh Chouhan after the deaths came to light, Chouhan had rejected that demand and had said that none of the guilty in the Vyapam scam will be spared.
"I am the first person who ordered registration of an FIR in 2013 after noticing irregularities in Vyapam. Seeing the complicated nature of the case, we formed the Special Task Force (STF) to probe it," PTI had quoted Chouhan as saying. "In my response in the Assembly two years back, I had admitted there were irregularities in a few hundred out of the lakhs of recruitment done by Vyapam. That is being probed. We will not leave anybody who is guilty. No matter how big he is," he had further said.
History of fake encounters, jailbreaks and crime
A report in Hindustan Times said that according to data from the National Crime Records Bureau (NCRB), Madhya Pradesh has had 28 jailbreaks in the last 15 years, the second-highest number of jailbreaks in the country.
According to this report in The Hindu, government figures showed that 20 cases of fake encounters were registered in Madhya Pradesh from 2010 to 2013, with 555 such cases being registered across the country.
Another report in Hindustan Times said that two Madhya Pradesh policemen were arrested by Gujarat's Anti-Corruption Bureau in October this year from a hotel in Vadodara for allegedly accepting a bribe of Rs 8 lakh from a man for not registering a criminal case against him.
The NCRB report for 2014 revealed that Madhya Pradesh topped the list of cognizable crimes in India, according to this report in The Times of India. The report said that the state had recorded the highest number of cases in rape, kidnapping and abduction and crimes against children in 2014.
(With inputs from agencies)
Find latest and upcoming tech gadgets online on Tech2 Gadgets. Get technology news, gadgets reviews & ratings. Popular gadgets including laptop, tablet and mobile specifications, features, prices, comparison.
Politics
The election to the LAHDC, which is the district's highest-elected body, is the first such exercise in the region since the Centre carved out the Union Territory from the erstwhile state of Jammu and Kashmir on 5 August last year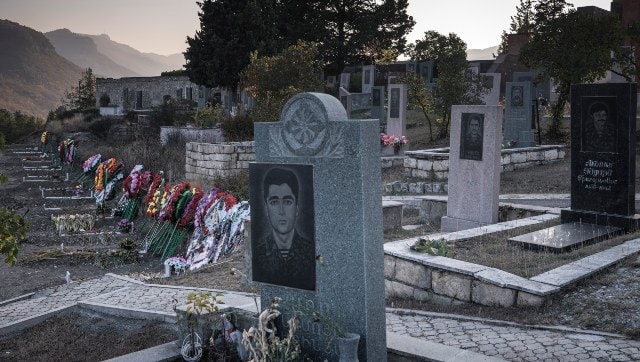 World
For the region's populace, the war is a continuation of on-off violent strife over both territory and history, with roots going back more than a century
Politics
The Gwalior bench of Madhya Pradesh High Court on Wednesday had ordered nine districts under its jurisdiction to grant permission for public rallies only if virtual meetings were not possible