Sikkim standoff: To understand China's larger game, we must focus on Bhutan's centrality to the conflict
China's game is not only reliant on force, though that remains a prime tool. Beijing has been working behind the scenes to install an anti-India government in Bhutan and with elections slated for early next year, the Doka La drama is perfectly timed
The standoff between India and China at the tri-junction border could be the culmination of a slow-burning, intricate geopolitical game being played by Beijing where Bhutan is not a peripheral, but a central figure. And if India fails to play its cards right, the impasse could turn out to be a festering gangrene — an embodiment of India's myopic policy and apathy.
However, amid a spate of commentaries on the Sino-India clash, Bhutan's role has remained somewhat underplayed. The tiny Himalayan kingdom's moves are considered too inconsequential in the power play between the two Asian giants. And yet, a holistic understanding of the impasse would elude us unless we recognise Bhutan's centrality to the conflict. We need to take a closer look, not only at Bhutan's behavior since Indian troops moved into its territory to stop China's road construction, but also at the sovereign nation's historical ties with India and the trajectory of its foreign policy.
A few things immediately leap at us once we turn to Bhutan's reaction since the development of the impasse. According to the Bhutanese government's lone press release on the issue, Royal Bhutan Army troops intercepted Chinese border guards and members of a road-opening party, who were busy "constructing a motorable road from Dokola in the Doklam area towards the Bhutan Army camp at Zompelri on 16 June".
Yet Thimphu, which has no diplomatic relations with Beijing, took four days to lodge a protest with the Chinese embassy in New Delhi. This points to a certain amount of lack in enthusiasm.
While China claims territorial rights over the disputed Doka La tri-boundary region and has touted its road-opening activity as a "routine affair of a sovereign nation", facts suggest that both China and Bhutan have held 24 rounds of inconclusive discussions on the small patch of grassy land and have entered into at least two bilateral written agreements (1988 and 1989) to maintain status quo on the ground "as before March 1959".
India supports Bhutan's stand, and special representatives from India and China reached a "broad understanding" in 2012 that any final settlement will also include Bhutan. This is clear.
What isn't clear is that despite the disputed nature of the tri-boundary region, why did Bhutan allow China to construct dirt tracks in the area at least a decade ago, which the Chinese were now trying to upgrade into a pucca road?
According to defence analyst Ajai Shukla in Business Standard, China was trying to extend the dirt track last month, "partly built more than a decade ago", to "connect Doka La to Highway S-204, a blacktop Chinese road in the Chumbi Valley. Since India does not claim the Doka La bowl, China's entry placed the ball squarely in Bhutan's court. But Thimphu had not objected forcefully when China had encroached into the Doklam bowl in 2003-07…"
It could be explained as arising out of the power differential between the two nations, but that doesn't adequately justify Bhutan's reluctance given the fact that it falls under India's direct strategic influence. India, as former NSA Shivshankar Menon told The Hindu in a recent interview, has "a certain relationship and certain obligations to Bhutan".
Curiously, though, while India sees itself as Thimphu's treaty-bound security guarantor, the Himalayan kingdom's media statement clarifying its position on the conflict mentions India's name not even once.
Bhutan increasingly sees itself as a sovereign player in its own right, capable of taking its own foreign policy decisions and not as a mere protectorate of New Delhi. This is not a sudden change but the combination of several factors that have taken place over an extended period of time. The treaty of 1949 between the two nations was replaced by the upgraded Friendship Treaty in 2007 where a key clause (Article 2) was dropped that allowed India to guide Bhutan's foreign policy and even have a say in its arms imports.
Article 2 now states: "In keeping with the abiding ties of close friendship and cooperation between Bhutan and India, the Government of the Kingdom of Bhutan and the Government of the Republic of India shall cooperate closely with each other on issues relating to their national interests. Neither government shall allow the use of its territory for activities harmful to the national security and interest of the other."
The thrust in Bhutan's actions is towards a final settlement to the vexing border problem with China, but the trouble is, the tiny Himalayan nation is of great strategic importance to India. New Delhi feels insecure over any Chinese overture into Thimphu — diplomatic, strategic, territorial or political. Some Bhutanese commentators have even pointed out a growing public opinion in Bhutan of an independent foreign policy that is not bound by any country's strategic concerns.
Former Indian ambassador Phunchuk Stobdan writes in The Wire that "people in Bhutan think that India has for too long prevented their country from normalising diplomatic ties and negotiating a border settlement with China. India, on its part, fears that any boundary deal will not only impact Indian security but also impinge on its own negotiating position with China on the boundary issue. From Bhutan's perspective, India's position is adversely impacting its ties with China. This is the main issue that is leading to complexities and confusion, including the standoff at Doka La."
Tenzing Lamsang, editor of The Bhutanese, feels that the Bhutan's position as an independent, sovereign nation is not adequately respected by either China or India. On Chinese newspaper Global Times calling Bhutan a former "vassal state of Imperial China", Lamsang writes, "Forget about a Bhutanese leader, there is no historical record of even a Bhutanese farmer going to China to 'kowtow' to a Chinese emperor."
On Indian commentariat's claims that the nation is India's "protectorate", he writes, "A 'protectorate' would not decline the BBIN agreement, or won't put on hold four joint venture hydro projects with India on the basis of Bhutan not being happy with certain Cross Border Trade in Electricity guidelines from India. Bhutan is a friend and ally of India due to our mutual interests."
An understanding of the change in dynamics of Indo-Bhutan relationship is crucial to uncork the logic behind China's current actions. Beijing has long wanted to extend its strategic influence over Bhutan and has tried all sorts of overt and covert means to prise away one of India's most valuable strategic partners. It won't be a stretch to assume that the latest Sino-Indian skirmish is a result of China's effort to meet twin objectives — a) force India to give up its role as a security guarantor in the Himalayan border and Indian Ocean regions; and b) compel smaller nations to understand that their security and interests would be better served if they align with China.
It would be foolish to think that this larger Chinese game is reliant only on use of force, though that remains a prime tool. Beijing has been working behind the scenes to install an anti-India government in Thimphu and with elections slated for early next year, the Doka La drama is perfectly timed. If it succeeds in its mission, China will be in a better position to use Bhutan as a bargaining chip.
India's problems have been compounded by its policy paralysis. As Beijing builds a complex road and railway network around the Himalayan region with Tibet as the hub of activity, India's moves remain slow and reactive, leading to an increasing power differential.
As strategic expert Ravi Rikhye writes in Daily O, China is slated to complete "Shigatse-Gyirong link by 2020; Gyirong is a land port for the Nepal-Tibet trade and tourism, freeing Nepal from its traditional transport dependence on India…"
It has also "put under construction the 1,629km Lhasa-Nyingchi-Chengdu railway from both ends. When complete, it will take 15-hours from Chengdu to Lhasa. Currently, one has to use the 3,070km route Chengdu-Xining-Golmo-Lhasa, taking 42 hours. The 430-km Lhasa-Nyingchi line will run opposite Arunachal. It is slated for 2021 completion."
Bhutan respects its historic ties with India, but New Delhi must create opportunities for itself and its strategic partners to sustain the relationship. Else, we could see more such aggressive overtures from China in the near future. Make no mistake, Beijing is playing a much larger game here.
India
In September 2020, China had kidnapped five youth from the Upper Subansiri district; in another case, they had taken away a 21-year-old from Asapila sector
India
Wednesday's meeting held at the Chushul-Moldo point on the Chinese side of the Line of Actual Control (LAC) in eastern Ladakh was held to resolve the border standoff that began in May 2020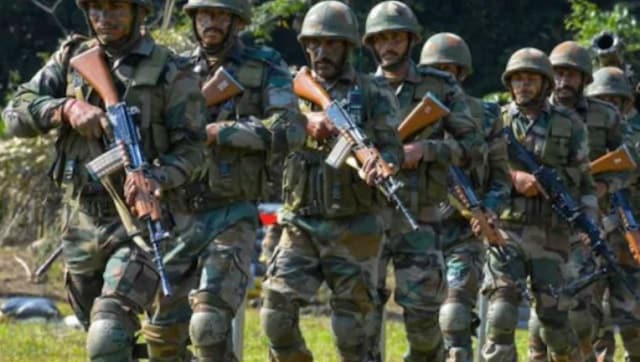 India
Those who are interested and want to apply for NT JAG and 10+2 TES-47 courses can do so by visiting the official website of the Indian Army at joinindianarmy.nic.in.