Sikkim standoff should not affect RCEP deal: Chinese daily
The India-China border standoff should not be allowed to threaten a mega RCEP meeting
The India-China border standoff should not be allowed to threaten a mega economic deal Asia- Pacific nations are trying to negotiate at a meeting in Hyderabad, an article in an official Chinese daily on Friday.
The comment was made by The Global Times, the mouthpiece of the Communist Party media group, which generally reflects the views of the ruling party. In recent days, the tabloid has been at the forefront of verbal allegations against India amid the tension between the two countries in the Sikkim sector.
Sixteen countries, accounting for about 27 per cent of global trade, are meeting in Hyderabad to discuss the Regional Comprehensive Economic Partnership (RCEP) that is aimed at liberalising trade and investment in the Asia-Pacific region.
The technical level talks for the RCEP began on 18 July. On 24 July, the negotiations will formally start. The meeting is happening under the shadow of the standoff between India and China - the two largest economies taking part in the talks.
The standoff began over the construction of a road by China in Doklam area and India fears the road could be used to cut New Delhi's links with its northeastern states.
India has said it is ready for talks with China to end the tension but both sides should first withdraw their armies from the disputed area. "We are saying that the matter can be resolved through talks, but both sides have to first take back their armies," External Affairs Minister Sushma Swaraj has said.
"China and India are two prominent members of the group, but they face the task of preventing an escalation of their border tensions from becoming an obstacle to reaching trade agreements at the negotiating table," the article said.
"China hopes that India can strive to control its actions, ensuring that the escalation of the border tensions does not endanger the atmosphere of cooperation for the RCEP," it said.
"If India encourages the border tensions to thwart the free trade negotiations, China will fight back and spare no effort to safeguard its territorial sovereignty, which cannot be traded in any case," it said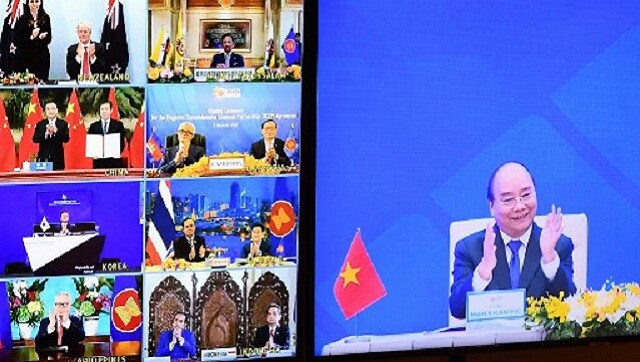 World
Last year, India had exited the RCEP agreement over concerns about cheap Chinese goods entering the country. India was a notable absentee during Sunday's virtual signing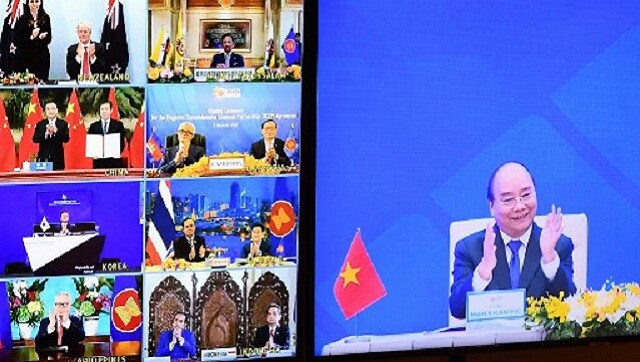 India
For now, there are a handful of major economic concerns that preclude India from considering the RCEP... and one rather formidable geopolitical one
World
Singapore's prime minister on Thursday said he hoped to complete by the end of the year a massive China-backed regional trade pact that has taken centre stage as Washington embarks on a unilateral, protectionist agenda.