Sid's Stunning Valentine's Gift for his Fans
Sidharth Malhotra has teamed up with OPPO phones to launch the perfect Valentine's Day gift for his legion of fans.
Bollywood hunk Sidharth Malhotra has teamed up with OPPO phones to launch the perfect Valentine's Day gift for his legion of fans. If you are looking for a gift for your girlfriend, you can't do much better than the gorgeous OPPO F5 Sidharth Limited Edition. Encased in a vibrant blue casing the phone is priced at just Rs 19,990.

Excited to offer his fans something special this Valentine's season, Sidharth said, "I am thankful to OPPO for giving me this opportunity to offer my fans an extension of my personality. Blue is one of my favourite colours and I have been working very closely with the OPPO team to integrate it into the limited-edition phone making it look aesthetically appealing. I am confident that with OPPO F5's artificial intelligence technology and the classy design, it will become a favourite amongst the youth."
Commenting on this new launch, Will Yang, Brand Director, OPPO India, said, "It brings us immense pleasure to offer our consumers another special that will enable them to capture special moments spent with loved ones. OPPO as a brand is focused on the youth and always innovates its marketing and product strategies to offer unique experiences. The OPPO F5 Sidharth Limited Edition, a blend of innovation and technology, is an effort in that direction. We are extremely happy to collaborate with Sidharth Malhotra and bring the youth something unique, stylish and fun."
OPPO also revealed a brand new microfilm starring Sidharth Malhotra and the beautiful Kirti Kharbanda. The film is directed by the critically-acclaimed director – Mohit Suri, who has many commercial successes like Kalyug, Awarapan, Raaz – The Mystery Continues, Ek Villain in his kitty. The film captures a special story of a young girl and how she achieves her dream. The new OPPO F5 Sidharth Limited Edition is an integral part of her journey.
Connecting with the Youth
The limited edition Sidharth phone is another innovative launch from the OPPO stable. The brand has made strong inroads in the youth segment with its powerful yet value for money phones. They have also been path breakers in launching limited edition phones to appeal to the young, who are always on the lookout for something a bit out of the ordinary. This phone follows on the heels of other best selling limited edition phones including the: OPPO F3 Deepika Padukone edition, the OPPO F3 Black BCCI Edition and the Diwali limited editions.
Marrying Looks with Performance
Like his power-packed performances on the screen, his phone too marries drop-dead gorgeous looks with performance. The OPPO F5 Sidharth Limited Edition features A.I. Beauty Recognition Technology for personalized beauty. The A.I. gathers information and learns the specific facial features of different people from its centralized image database. Several professional photographers and make-up artists were consulted during the R&D process to improve the functioning of this technology. The resulting A.I. beauty recognition helps people capture more beautiful pictures.
Premium Looks, Premium Features
The F5 Sidharth is a good-looking phone that ticks all the boxes in terms of appearance and performance. Apart from that gorgeous Blue colour, the front of the phone is dominated by an 18:9 aspect ratio Infinity display. The viewing angles are great as are the brightness levels. You can comfortably use the F5 in sunlight. The bigger screen means reading ebooks and watching videos is a delight. Even games are more fun to play on the F5 courtesy its impressive display.
The thin bezel on the top hosts the mike, while at the bottom you get a micro USB port, 3.5mm audio socket and the speaker grille. The fingerprint sensor is at the back and works like a charm. The power button and a dual-SIM tray are located on the right whereas the volume buttons are placed on the left side. The F5 is a lightweight where it matters; weighing a mere 152 grams and just 7.5mm thick which means it is easy to hold and grip. There's face recognition in the OPPO F5 and unlocking the phone with it is a breeze.
Performance and Camera
The F5 is powered by a MediaTek MT6763T that features eight cores. There's also an integrated Mali-G71 MP2 GPU and improved image processor. The phone comes with 4GB of RAM and 32GB of storage. This simply means your phone will cope with pretty much anything you throw at it, including some really resource hungry games. The F5 also packs a powerful 3200mAH battery that charges in two hours and easily lasts for an entire day.
The F5 comes with a 20MP sensor at the front and has a depth effect. Since it's mostly about selfies these days, OPPO clearly knows its target customers and doesn't disappoint them. The selfie camera takes awesome images. The AI mode aids images that are clicked in low-light and the "beauty" feature also gets enhanced. The rear camera boasts a 16MP sensor that clicks great images in all lighting conditions.
Conclusion
If there's a gift that will impress your girlfriend more than this phone this Valentine's go ahead and get it. But are you really willing to take that risk?
This is a partnered post.
India
Aftab Poonawala's Rs 300 water bill has become key evidence in the Shraddha Walkar murder case. Cops are investigating how the food blogger managed to rake up this amount despite the Delhi government granting 20,000 litres for free
India
The murder of Shraddha Walkar at the hands of her live-in partner, Aftab Amin Poonawala, has sent shockwaves. The case evokes memories of when Dehradun techie Rajesh Gulati killed his wife, Anupama Gulati, chopped her body into 72 pieces and then disposed them of on a daily basis back in 2010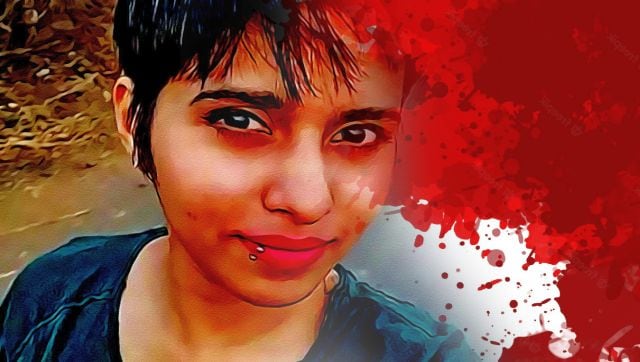 India
Shraddha Walkar was reportedly assaulted by her live-in partner Aftab Poonawala. The question everyone is asking today is, 'Why did she not leave?' Experts and women's rights activists say that it's easier said than done