Should Indian Army take over running schools, training centres for an incompetent state govt?
Apart from fighting proxy wars and conducting surgical strikes, the Indian Army also runs schools, manages women empowerment centres and handles vocational training centres in Jammu and Kashmir.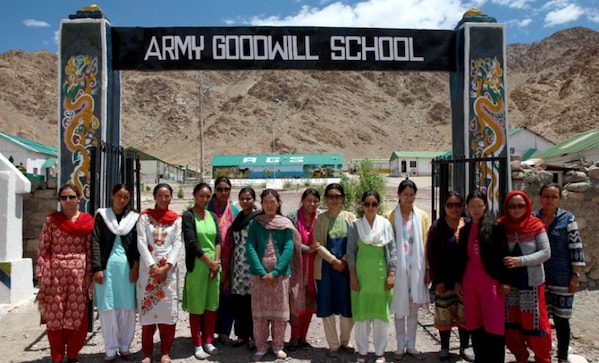 Apart from fighting proxy wars and conducting surgical strikes, the Indian Army also runs schools, manages women empowerment centres and handles vocational training centres in Jammu and Kashmir. It runs about 46 schools, of which thirty are in Kashmir and eight each in Ladakh and Jammu regions. About 14,000 students are being educated at primary or higher secondary levels at these establishments. All such activities come within the scope of Operation Sadbhavana.
What was the need for Sadbhavana in the first place?
According to the the army's Facebook page, "Operation Sadbhavana (Goodwill) was undertaken by the Indian Army in Jammu and Kashmir to address the aspirations of people affected by scourge of terrorism, sponsored and abetted by Pakistan. As part of a grand design, an insidious attempt was made by terrorist 'tanzeems' to systematically undermine government officials, target property, public services and symbols of state authority in order to inflict hardship and alienate the local population from the national fabric."
Simply put, it was part of India's counter-terrorism strategy. Education coupled with empowerment of the less privileged women and youth was seen as a tool to reduce this alienation and improve social indices in the 1990s.
What is left unsaid is that the failure of successive state governments to create the required education and social infrastructure level forced the army to step in.
Let's start with a brief report on Sadbhavana activities at eight locations.
Army Goodwill School (AGS), Karu
The school is about 50 kilometres from Leh and is in the midst of virtually nowhere. It was started in 2001 and is the biggest school in eastern ladakh. It has classes from nursery to VIII with 350 students. There are 22 teachers, who are all locals. They are paid a monthly honorarium.
The school has a science and computer laboratory and is affiliated to the Jammu and Kashmir Educational Board. Children are provided with transport and mid-day meals amongst other facilities. Fee for class VI to VIII is Rs 275 per month. Lower classes have a still lower fee. There is also a 50 percent waiver for girls.
Students of possibly the VIth or VIIIth class were asked which place received the highest rainfall in India. Silence!
Women Empowerment Centre (WEC), Leh
The centre has facilities for computer training, knitting, switching, making of sanitary napkins and carpets.
The most interesting bit is the facility to make low cost sanitary napkins. A recently started initiative, it produces about 25-30 napkins a day which are sold at a nominal rate to locals.
When they were asked how the output could be doubled, they said it will need an investment of about Rs 70,000 for an additional machine. Given how good the cause is, the Centre was asked if it had an 80G income-tax exemption certificate because that is a pre-requisite for most people who donate for noble causes. No, they did not!
WEC requires women to physically work in the Centre. This means homemakers, who could otherwise knit and sew at home, get excluded. This restricts the number of women who can benefit from such Centres.
Army Goodwill School Harka Bahadur, Kargil
The school was started in 1995 and is named after Subedar Harka Bahadur Rana of 1/5 Gorkha Rifles, who saved Kargil for India in 1948.
It is a few kilometres away from the Kargil town, surrounded by hills and with a river flowing below. Very scenic, again in the midst of virtually nowhere.
The school has classes from nursery to Xth. 45 percent of its 444 students are girls. Fee for class 9 and 10 are Rs 250 a month, lower classes lower, with a 50% waiver for girls. The teachers are locals and paid an honorarium.
When one enters the school, there is a completely different feel to it. There were signboards for an indoor games room and auditorium cum motivation hall. The school promoted healthy competition amongst students by regularly declaring a 'Best Class' and grouping them into 'Houses'. The games room had a table-tennis table, carom and chess boards.
The Commanding Officer's wife is has B.Ed degree and took a keen interest in running the school.
This was also the first school in Ladakh where NCC was introduced. A video of a Kargil Vijay Diwas Cultural Program where children performed to Vande Mataram was also available for viewing.
For a school as good as this, it should be affiliated to the Central Board of Secondary Education (CBSE) Board instead of the Jammu and Kashmir State Board of School Education. Besides having a better curriculum, a CBSE education will ensure that children going outside the state for further studies will not feel inferior to their counterparts. However, a CBSE affiliation requires fulfilment of conditions which will increase the cost of running the school. So, either the fee or government subsidy has to increase.
Vocational Training Centre (VTC), Drass
The VTC in village Bhimbhat is a short drive from the Kargil War Memorial. It has facilities for computer training, knitting and sewing.
It was a pleasure to see children walk in from the school and work on any of the seven computers. A local lady, who had undergone formal computer training, taught the students. With the government's focus on Digital India, it is only a matter of time before broadband connectivity reaches this facility post. The world will only be a click way then.
Students Hostel, Chushul
Situated at a height of 14,450 feet, Chushul is a small village. It is about a three hour drive from Pangong lake.
The army runs a women empowerment centre with two knitting and sewing machines each and a computer training centre here. They have recently made a community hall as well.
The highlight of this place is a newly made students hostel. Since this government school attracts students from neighbouring villages as well, parents requested the army to make a hostel so that the children had a decent place to stay. The hostel has forty beds, equally divided between boys and girls and a fully equipped kitchen which would be managed by villagers. The hostel was yet to be inaugurated when it was visited by the author.
Military Hospital, Kargil
The hospital was started in 2008. It has specialist doctors, a laboratory, x-ray facility, intensive care unit. It also offers physiotherapy and dental treatment. It has a bed strength of 44.
Although it mainly caters to the needs of the army, civilians often come in for medical consultation or dental treatment. These services are all provided for free. The dental treatment here is popular because the private one is expensive. According to a September 2015 PTI report, the hospital performed 105 major surgeries in the past one year that included a gallbladder surgery.
The hospital's activities are restricted to its location. Organising mobile medical camps in remote locations or special camps for eye testing are outside its purview because such work is usually done by state governments or NGOs. Having said that, such camps would further help the army win the hearts and minds of local people.
Each unit of the army in Durbuk enroute to Pangong Lake, is allocated a fixed number of villages for Sadbhavana. The nature of service varies and depends on what the villagers need.
One of the units provide solar lamps and student coaching apart from sponsoring children's education in Army Public Schools and cataract operations for the people. It also takes senior citizens for tours, say to Dharamshala and organises veterinary and dental camps.
Another unit organises tree plantation, ice hockey tournament, training classes for vehicle mechanics and drivers. It also sponsors ice hockey kits, archery and cricket sets amongst others.
Every establishment is doing something unique. It was observed that the best practices of a location were not formally shared with others.
The Indian Army has been doing some really good work through Sadbhavana. It has provided employment to locals, educated them and increased household income. More importantly, it has created an avenue whereby the sincere can use it as a stepping stone to progress.
Notwithstanding the above, a time has come to ask ourselves some questions.
1. In a volatile border state like Kashmir, should the Indian Army be so involved in Sadbhavana activities?
2. If it should not, then what type of organisation should undertake Sadbhavana whilst retaining the existing objectives and strategic control by the army?
3. Is it time for the army to involve an educational institution, say Vivekanand Kendra who run thirty six schools in the tribal districts of Arunachal Pradesh, in its schools so that the quality of education improves?
4. With the rising aspirations and awareness levels, should select schools be affiliated to the CBSE Board instead?
5. CBSE schools would mean a higher cost. Would it be appropriate for the defence budget to incur additional cost or should an alternative source of funding be found?
6. Since the army spends about Rs 60 crore per annum on Sadbhavana in Kashmir, can a tax effective mechanism be found so that India Inc funds this expense in whole or at least in part?
It can be argued that running schools and all is the responsibility of the state governments. The reality is that governance in most border hill states leaves a lot to desired, be it Kashmir or Arunachal Pradesh.
It is time the existing organisational and funding framework is reviewed so that the Indian Army single-mindedly focuses on its key objectives.
The author is an Independent Columnist and Management Consultant. He tweets with the handle @sanjeev1927
World
The Taliban regime's move to close universities to female students across the country and has barred girls from attending secondary school since it returned to power in 2021, sparked global condemnation.
India
The Cheetah helicopter of the Indian Army was reportedly on a routine mission when it crashed near Mandala Hills in Bomdila, in the West Kameng of Arunachal Pradesh
Opinion
Pakistan Foreign Minister Bilawal Bhutto is getting increasingly hyper about India whether it is in the UN or in the bilateral fora that happened in Berlin late last year or to a domestic audience