Shinzo Abe, Narendra Modi in Gujarat: PMs to lay bullet train foundation, hold India-Japan summit meet
With the laying of foundation for the Mumbai-Ahmedabad bullet train and MoU-signing ceremony attracting investments of around Rs 5 lakh crore, Japanese prime minister Shinzo Abe's and Prime Minister Narendra Modi are set to have an eventful Thursday.
With the laying of foundation for the Mumbai-Ahmedabad bullet train and MoU-signing ceremony attracting investments of around Rs 5 lakh crore, Japanese prime minister Shinzo Abe and Prime Minister Narendra Modi are set to have an eventful Thursday.
Abe and Modi will lay the foundation stone for the high-speed train project, to be completed by 2022, in Ahmedabad. The train is likely to cover the distance of over 500 km in two hours.
Thereafter, Modi and Abe will head to Mahatma Mandir in Gandhinagar, where delegation-level talks will take place, reported The Indian Express. A parallel CEO conference will also be held at the same venue, where representatives from both India and Japan will participate.
The two leaders will hold the 12th Indo-Japan annual Summit meeting at Gandhinagar followed by the exchange of agreements. An India-Japan business plenary meeting will be held after that.
With the participation of more than 100 Japanese corporates and envoys, the Gujarat government is viewing the annual meet as a modified version of 'Vibrant Gujarat Summit', reported DNA. There are at least four Japanese corporate giants which are going to make an investments of Rs 1 lakh crore each.
The MoUs (Memorandum of Understanding) will be signed in sectors like engineering and automobile, infrastructure, IT and skill development. Other key areas identified by Gujarat government for development and investment from Japan are aerospace and defence manufacturing, pharmaceuticals, electronics, and housing.
During the talks, Modi and Abe are likely to pitch for increased interaction between governments and defence industries of their countries, for the supply and transfer of defence and dual-use technologies, The Indian Express quoted a source as saying.
Joint secretary (East Asia) Pranay Verma, when asked about the talks between the two sides on defence (including the sale of aircraft ShinMaywa US-2 to India), had said that defence cooperation is an area of priority between New Delhi and Tokyo, without disclosing details.
National Security Adviser Ajit Doval and Foreign Secretary S Jaishankar would also be present to discuss the security ties between the two prime ministers. The two nations are likely to increase their military-to-military and defence hardware cooperation, reported India Today.
The summit — which takes place amid rising tension in the Far East after North Korea tested a hydrogen bomb, and the growing Chinese assertiveness in the South China Sea — will be the fourth annual summit between Modi and Abe.
Meanwhile, Japan Today had reported that Japan has its eyes on affirming close cooperation with India, at the summit meeting, to address the threat from North Korea.
Abe and Modi are also likely to agree on the need to implement a new UN Security Council sanctions resolution that imposes the first restrictions on exports of crude oil and petroleum products to North Korea.
Fifteen agreements, reported PTI, will be signed for investments in Gujarat during the Japanese prime minister's visit.
India and Japan may enhance their cooperation in non-energy areas of the nuclear sector. However, a senior government official told PTI that there are little chances of an agreement to procure equipment from Japan for building nuclear power plants in the country as talks with French company EDF and American nuclear giant Westinghouse Electric Company are ongoing in this regard.
"There is, however, a possibility of negotiations to have Japanese credit-line in future for procuring these high-end equipment," he said.
The two sides will also discuss the sharp decline in bilateral trade in the last four years. The Indian Express quoted an official as saying that even though the trade between the two nations was not a new issue, the two leaders will discuss it on Thursday. The total trade came down to $14.51 billion in 2015-16 from a peak of $18.5 billion in 2012-13.
The First Lady of Japan will begin her day by visiting the garden at Sabarmati riverfront.
Akie Abe, will be greeted by 18 children singing 'Kem chho, konnichiwa', on her visit to the Indo-Japan Friendship Association (IJFA). The song, penned by IJFA's Mukesh Patel, will be sung by students of  Zydus School of Excellence, reported The Times of India.
She will address students at Gujarat University, where she will speak on climate change. She will visit the Vocational Training Unit at Blind People's Association (BPA), The Times of India reported. On her visit to the Japan Information Centre (JIC), Akie will inaugurate the Origami Mahotsav and will be served an ice cream cake that looks like a bullet train.
On Thursday, the two leaders will also take a tour of Dandi Kutir, India's largest museum showcasing the life and teachings of Mahatma Gandhi.
The Ministry of External Affairs had said the two leaders will review the recent progress in the "multifaceted cooperation" between India and Japan under their 'Special Strategic and Global Partnership' and will "set its future direction".
Modi and Abe have met 10 times in the last three years, with the last being on the sidelines of the G20 Summit at Hamburg in July. Modi had visited Japan in November 2016.
With inputs from PTI
Find latest and upcoming tech gadgets online on Tech2 Gadgets. Get technology news, gadgets reviews & ratings. Popular gadgets including laptop, tablet and mobile specifications, features, prices, comparison.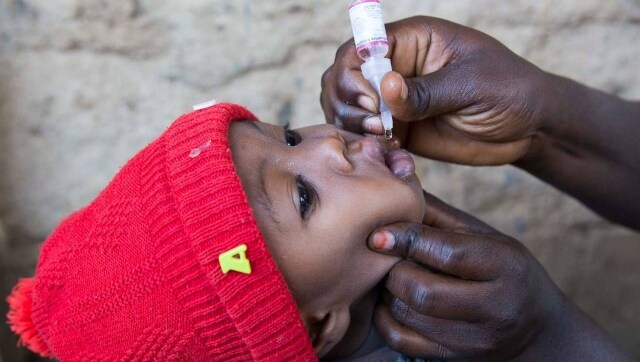 India
The National Immunisation Day (NID), commonly known as Pulse Polio Immunisation programme, was scheduled for 17 January across India
Politics
The All Assam Students' Union (AASU) staged sit-in demonstrations across the state with black clothes tied to their face during the prime minister's visit to Sivasagar to distribute land 'pattas'
India
The pilot issued an apology saying his tweets 'may have hurt sentiments'. A GoAir spokesperson said the airline has a zero tolerance policy on such matters