Shinzo Abe in Gujarat: Behind high-optic bullet train launch, India Japan deepen defence ties
Abe, some say, has already won hearts in Gujarat by choosing it over Delhi for his visit.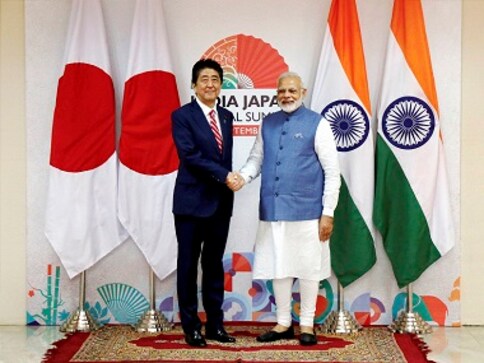 The fast-growing India-Japan ties got a major fillip as Prime Minister Narendra Modi and his Japanese counterpart Shinzo Abe on Thursday laid the foundation stone for India's first bullet train project based on Japan's Shinkansen super speed train technology.
The ambitious Rs 1.08 lakh crore ($17 billion) 508-kilometre line adds to the growing list of major India-Japan infrastructure cooperation projects. India's first bullet train will connect Ahmedabad, the largest city in Gujarat, to Mumbai, cutting travel time from seven hours to less than three.
India's first bullet train
The high-speed rail project that is scheduled to be completed by 2022, has been majorly financed by Japan.
Of the Rs 1.08 lakh crore, Japan is giving a loan of Rs 88,000 crore at a minimal interest of 0.1 percent for 50 years. And the repayment will begin only after 15 years.
The first tranche of the loan, Rs 6,000 crore, would be released immediately, while the remaining tranches will come after the completion of land acquisition.
About 825 hectares of land would be acquired for the project.
Of the 508 km stretch, 92 percent (468 kilomtre) of the route will be elevated, six percent (27 kilometres) in tunnels and the remaining two percent (13 kilometre) will be on the ground.
The high-speed train would also pass through the country's longest tunnel of 21 km, of which seven kilometres will be under the sea.
Twelve stations have been proposed that include Mumbai, Thane, Virar, Boisar, Vapi, Bilimora, Surat, Bharuch, Vadodara, Anand, Ahmedabad and Sabarmati.
The distance will be covered in two hours and seven minutes if the train stops at four stations — Ahmedabad, Vadodara, Surat and Mumbai. If the train stops at all 12 stations, it will cover the distance in two hours and fifty-eight minutes.
According to railway ministry officials, the operating speed of the bullet train would be 320 kilometre per hour and the maximum speed would be 350 kilometre per hour.
The project, however, is already stuck amid hurdles relating to acquisition of private land. A group of farmers from Boisar in Palghar district protested against the project fearing acquisition of their lands. About 825 hectares of land, may become a major hurdle for completing the bullet train project by 2022.
'Modi a farsighted leader'
Abe in his speech praised Modi as a "farsighted leader". "My good friend Prime Minister Narendra Modi is a farsighted leader. And he took a decision two years ago to bring high-speed rail in India and to create a New India. And then our country decided to fully support Modi's vision, culminating in the progress of the project," the Japanese prime minister said.
Abe, some say, has already won hearts in Gujarat by choosing it over Delhi for his visit. "When we add Ja of Japan and I of India, it makes 'Jai.' Jai Japan and Jai India — me and PM Modi will work together for this," he said, much in the manner of Modi himself.
Abe expressed the hope that he will soon enjoy the beautiful green scenery of India through the windows of bullet train "when I come back here in a few years".
India, Japan discuss amphibious aircraft deal
India and Japan discussed a deal to buy Japanese ShinMaywa US-2 amphibious aircraft, but no final decision was arrived at during the talks between the two leaders.
India has been in talks for the purchase of 12 amphibious aircraft, in a $1.30 billion deal, for the Indian Navy. Later 18 more aircraft are to be bought under the Make in India initiative.
"There is an ongoing issue on the US-2 amphibian aircraft. Those discussions continue," Foreign Secretary S Jaishankar said at a media briefing after the Modi-Abe annual summit talks.
Discussions on the deal for the amphibious aircraft had also figured during former Defence Minister Arun Jaitley's visit to Japan earlier this month for a bilateral dialogue on defence. The deal is said to be stuck on the issue of price, even after ShinMaywa company reduced the price to around $113 million per aircraft. The earlier price was $.1.65 billion for 12 aircraft.
"Japan's readiness to provide its state-of-the-art US-2 amphibian aircraft was appreciated as symbolising the high degree of trust between the two countries. The two governments decided to continue their discussion in this regard," said the joint statement.
Jaishankar said that the two sides are also looking at technology cooperation in the field of defence.
Modi ups the poll pitch in orchestrating high-optics visit
Addressing the large crowd gathered to see the foreign dignitary, Prime Minister Modi made it a point to bring in the flavour of Gujarat, where elections are due in the next few months.
"It will not just reduce distance but also bring the people closer. The train will go from my Gujarat to my Mumbai. It will mean less cars on roads, it will mean a cleaner environment and also bring in revenue," he said. The area between Mumbai and Ahmedabad would become a Shinkansen economic zone where trade will get a push, he said as the applause got louder.
Modi, sometimes breaking into Gujarati during his Hindi speech, addressed his constituency by praising their art of bargaining. "We Indians, especially Gujaratis, when we go to buy or sell anything, we always bargain, we take stock of every penny. When we go to buy a small bike, to take a loan, we visit 10 banks and calculate which bank is giving less interest. Then we calculate and we are happy even with half percent less interest," he said.
Modi was referring to the soft loan that Japan has extended for the ambitious Rs 1.10 lakh crore project, which he said made the high-tech train "almost free".
"Now is not the time to develop slowly, time doesn't wait. Technology is growing at a fast rate and now our priority is high speed. Speed badegi, distance ghategi (speed will increase and distance will decrease) economic opportunities will open up. In any country economic growth can only happen when productivity happens," said Modi.
Meanwhile, the Opposition too did not miss the signs of an apparent poll pitch in the garb of a high-optic foreign head of state visit and the pomp and cheer around the "not-so-necessary" bullet train.
For the Opposition, Abe's visit to Gujarat and the bullet train project, in particular, is setting the stage for the BJP's high voltage campaign in the state. The Congress raised questions over Abe's visit to Ahmedabad and Gandhinagar and not the country's capital.
"With an election in Gujarat round the corner, it does raise a question, and I hope this is not the case, that a State visit is actually being used for political purposes because the manner in which it is structured is rather awkward to say the least," Congress spokesperson Manish Tewari said.
With inputs from PTI
Find latest and upcoming tech gadgets online on Tech2 Gadgets. Get technology news, gadgets reviews & ratings. Popular gadgets including laptop, tablet and mobile specifications, features, prices, comparison.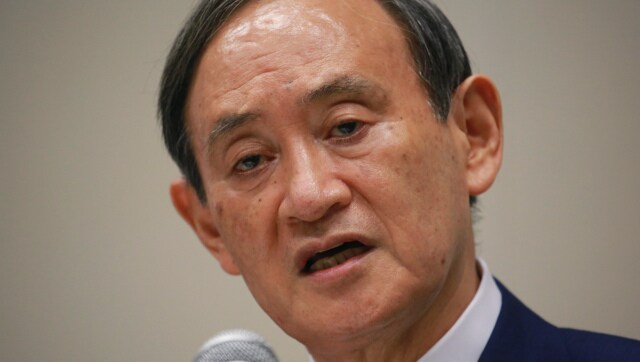 World
Under Abe's first administration in 2006, Suga headed the internal affairs ministry, where he introduced a hometown tax programme, offering tax deductions for those who donate money to local municipalities
India
DGP Bhupendra Singh said in a statement on Sunday night that police had to use force and opened fire on Saturday evening, in which two persons were killed and as many injured. The injured are out of danger, he added.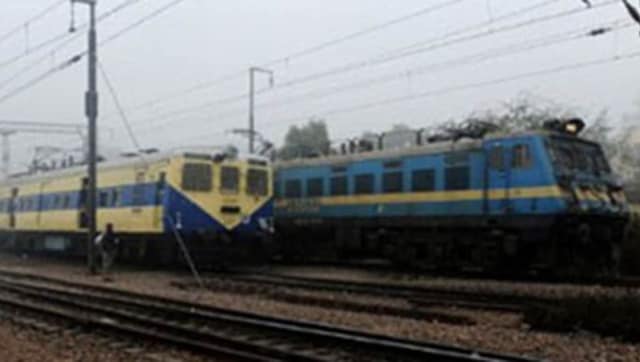 India
The NTPC recruitment drive will hire people for the posts of typist, clerk, traffic assistant, time keeper, goods guard, station master and commercial apprentice, among others