Shimla water crisis: Police helps parched city by distributing free bottled drinking water
Keeping in view the water crisis, the government has closed all schools in Shimla from 4 to 11 June.
Shimla: Himachal Pradesh Police on Sunday lent a helping hand to Shimla's thirsty people by distributing mineral water bottles among locals and tourists free of cost in the state capital which has been facing potable water shortage for nearly two weeks now.
Some units in businesses of production of mineral water have donated bottled water for the city and police are transporting and distributing the water among the needy in the city free of cost, a police spokesman told IANS.
Shimla on Sunday saw a 10 million litres per day (MLD) increase in the daily water supply with the Municipal Corporation plugging leakages and pilferages.
Civic authorities said it supplied around 38 MLD of water to the city.
Keeping in view the water crisis, the government has closed all schools in Shimla from 4 to 11 June.
Officials blame water shortage on the rising mercury and the drying up of natural water channels. Shimla has a population of nearly 200,000 that requires 42 MLD water.
Facing flak from the high court, which is closely monitoring the water situation, the Municipal Corporation has disconnected the water connections of over 30 hotels for their failure to clear the pending arrears.
The court has listed the case for the next hearing on 11 June. It has also made it categorically clear that no individual request even to the VIPs, including the judges, would be entertained. However, only the Chief Minister and the Governor are exempted from this order.
Blaming the previous Congress government in the state, Chief Minister Jai Ram Thakur said it had failed to execute any water supply scheme for Shimla.
He said the state government would make long-term plans for drinking water supply by taping various natural water sources.
Irrigation and Public Health Minister Mahender Singh Thakur on Saturday ordered the suspension of the Sub Divisional Officer (SDO) of the Municipal Corporation for negligence in water distribution.
Find latest and upcoming tech gadgets online on Tech2 Gadgets. Get technology news, gadgets reviews & ratings. Popular gadgets including laptop, tablet and mobile specifications, features, prices, comparison.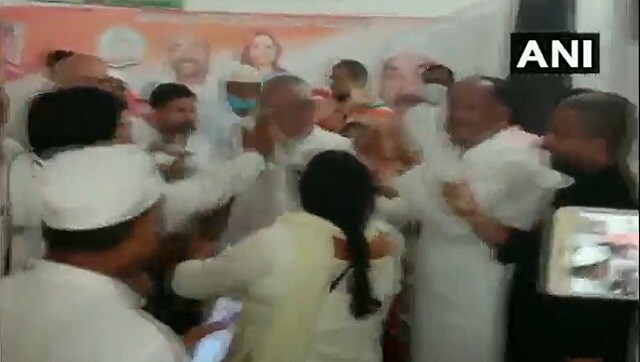 India
Tara Yadav, protesting Mukund Bhaskar Mani's nomination for the November bypolls, accused the Congress of giving a ticket to 'a rapist'
India
According to the Kanker MP, if a CBI investigation is ordered into the Dhanora case, similar incidents will be unearthed in 'every four or five villages' of Bastar
Politics
In her resignation letter to Sonia Gandhi, Sundar wrote that people like her who want to work for the party are being 'suppressed' by 'a few elements seated at higher levels within the party'