Sharda University clashes: Varsity administration sees outsiders' role in escalating tension, assures safety to Afghan students
The Gautam Buddh Nagar administration held a meeting with Sharda University management Friday and suspected role of 'outsiders' for triggering violence on the campus, a day after scuffle between Indian and Afghan students at the institute in Greater Noida.
Noida: The Gautam Buddh Nagar administration held a meeting with Sharda University management Friday and suspected role of "outsiders" for triggering violence on the campus, a day after scuffle between Indian and Afghan students at the institute in Greater Noida.
A group of foreign and local students, along with a proctorial board of the university, had met the district administration, including senior officials, at 9.30 AM, even as multiple videos surfaced on social media about the violence Thursday.
While the police have booked over 350 students for rioting and related offences from both the sides as it launched a probe on its own Thursday night, District Magistrate Brajesh Narain Singh ordered a new complaint to be lodged by police against anti-social elements who had entered the campus.
He also recommended strong action against those circulating "inflammatory videos" and said the chief of a fringe group, who has "attempted to jeopardise India's relations with Afghanistan", would be detained under the stringent National Security Act (NSA).
"Multiple videos emerged which showed face offs between student groups. Following which we have called for a meeting. It has come to light that local anti-social elements are trying to disrupt peace in the campus as it is escalating Sharda University students' minor scuffle as communal issue," said Singh said.
"FIRs have been filed against Ved Nagar of Gau Raksha Samiti and Deepak Sharma of Rashtriya Swabhiman Dal who had entered the campus and flared up the students' sentiments. I have asked the university officials to identify students who indulge in similar actions/talks and take action against them, while also stopping entry of outsiders in the campus," he said.
"Through his videos, Deepak Sharma has tried to jeopardise India's relations with Afghanistan, create a divide between communities and intimidate Kashmiri students, knowing well the sensitive situation in Kashmir. Therefore, it appears reasonable enough to detain him under the NSA once arrested because his actions have caused a public disorder," Singh told PTI.
He added that after his meeting with the university students and officials, the Afghans and other students were assured of a peaceful atmosphere here.
Thursday's fight between Indian and Afghan students during which a Kashmiri student had got roughed up followed a scuffle on Monday, the purported video of which had surfaced on social media.
Three Afghan students were suspended over the Monday scuffle while 10 others issued show cause notice by the university. The varsity also announced shutting classes till Sunday, while the mid-term was examinations deferred, according to officials.
"India and Afghanistan are friendly countries with good relations. The university officials have been asked to get the students from both sides to talk so that cordial relations can be restored among them.
"They have been asked to tell the students to concentrate on their studies and focus on upcoming examinations," Singh told PTI.
Jammu and Kashmir Governor Satya Pal Malik and former chief ministers Mehbooba Mufti and Omar Abdullah also expressed concern over the incident in western Uttar Pradesh's Greater Noida and sought action from the Centre and the state government.
The governor spoke to Uttar Pradesh Chief Minister Yogi Adityanath Friday morning and urged him to ensure that Kashmiri students are provided a safe and secure environment in the educational institutions of the state, an official spokesperson said.
"Urge PMO India, (UP chief minister) Yogi Adityanath and (Union Home Minister) Rajnath Singh ji to take strict action against the culprits and ensure safety of students from J&K," Mufti tweeted.
"This requires a proper and impartial investigation. Let the facts be brought out and the guilty persons punished. I hope (Union Home minister) Rajnath Singh and (the) Home Ministry will direct the UP government and Noida Police to reassure the students while the investigation proceeds," Abdullah tweeted.
A police officer Thursday told PTI that no official complaint was lodged about the clash in which one Indian student from Kashmir suffered injuries and was taken to a hospital.
The police have taken the cognisance of the case on its own. The Indian student was sent for medical examination so that it could be checked if there is any internal injury or not, the official had said.
Police force was deployed outside the university along with security personnel of the PAC. The university had also stepped up security on its premises and denied entry to outsiders, including the press.
"We have booked 350-400 students, Indians and Afghans both, and we are probing the matter. Students are being identified on the basis of the footage that has surfaced and we will soon quiz them and initiate action," he added.
The official said the case was registered under the Indian Penal Code Sections 147 (punishment for rioting), 504 (intentional insult with intent to provoke breach of the peace), 506 (criminal intimidation), 323 (voluntarily causing hurt), 352 (assault or criminal force otherwise than on grave provocation), and related offences.
The FIR was registered at the Knowledge Park police station. Police have also charged the students under Section 7 of The Criminal Law Amendment Act, 1932, which pertains to any act that impedes another person from doing what they can rightfully do, using intimidation, he said.
World
The Times said Britain would withdraw its roughly 750 troops, as 'they would struggle without American support because of a reliance on US bases and infrastructure'
India
This came after Russia's Sputnik V vaccine was cleared for restricted emergency use by the Drugs Controller General of India (DCGI) with certain conditions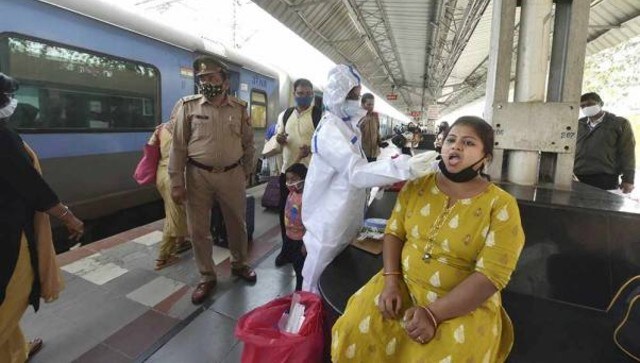 India
Law minister Brajesh Pathak's purported letter also blamed the death of Padma Shri winner Yogesh Praveen on the lack of an ambulance, though the victim's family denied making this charge