Shantanu Bhowmick killed: Prohibitory orders under Section 144 to continue in parts of West Tripura after scribe's murder
A prohibitory order under Section 144 CrPC is in force in certain areas of West Tripura and Khowai districts in wake of the killing of Shantanu Bhowmick on Wednesday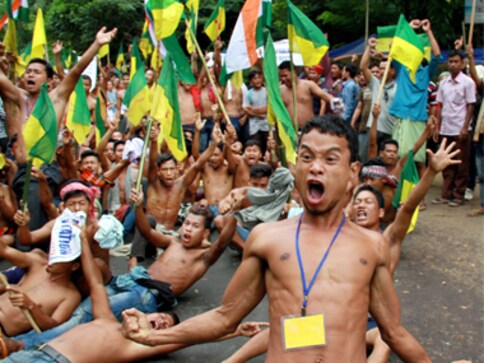 Agartala: Prohibitory order under Section 144 CrPC is in force in certain areas of West Tripura and Khowai districts in wake of the killing of a local journalist on Wednesday, police said.
"The prohibitory order would continue at Mandai, Khumulwung and Jirania areas (West Tripura) for another 48 hours considering the situation," SP (West), Abhijit Saptarshi said.
A peaceful dawn-to-dusk bandh, called by the ruling CPM in protest against the scribe's killing was observed on Thursday in the Jirania block.
The CRPF and Tripura State Rifles (TSR) are patrolling the area, Saptarshi said.
DM of Khowai, Sanjib N Mahatma, also said the prohibitory order would continue in Chhankhola and adjacent areas of Padmabil, Gayamuni, and Baizalbari until normalcy is restored.
Santanu Bhowmick, a journalist working with a local television channel, was covering a clash between the Indigenous People's Front of Tripura (IPFT) and the Tripura Rajyer Upajati Ganamukti Parishad, the tribal wing of the CPM, in Mandai area of West Tripura when he was hit from behind and abducted.
Later, Bhowmick was found with serious stab injuries and was rushed to Agartala Medical College and Hospital where doctors declared him 'brought dead'.
Chief Minister Manik Sarkar had on Thursday held a high-level meeting with top officials of Assam Rifles, Border Security Force, Tripura State Rifles and Tripura Police to review the situation.
India
The search operation was jointly carried out by Police, CRPF, and BSF in the forward villages in Samba, Kathua, and Jammu districts
India
Droupadi Murmu has been named the NDA's presidential candidate for the 18 July Presidential election. After the announcement, the home ministry directed the CRPF to deploy its VIP security protection team to take charge of the security of Murmu
India
About four to five Central Reserve Police Force (CRPF) commandos, in shifts, will be securing each MLA once they are in Maharashtra