Sex and the godman: Nityananda haunted by his past
The spiritual guru has been 'coronated' head of a land-rich spiritual order even though he has cases of sexual abuse and rape pending against him. Is nothing sacred anymore?
In one of his satsang discourses, which he typically infuses with levity to sustain 'devotees' interest, self-styled spiritual guru Swami Nityananda narrates a joke about God and Adam.
God approaches Adam and tells him, "I have good news and I have bad news for you." Adam asks to be told the good news first, upon which God says that He has endowed Adam with a brain—with unbounded capacity to think and reason—and a sexual organ, which would open the gateway to limitless pleasures.
Adam is, of course, overjoyed at being the recipient of the best of both worlds, and wonders what the bad news might be.
To which, God responds: "At any given time, only one those faculties will work."
For a self-styled 'godman' who was himself at the centre of a scandal that revolved around video footage of him allegedly disporting sexually with a Tamil actress, the joke may seem a little too close to home for comfort.
But evidently Nityananda reckons that the seedy events of two years ago—which he contests—have been buried six feet under. He claims that the video footage was morphed (a defence that Congress politician Abhishek Manu Singhvi too recently invoked), although he still has cases of sexual misconduct and rape pending against him. After a period of "spiritual seclusion" (and trouble with the law), he is out on bail, and back to offering sermons from his golden throne at the Bidadi ashram near Bangalore.
And in his sermons, he even makes references to a "time when bad people were around me and there was too much abuse" that almost sound confessional. The dark days are gone, he appeared to tell his worldwide audiences to whom the sermon was being live-streamed.
Yet, the karmic deeds of a past when kundalini forces—and the hormonal urges to which all men are susceptible—played havoc with a spiritual practice aren't proving so easy to bury.
And last Sunday, when Nityananda was anointed pontiff of the Madurai Adheenam, a 1,400-year-old monastic order of Shiva worshippers, at an over-the-top lavish ceremony (where he was 'coronated', complete with a golden crown and a sceptre) in the temple town of Madurai, the old ghosts returned to haunt him.
A controversy has erupted over the appointment of Nityananda as the 293rd pontiff of the spiritual order, with heads of other Saivite spiritual orders taking strenuous objection to his appointment, citing the criminal cases still pending against him.
On Thursday, the Madras High Court ordered notice of admission on a writ petition seeking a direction to the State government to declare Nityananda's appointment as illegal and to prevent him from acting as the guru.
The petition claimed that Nityananda, who had several cases (including case of sexual abuse) pending against him, was "absolutely incompetent" to hold the post that was venerated by Shiva devotees worldwide.
A second, PIL petition has been filed by M Solaikannan, a local politician, claiming that Nityananda had appointed himself the spiritual head after taking the previous (292nd) pontiff into his illegal custody by deploying "henchmen" from Karnataka. The petition sought a direction to the State government to take control of the Madurai Adheenam.
Solaikannan alleged that Nityananda "does not practice celibacy and is not a sanyasi"—in the sense that he had nor relinquished worldly pleasures—and was therefore ineligible to head the spiritual order.
More damagingly, he alleged, Nityananda had "clandestinely and in a well-planned manner" usurped the Adheenam administration, which had 1,250 acres in its possession in addition to numerous temples and other properties in India and abroad worth in excess of Rs 1,200 crore. Sub-caste identities also are at the core of the opposition to Nityananda's appointment; his detractors alleged that Nityananda hailed from the Arcot Mudaliar community, and was therefore ineligible to hold the post, which was open only for those belonging to the Saiva Vellalar sub-caste.
Nityananda refutes these allegations, and has threatened to launch defamation suits against those who are "slandering" him at the behest of "vested interests" that had encroached on the Adheenam's property.
The whole episode shows up the faultlines that test the faith of the numerous followers of spiritual orders when their gurus are knocked off the pedestal. The faithful still turn up in droves for Nityananda's sermons (where he claims to demonstrate that his followers can levitate by invigorating the Kundalini chakra). Evidently, with all his faults, he still fills some spiritual void in them.
Yet, there is something indecorous about the coronation of a 'spiritual guru' by an ancient revered spiritual order even though he still has cases of sexual abuse and rape pending against him. Nityananda defends himself by saying that the "rape case" filed against him was passing strange, since it cited no victim of the alleged crime. "There are many cases against people in public life, and this case against me has no basis."
Much the same kind of defence is trotted by politicians caught with their hands in the cookie jar. But just as we demand greater accountability of our political leaders, don't practitioners of a faith feel the need to hold their gurus to account? Particularly when the gurus themselves have failed to channel their kundalini forces in the manner that they sermonise?
Is nothing sacred anymore? Or is spiritual salvation just as easily secured as political rehabilitation?
India
Every single Indian festival has its own speciality and importance wherein it gets related to that seasonal food and behaviour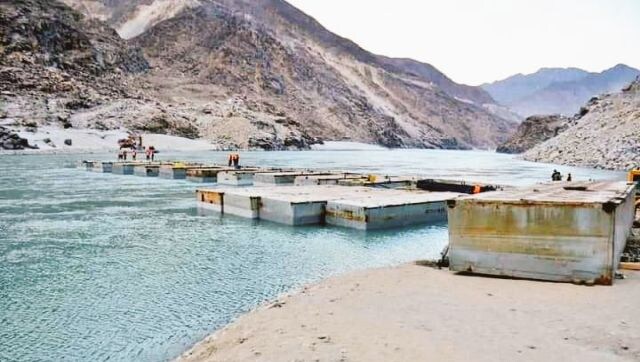 World
Pakistan's parliament has summoned former Chief Justice Saqib Nisar to provide an explanation regarding the Diamer-Bhasha Dam Fund that was established during his time in the top judicial position. In 2018, he initiated crowd-funding for the project, stating that it would help counter water woes
India
Massive protests broke out at Chandigarh University after it emerged that a hosteller had leaked objectionable videos of her female mates. The police has now arrested one student and two others in the matter