Separatists call for shutdown in Kashmir on Friday to protest killing of a civilian by security forces
As the news of killings spread in Srinagar there were protests in the old part of Srinagar city. The state government shut the internet services in Srinagar, the capital, and imposed restrictions in old Srinagar to prevent any agitation against the civilian killing.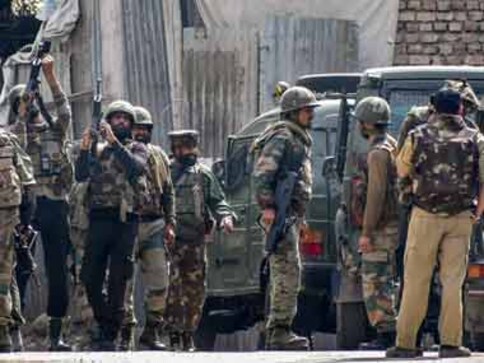 Srinagar: No one in the Malik clan, a dozen or so families of daily-wage labourers and masons in Magraypora locality of Noorbagh area in capital Srinagar, knew a bullet-perforated body was lying in their courtyard for two hours. This, out of dread after the government forces allegedly fired indiscriminately at the houses of Malik's before dawn.
Mohammad Saleem Malik, 26, earned a living by stitching school bags and rearing livestock for fast bucks. He was killed by forces early on Thursday morning as he left his room and entered the cattle shed to check his sheeps and goats which he had purchased them few months ago. He had planned to sell them before Eid next year, family members said.
"There was no 'azan' (call for prayer) from the mosque. I called my friend if the 'muezzin' (who makes the prayer call) was okay but he said there are forces in the area and they have cordoned the entire locality. After some time there was a burst of fire and all of us woke up," Mehraj ud Din Malik, the brother of slain Saleem, told Firstpost few meters from the place where his brother's body was found.
Mushtaq Ahmad Khan, a local 'muezzin', said the moment he left his house, few dozen meters from Malik household, he was stopped by forces and they did not allow him to go towards the mosque. "They (forces) just pushed me back and did not allow me to move. I was not allowed to enter the mosque until they left," Khan said at the house of slain civilian.
The forces had arrived in the area before dawn and had taken positions on the slabs, rooftops and in the congested lanes of this neighbourhood in downtown Srinagar which looks like a modern slum. As dawn broke, around 120 members of Malik clan, who live in eight houses, one after another with one big courtyard, realised someone was laying in a pool of blood outside the cattle shed.
"It was Saleem," said Raja Begum, Saleem's aunt. "He was dead and the army, CRPF and police were running away from the area," she said.
The security forces said they had launched a cordon and search operation after receiving a tip-off of militants hiding in a house. The militants managed to escape the house, police said.
Malik had recently purchased livestock for rearing, hoping to sell them for a good price next season before the sacrificial Eid-ul-Azha. He had even constructed a small shed where he would feed them before going to sleep. In the day, he worked in his shop, stitching school bags. In the evenings, he would spend time with his livestock.
Kashmir woke up to two gunfights on Thursday, one in South and one in Central Kashmir along with a 'cordon and search operation' in Srinagar where the soldiers had their guns pointed into the tight lanes of Noorabad. In another place in Dooru area of Anantnag in south Kashmir, they had killed one militant, a top Lashkar-e-Taiba commander and an army soldier was also killed.
In the central Kashmir's Budgam district, two militants have been gunned down in an encounter in Panzan village while as searches are going on to nab the three other militants.
In Noorabad area of Srinagar's old town, government forces fired relentlessly at the residential houses before the contact was even established with suspected militants. Some of the bullets hit the handle of the doors, some pierced the walls while others bore through them.
"They just did not bother for people living in the home who could have got killed. They had come to kill and they left after killing a poor, innocent youngster," Abdul Qayoom Malik, a neighbour of slain youth said at his house as he pointed at the bullet marks on the walls.
As the news of killings spread in Srinagar there were protests in the old part of Srinagar city. The state government shut the internet services in Srinagar, the capital, and imposed restrictions in old Srinagar to prevent any agitation against the civilian killing.
Dozens of students of Kashmir University and Islamic University held protests against the killing on their campuses. They shouted anti-government, anti-administration, pro-Azadi and anti-India slogans to express their anger.
The Joint Resistance Leadership (JRL) comprising Syed Ali Geelani, Mirwaiz Umar Farooq and Muhammad Yasin Malik have called for a shutdown in Kashmir on Friday against the killing of the civilian while the PDP's senior leader and former minister, Altaf Bukhari, termed it as "cold blooded murder".
"JRL asks people to register their strong protest by observing a complete hartal tomorrow Friday 28th September against the continued gruesome and barbaric killing of Kashmiri's at the hands of Indian forces, arrest spree of resistance activists and supporters," Mirwaiz Umar Farooq, the Hurriyat leaders, said in a tweet.
Clashes were reported between forces and protesters after the body of slain civilian was carried by mourners towards the Eidgah Srinagar for burial. The forces tried to stop people from carrying the body and teargassed the procession. This triggered clashes and forces fired more teargas and pellets at the pallbearers.
"If they wanted to do crackdown or search operation, they should have announced over loudspeaker. They just killed him for no reason," Abdul Aziz, a neighbour of Malik said, "If there were a militants, where did they vanish? There were no militants in the area, then why did they kill this poor labourer?"
India
This year, the tourism sector in Jammu and Kashmir also got a major boost as the government made a record budgetary allocation of Rs 786 crore, an increase of 184 per cent over the allocation for the previous year
India
The security forces had received information about presence of militants at Wanigam Bala in Kreeri area of the district, following which a cordon and search operation was launched there
Politics
In a Facebook post written in Malayalam, the Kerala MLA said "the part of Kashmir annexed to Pakistan was known as 'Azad Kashmir' and it was an area where the Pakistan government does not have direct control"