#SeditionDebate: Sticks and stones might break India's bones but words will never hurt it
Ironically, sedition charges were even applied by a trial judge against finance cum information broadcasting minister Arun Jaitley for criticising the Supreme Court's judgement quashing the National Judicial Appointments Commission.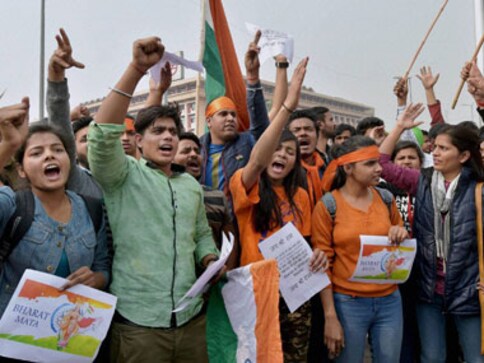 It was not a case of overkill. Slapping sedition charges against the wayward JNU students, following it up with police raids on their hostels, arrest of the lone student leader who had not gone into hiding and uncompromising statements by the Union home and HRD ministers could not but be part of a larger, well-thought-out plan for a shock and awe effect that would reverberate across the country.
For the Union home minister had to know, as many legal eagles have since opined, that the case of sedition against the JNU students was "legally stupid and foolish" and "would never stand the scrutiny of law". The Supreme Court had laid down, way back in 1962, sedition is as sedition does and not just as sedition says. Action and words have to go hand in hand for charges of sedition to stick. In short, sticks and stones may break the nation's bones but words can never hurt it.
That is all the JNU students had indulged in: words. They hadn't broken any law of the land. They may have violated a university regulation by assembling and marching even after the authorities had withdrawn permission to do so, they may have raised antiquated slogans like 'Afzal Guru zindabad', 'down down Indian state', 'Azad Kashmir' or words to that effect (since the slogans have not been reported verbatim, maybe to avoid the long arm of the law, these are pure guesswork) but there had been no use of force, no brandishing of arms, no announcement of any violent programme to overthrow the state. In short, a peaceful demonstration peppered with angry words but not even a cognizable hate speech that would serve the police's purpose.
Yet, this is not a state that is ready to turn a blind eye to such goings on. Not when it has over-eager parliamentarians drawing the attention of the hard-pressed HRD minister to "anti-national activities" on campus, whether in Hyderabad or in New Delhi. As it is, the economy is refusing to dance to the tune of the great developer, young India is getting restless, youth icons like Chetan Bhagat have begun to murmur about time running out. It is essential that fresh blood is pumped into the "Bharat Mata" oblique Hindutva agenda, the only viable agenda so far, and where better to do this than in Jawaharlal Nehru University, a hotbed of leftist politics from its inception in the 70s?
The easiest way to do so: Section 124-A of the Indian Penal Code (which defines and penalizes the offence of "sedition"), the one-size-fits-all weapon of choice for governments of all hues to bring recalcitrant citizens to heel. JNU students' union president Kanhaiya Kumar can take comfort from the fact that he is in august company, none of whom have yet been found guilty of their crimes.
Rather, in the most celebrated case, the Supreme Court, in April 2011, dismissed charges of sedition against Binayak Sen, a pediatrician, public health specialist and activist, whom Chhattisgarh police had arrested in 2007. "We are a democratic country," the court had declared. "He may be a (Maoist) sympathiser. That does not make him guilty of sedition." Merely possessing Maoist literature, the court had noted, did not make him a member of the banned CPI (Maoist). Did keeping Gandhi's autobiography at home made one a Gandhian, the court wondered.
Then there is writer Arundhati Roy, who was charged with sedition in 2010 for her comments on Kashmir and Maoists and who is still having to run from one end of the country to the other to fight this case. As is Aseem Trivedi, a political cartoonist, who was sent to judicial custody in September 2012 on similar charges for uploading a series of cartoons against corruption in the Manmohan Singh government to his website as well as "insulting the Constitution" during an anti-corruption protest in Mumbai in 2011.
In March 2012, eleven protesters were charged with sedition for leading a protest against the Kudankulum nuclear power plant which they felt would pose an environmental hazard. Tamil Nadu saw the government using the same law again recently to prosecute a folk singer for his satirical songs against the chief minister.
But the state which seems to have the greatest penchant for this law is Gujarat where it has been used even against journalists. Manoj Shinde, editor of the Surat Saamna, whom the Gujarat police accused, in August 2006, of using "abusive words" for chief minister Narendra Modi while criticising him for his handling of the Surat floods. And, in 2008, Bharat Desai of the Times of India, who was charged with sedition for publishing articles which questioned the appointment of the Ahmedabad police chief and alleged he was linked to an erstwhile underworld don. But, of course, the best known example is that of Hardik Patel, charged with sedition by Surat police for intemperate words during a demonstration demanding upper-caste reservation. The apex court has recently allowed Gujarat to file the chargesheet in this case but added it would see what case of sedition is made out.
According to one report, the use of this British era law has jumped exponentially since Independence, particularly in recent years. But there are no sedition charges against, say, Munna Kumar Sharma, national general secretary of the Akhil Bharatiya Hindu Mahasabha who launched a website devoted to the "the real forgotten hero", Mahatma Gandhi's killer Nathuram Godse this November; who has declared November 15, the day Godse was hanged, as 'Balidan Diwas'; who distributed sweets outside his office at Meerut, not far from Delhi, on 30th January, when Gandhi was killed; who openly says, "We do not believe in the idea of a secular Constitution. When India officially declares itself a Hindu Rashtra, Godse will be declared its hero and Gandhi's assassination will be declared a national festival," or so The Hindu newspaper has reported. As Prashant Bhushan has tweeted: "Eulogising Godse=patriotism. Pardoning Headley=Nationalism. But discussing Guru=Sedition!"
Ironically, sedition charges were even applied by a trial judge against finance cum information broadcasting minister Arun Jaitley for criticising the Supreme Court's judgement quashing the National Judicial Appointments Commission. Needless to add, the charges were lifted within a fortnight by the Allahabad High Court and forgotten even faster.
Others will have to let the law run its long course, spend time in jail, fight a long and costly legal battle, but there is every possibility they too will be found as innocent of charges of "sedition" as Mr Jaitley. Meanwhile the political agenda can go ahead full steam. Beware of words: they can be very costly indeed.
India
The colonial-era sedition law has been invoked against the likes of author Arundhati Roy, student leaders Kanhaiya Kumar, Umar Khalid, and cartoonist Aseem Trivedi among others
India
In its significant order on the law that has been under intense public scrutiny, a bench headed by Chief Justice NV Ramana said there was a need to balance the interest of civil liberties and interests of citizens with that of the State
Opinion
The Economist's tone reflects the colonial attitude of its country of origin, Britain, towards an erstwhile subject.